My fourteen-year-old daughter came home from school one day this week and sighed.
"Rough day?"  I asked.
"Everyone was making fun of me because I said I was a feminist."
My first emotions were pride and relief. Well, I must've done something right if she can stand up in grade nine and own feminism. It took me until I was 21 and taking Women's Studies in university to willingly describe myself using the "f-word". It didn't take long for dismay to follow on the heels of my initial pride, though.
Because as much as I like to think things have changed and progressed for women in our world, I'm often reminded that they haven't. Not at all. In fact, yesterday I heard an advertisement for the documentary India's Daughter (due to air on March 8—International Women's Day—on CBC's The Passionate Eye).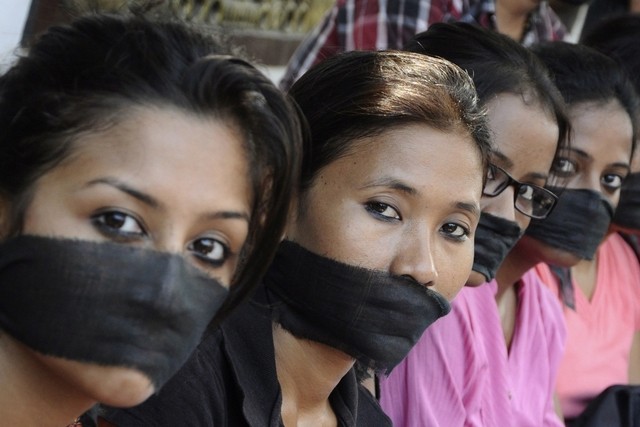 There's been some controversy around India's Daughter—it has been banned in India—mostly due to the shocking comments of convicted rapist Mukesh Singh, who is currently appealing his death sentence in India for the December 16, 2012 rape and murder of medical student Jyoti Singh on a moving bus in Delhi.
In the documentary, Singh is quoted as saying, "A decent girl won't roam around at nine o'clock at night. A girl is far more responsible for rape than a boy." Which sounds a lot like the kind of advice well-meaning people dole out to young women in our own culture, doesn't it? Watch your drink, don't dress like that, don't walk home alone…
Now look: I don't expect grade nine students to be the most politically sophisticated group of thinkers on the planet, but I think they're probably a pretty fair reflection of our culture in general and their parents' views in particular. So what can we learn about our culture by the reactions of my daughter's classmates?
Most of the girls in my daughter's peer group reacted to her ownership of the label feminist in two pretty predictable ways: the first group just gave her major side eye; the others giggled, tossed their hair and wagged their well-manicured fingers, tut-tutting: "we don't need feminism anymore."
A group of boys laughed heartily and declared that they were "menimists".
It's when our children are in their impressionable teen years that we need to begin inoculating them against sexism and rape culture.
To be fair, the boys probably thought they were being funny, picking up on a term they've seen bandied about on Instagram or SnapChat. And that's just the problem, isn't it? There is this cultural soup in which our kids are growing up, and it's full of nasty stuff like #gamergate and #menimism and the ugliness of the pickup artist and rape cultures. Still: in the wake of the terrifying misogyny that is #gamergate, hearing teenage boys call themselves menimists sends shivers up my spine.
Throw in a few teen idols like Katy Perry and Shalene Wooley saying, "I'm not a feminist…" and it's pretty hard for kids to figure it all out. After all, teenagers are not exactly renowned for their critical-thinking skills and nonsense-filters, as a group.
You see, it's such a short, short journey from teenage boys identifying (jokingly or not) as menimists to endemic sexual assault on campuses to violence against women in all its forms. It's when our children are in their impressionable teen years that we need to begin inoculating them against sexism and rape culture. If not, we risk repeating tragedies like the case of Rehtaeh Parsons, whose sexual assault was photographed and shared on social media by boys who were her classmates.
The apple —sadly—doesn't fall far from the tree.
But what would possess otherwise good, law-abiding young men to rape a drunk and vulnerable classmate, photograph it and then brag over social media about it?  Well here's a clue: the father of one of the boys convicted in the case was recently arrested for using a Department of Defense computer to change details on the Wikipedia page about Rehtaeh Parsons, (the original entry read: "The two boys involved in taking and posing for the photograph stated Rehtaeh was throwing up when they had sex with her. That is not called consensual sex. That is called rape." The revision changed the quote to "That is called consensual sex.") He is also under arrest for leaving harassing comments on Rehtaeh's father's blog.
Look, we all want to defend our children when they get in trouble, but if we don't hold them accountable for their mistakes and bad decisions along the way, we set a terrible – even dangerous – example.
So you see, even in Canada we aren't immune to rape apologists. And it's not that much of a stretch to draw a line connecting, "she was drunk so it wasn't rape" to Mukesh Singh's shocking comments: "Housework and housekeeping is for girls, not roaming in discos and bars at night doing wrong things, wearing wrong clothes…When being raped, she shouldn't fight back. She should just be silent and allow the rape."
We may sit here in our privilege and say, "we don't need feminism" but we really, really do. Sunday is International Women's Day. Don't let it pass without talking to your children about it, and why we still need it.