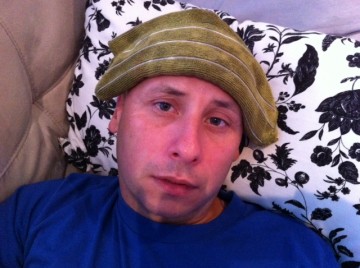 Getting up every day at 3:21am (precise eh?) is fine, but when Saturday rolls around, I'd like to stretch that out 'til about 6 or 7. My kids on the other hand, have different plans. Toddlers are similar to retirees; to them a Saturday may as well be a Tuesday, and February might as well be June, they don't need to worry about being on time for much. Heck, aside from playing shuffle board and watching Matlock, seniors and toddlers work off the same schedule. They both wake up early, sleep early and eat early, and to be honest…I'm super jealous.
This past Saturday, the boys got to stay up a bit later than usual; a lot later. It was 11pm before we got them down. They normally hit the hay around 8pm, but what can I say…I'm a softee. When they're playing and having fun it's hard to shut'er down. To be honest, I was having fun as well. I'm the classic parent yelling, "O.k, just 5 more minutes", then 5 minutes later… "O.k, just 5 more minutes", then 5 minutes later…"O.k, just 5 more minutes." Now, I'm no mathmescientist but when you yell '5 more minutes' 36 times that works out to an extra 3 hours of play time. BUT, that's where I draw the line. If I'm telling the boys something and I get to the 37th time…watch out, it's not going to be pretty.
Where was I, oh yes, Saturday night. Both the kids and I are having a good time; I will be the first to admit I was slightly "over served". It was a rare late night for me. It felt weird going to bed at 3:21am instead of waking up at that time. But I wasn't concerned; the kids were going to sleep in right? Well, approximately 3 hours after my drunken carcass made it to the bedroom, all I hear is, "Is it wake up time yet?" One eye slightly opened, I saw a blurry 35 pound child in front of me. I was hoping it was just a dream. I closed my eyes to fall back asleep into a half drunk stupor. "Daaaady, can you make me cereal"? Nope this wasn't happening, it's just a dream. It's kind of like my own episode of Dallas, but instead of who shot JR,  it's how many shots did Ryan drink last night? I turned over, "Daaaaaaaaaaaadyyyy, can I have juice?" This wasn't a dream, it was a nightmare.
Waking up tired is one thing, waking up tired and hung-over is another. Waking up tired, hung-over and having to parent is off the charts. All you want to do when you're in that state is flop on the couch, eat bacon and find out from your friends if you did anything regrettable from the night before. It's kind of hard to look at your little ones and say, "Hey kids, daddy's 37 going on 19 and decided to drink some 'special juice' that made him feel yucky". It's hard to just sit there in a daze, slipping in and out of consciences whilst wearing a slanket. Parenting while hung-over is one of the toughest things you can go through. Your kids want to play catch and all you want to rinse out your liver and try to figure out where you left your dignity the night before.
You try to play games like, 'who can act like they're asleep' or 'let's see who can be the most quiet' but eventually, they catch on. They would rather play the mini drum-set you got them that day you were sober. All you can do is power through it, and try and get your electrolytes back, knowing that within a few hours you'll be back to being Super-Dad or Super-Mom.
People have often told me that your life changes when your kids get to the age where they can make their own cereal and turn on the TV. I disagree, your life changes when they can put on a pot of coffee, make you a BLT, and delete any videos your friends made of you from the night before.