This September, the World Cup of Hockey Tournament will take over the city. From September 16  to October 1, 2016, some of the best international hockey players will take to the ice at the Air Canada Centre. The tournament will host 170 of the best players in the NHL. Eight countries will be participating including Team Canada, Team Czech Republic, Team Europe, Team Finland, Team North America, Team Russia, Team Sweden, and Team USA.
No tickets? No problem!
Toronto's Distillery District will also be transformed into the Scotiabank World Cup of Hockey  Fan Village. From September 16 to September 25, the 10-day fan festival will host family-friendly programming including viewing parties, live musical performances and a chance to see the World Cup of Hockey Trophy up close. There will also be a chance to meet a few of the players! In addition to the Distillery District space, the "East Fan Village" will occupy the lot just east of Cherry Street.
"We think it's really important when you do an event like this, to involve the city and community," said Don Fehr, NHLPA Executive Director, "to leave something behind that people will remember and give yourselves a chance to make an impression. You need to demonstrate that this is something more than an athletic competition."
Most events at the Fan Village are free admission and will kick off with the World Cup of Hockey Pepsi Premiere Party, held on September 16 with players on a red carpet followed by a ticketed concert on the main stage.
At the recent press conference, we were also treated to food offerings from each of the participating tournament countries featured at Fan Village. Team Czech Republic's Slanina Bacon Sandwich grabbed our attention!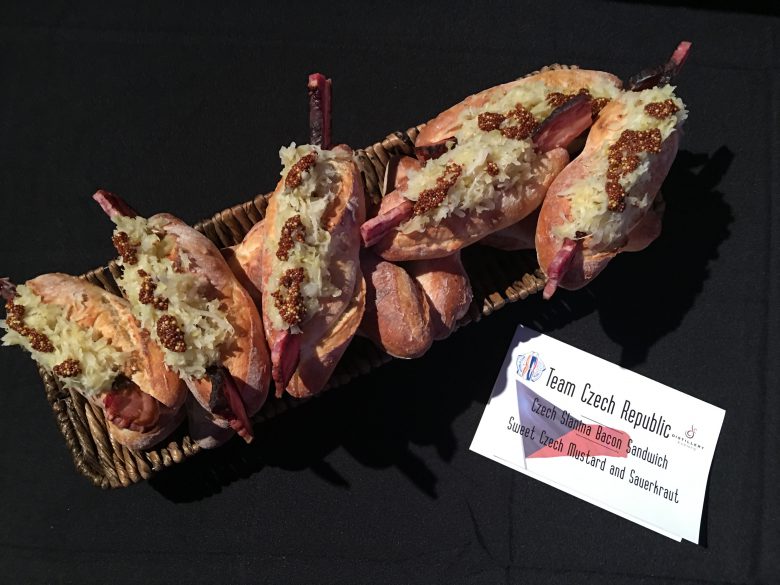 Throughout the 10 days, Fan Village will offer special appearances and book readings in the "Kids Zone"—keep your eyes out for visits by Paw Patrol; Brady Brady and Hero The Hero book readings; and musical performance by Choir! Choir! Choir!, Theo Fleury and the Death Valley Rebels, Chris Weaver Band, Abba Mania and more to be announced.
Don't have tickets to the games? That's okay! Each game will be broadcast live on giant screens during the Fan Village festival dates.
Other fun activities to check out with your little hockey fans include testing out your hockey skills at the Scotiabank Sport Pad ball hockey rink. Plus, the Rogers Fan Hub will be filled with technology-driven interactive experiences. I can't wait to try out the first-ever Molson Canadian Human Bubble Hockey Game. Yeah, you know I will!
"This is going to be a really big deal. We expect the games will be sold out," said Gary Bettman, NHL Commissioner, about the Tournament. "If you're a hockey fan, this should really excite you. If you're a casual fan or a sports fan and maybe not a big hockey fan, this is something that should get your attention and hopefully bring you closer to this great game."
For more information on the Fan Village be sure to visit the Fan Village site for updates.