An Australian woman's graduation photo has gone viral after it was posted on her school's Facebook page, showing her breastfeeding her son at her graduation ceremony.
On the day of her graduation from the University of the Sunshine Coast, Jacci Sharkey proudly posed for a photo while breastfeeding her son Alek. Her school then posted the image on their Facebook page, after receiving a copy of the photograph and personal thank-you letter from Sharkey. Since posting the picture on Monday, the image has received an overwhelmingly positive response. It has now over 280,000 likes and almost 10,000 shares.
Here it is: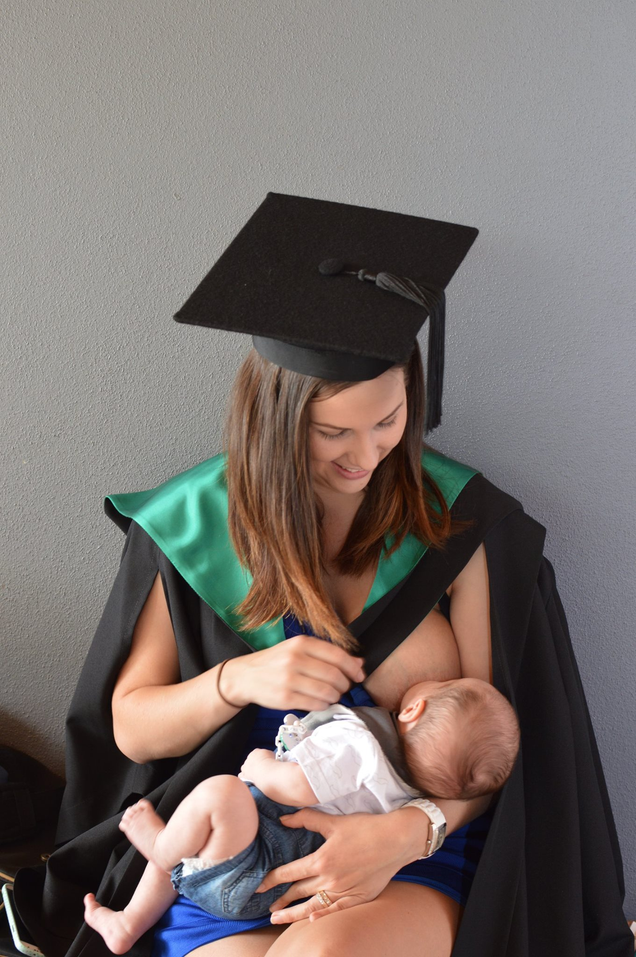 "I'm extremely proud that with the support of the Uni, during my degree I was able to have 2 babies and still finish my degree," Sharkey wrote in her thank-you letter. While attending the university for almost four years, the 24-year-old mom had two baby boys — 20-month-old Ari and 11-month-old Alek (pictured above).
What makes this picture so freaking incredible is the positive message it evokes, something many people have been able to resonate with. For me, this is way more than just a breastfeeding photo —  this is a snapshot into modern motherhood. Mothers today play multiple roles, everything from mom to partner, student to businesswoman, and everything in between. It's a juggling act that requires constant attention. And while at times, this can be hard to maintain, with the love and support from family, friends and institutions, a woman's potential is endless. Instead of having to be one thing, women and mothers today can choose to be all things. That's what I see when I see this picture.
For Sharkey, the message is a little more simpler but equally as powerful. According to an interview with the
Huffington Post
, the image is about "motherhood and work-life balance."
"My main message was to show to other mums that were thinking of studying that it can be done and to just go for it. To me the picture represents mums being able to have it all, a career and a family. They don't have to give up the career for kids, and don't have to give up kids for the career. As mothers we can have it all," she told the publication.
Sharkey graduated with a Bachelor of Business in Human Resource Management, saying that moment was "one of the greatest feelings."
Wow, just WOW. Can we take a moment to applaud the fact that this woman had TWO children while still attending school. That's brave. It is such an empowering message. While Sharkey directly targets mothers in her statement, it's really a message for all women, and that is: You CAN have it all.