It happens all the time: a company says or does something and the world cringes in unison. If it isn't Zara and their racially insensitive t-shirts, it its Value Village selling "sexy" Halloween costumes for toddlers or Target selling sexist pyjamas for kids.
I am not sure why this continues to happen, why companies think that this time, maybe, people won't care when they make insensitive products that offend a part of the population. Especially with Twitter around, you'd think the marketing teams at these huge companies would think twice.
But they don't and that's why I am here to tell you about yet another terrible choice made by yet another huge company.
Today's offender is Old Navy and their Young Aspiring Artist t-shirts marketed towards toddler girls.
Sounds like a great message to send to kids, right? Be creative, be bold, be what you want to be. Except, no.
Pretty disappointed in @OldNavy for this shirt that basically bashes the idea that being an artist is worthwhile. pic.twitter.com/ERSXFcN2XC

— Alex Plaxen (@APlaxen) December 29, 2015
In fact, the shirts read "Young Aspiring Artist Astronaut" and "Young Aspiring Artist President". I can see what they are trying to do here. I can almost hear the buyers for Old Navy now: "Let's make a shirt for girls to show them that they can do anything!" "Girls can be president or an astronaut, so let's empower them with a t-shirt."
But they really, truly missed the mark. The implication that becoming an artist is somehow a bad or misguided choice has a lot of people up in arms. Facebook and Twitter has responded as you would expect them to, with anger and vitriol towards the clothing company. Graphic designers, art teacher, photographers, illustrators and tattoo artists—in this day and age, becoming an artist is much more attainable than becoming an astronaut or the president and is just as fulfilling as either of the careers.
For many, it's the backhanded commentary on being an artist that is most upsetting. Paired with the sad statement that makes about children and their imaginations and you can see why the internet is so riled up.
Kelly McKernan, a mother and an artist, took to Facebook to express her frustrations:
"As a mother and a career artist, I'm astounded that a company as large and influential as you are could approve of a design that encourages toddlers to stifle their creativity. I'm horrified at the thought of putting a shirt like this on my own 20 month old daughter."
Huffington Post suggests that the shirts might have been an overcompensation for some of their other graphic t-shirts.
"While Old Navy's boys' T-shirts generally sport slogans about adventure and smarts, the girls' selection mostly features gauzy clichés about family and free-spiritedness, and quasi-romantic sayings about love. A few of the boys' shirts: 'Smart and Awesome Brother,' 'My Future Is Looking Bright' and 'Today Is For Exploring.' A few of the girls' shirts: 'I Can't Even,' 'When I Dream of Happiness I Dream of You,' and 'Home Is Where the Heart Is.'"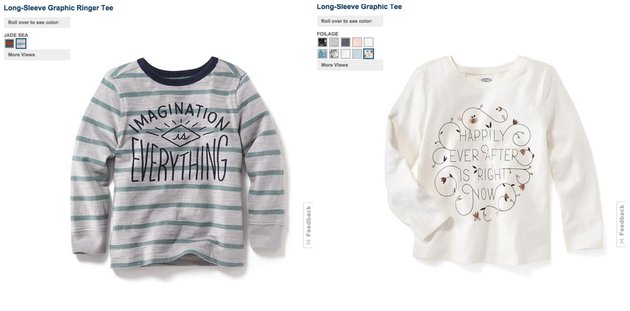 Old Navy has since pulled the t-shirts from their online store and they are taking steps to get them out of stores as well.
If we keep labeling our kids based on antiquated gender stereotypes, we are not doing them any good at all. And if we try to contain our kids and their imaginations, we're still not doing what is best for them. While a t-shirt in a shop might not seem like a big deal, these small occurrences continue to perpetuate these societal issues.
Just remember, when in doubt, just grab a solid t-shirt and leave the graphic tees for the moms who want to spend more time unpacking what a certain phrase might imbue their child with.