We seem to be hearing more bees lately in the news which prompts our kids to ask many questions.  I'm digging on the internet so I can better explain the importance of bees, what they do, and why we shouldn't be afraid of them.
So what's the buzz? (Pardon my pun.)
First off there are two kinds of bees; Honey Bees and Native Bees that serve as pollinators—those that keep plant life cycle to continue. There are actually 800 types of native bees in Canada. For them, we thank them for foods like apples, melons, pumpkins and peaches.
How do you tell them apart? Honey Bees are black and yellow. They live in colonies and in hives. Yes, they sting if provoked. The rest of the bees live in the ground and live and function alone and they don't sting. All varieties live on nectar and pollen.
So, what about those honey bees? They produce nature's liquid gold that serves in our teas, baking, and beeswax is commonly used in candles and even beauty products. A great place to safely check out bees in the city is tucked away on the third-floor garden terrace located at the Shangri-la Hotel in Toronto. They've recently built a Bee Wall installation in partnership with Canada's leading jewellers Birks. This carefully designed hive, unveiled late August of this year, is a destination to over 50,000 bees. Honey Bees love to live in hollow spaces where they are protected and this space blends nature's need while offering an artful view point.
If you're staying at the hotel or dining at one of the restaurants you can ask the staff to take you, and your kids, on our tour to see the bees through a uniquely designed see through glass opening. At first I was hesitant to get in the way of all the busy bees but they didn't seem to mind me getting up close. The Bee Wall helps aid the community by providing a place for bees to pollinate gardens and parks downtown and the honey harvested offers local and sustainable honey for use in the hotel's kitchen. The Bee Wall is made of wax that the bees produce themselves and expert bee keepers are maintain the wall as well as offering daily training to the staff at the hotel.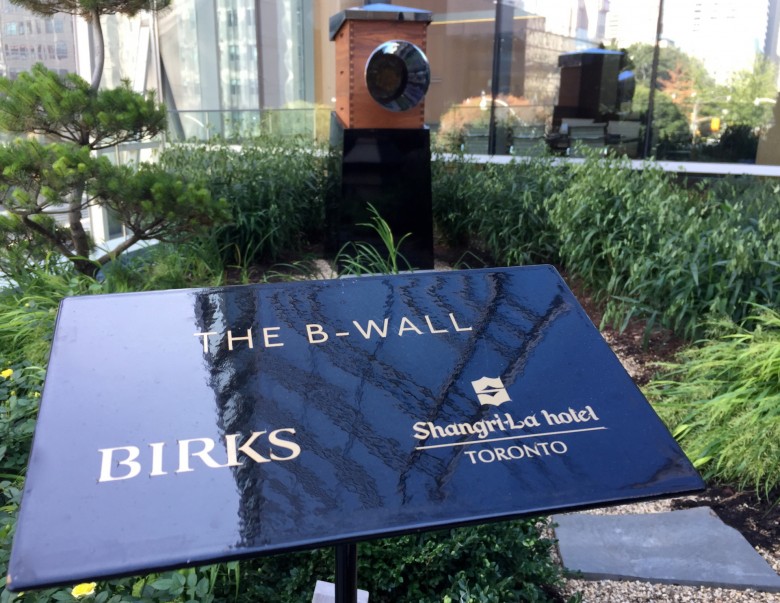 I found out that 99% of the colony's population is made up of worker bees. Interesting fact: worker bees are all female. They are responsible for tending to the Queen, cleaning the hive, feeding baby bees, and building the honeycomb. Drone Bees are the male bees (you can tell them apart with their larger eyes and they actually don't sting) and their jobs is to mate with the Queen Bee. Unfortunately the guys die immediately after mating.  There's always just one Queen Bee per hive and she's the only fertile member of the colony. She lays approximately 1,500 eggs a day during the spring and summer.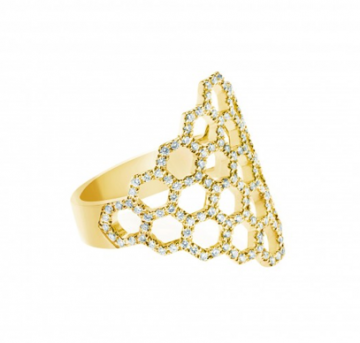 But since the late 1990s, there's been much concern about the decline of bee colonies in North America and it's catching our attention. Since last year, Birks has also been actively supporting the protection and preservation of Honey Bees. Through various initiative such as the introduction of bee themed jewellery in its collections, the company has partnered with the Honey Bee Research Centre at the University of Guelph and also has an urban beekeeping installation on the green roof at its flagship boutique in Montreal to help raise awareness.
I was excited to have a taste of the Shangri-la Hotel's honey that is rich in flavour and you can too. The homemade honey will debut late in November at Bosk Restaurant. Additionally, the honey will also be used in custom cocktails in the Lobby Lounge and the pastry team will be adding the honey to their High Tea menu. Guests will be able to purchase jars as well as indulge in a honey and wine body wrap at the hotel's spa.