There was a time when most people followed the same path as they went through life. The expectations? You graduate from university or college, start establishing yourself in a career, find your true love, buy your first home and then maybe have a few kids.
I remember our house-hunting experience. We had lived in a small one bedroom condo downtown Toronto. We loved the access to all the restaurants and nightlife. We love being able to walk to work. Then we had a kid and realized that our 1000 square foot apartment was too small for our growing family. Our search began with a dollar value in mind and three desired neighbourhoods that were still within city accessibility. When our real estate agent began showing us what our proposed spend was going to look like in the areas we were lusting over, it was a shock. But her guidance helped us understand what was reality vs desire. We were thankful she didn't try to edge us towards something that could have stretched our means and our spirit.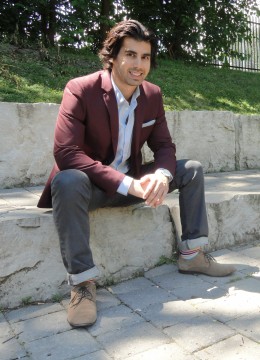 My friend Mitch Parker is a real estate agent based in downtown Toronto and is a great resource for anyone looking to make a move within the city. I had to tap into his brain (that's what friends are for, right?)  to find out what we should all know whether we are first time home-owners, upgraders or down-sizers.
Life changes, we get moving on our careers, we find our partner for life (hopefully) and then we start having kids. Now we need to look for a house. So, how do we prepare ourselves? 
MP: When there's more than one person deciding on a large purchase such as a home or condo, it's important to be on the same page before you start searching. Discussing specific needs in a home such as location, number of bedrooms, or finding a place that needs work versus one that's ready to move in are some of the many important questions.
Another very important step is openly communicating about finances. Knowing how much each person is comfortable spending before you buy your dream home can potentially save a lot of stress and arguing down the road.
Who are the key people we should talk to when looking for house and how do they help us?
MP: The first person you will want to meet with is your banker or mortgage broker so that they can tell you how much you can borrow. If you have a great relationship with your bank, now is the time to use it to get the best rate you can. A mortgage broker has the ability to take your application and shop it around to various lenders to get you the best rate.
Next, you will want a great Realtor. One that understands your needs and wants and has experience finding what you are looking for. Interview multiple agents before you begin your search and decide which one you want to work with. Realtors work on commission so chances are if you commit to them, they will commit the attention necessary to find your dream home.
Other key people involved in your home search will be a real estate lawyer and home inspector.
We hear that some people get in over their heads? Why if we have experts by our sides?
MP: One of the fastest ways to get in over your head is by not preparing before you buy. If you don't know things like how much you can afford each month, how much it will cost to maintain your property, and things such as closing costs, it's easy to overspend and underestimate expenses. A great Realtor has the ability to meet most of your needs and wants while staying within your budget.
What are some key terms that we need to understand?
MP: Some of the words and terms that will come up when you're searching for your dream property won't be familiar if you've never purchased a home before. A few key ones are:
Multiple Offers – This happens when there is more than one offer being presented on a single property. Buyers and sellers in Toronto will be very familiar with this term if they have bought or sold in the last few years.
Conditional sale – after the buyer and seller agree on all the terms and conditions, it's the period of time the buyer will have to fulfill things such as financing, inspection, condo documentation, etc. Once the buyer is satisfied with these, they waive the conditions and the sale becomes firm.
Closing costs – these are the expenses other than down payment that are due when you take ownership. Things like land transfer taxes, legal fees, home inspection charges, and any financial adjustments (done by the lawyer) go into this category. It's important to factor these into your budget.
Condo Documents – If you're buying a condominium, you will want to ensure that your lawyer reviews these documents to ensure that the condo is in good financial standing and is not involved in any ongoing litigation. You will also find the rules and regulations, financial statements, and other important information within them.
Remember that great real estate agent that you chose to work with? They will be able to explain all terms that come up along your search process.
If we can't afford our dream home now, what do you tell people?
MP: Sometimes you simply won't be able to get every item checked off your wish list. Those "would be nice" items get sacrificed for the ones you need and are more important.
Don't be discouraged if you can't afford the home that you initially imagined. Sit down with the people involved in the buying process and figure out the most important things on your list. Keeping those in focus will help you stay on track when looking at properties. Chances are that you'll make so many great memories in this home; you'll look back and realize that you made a pretty good decision.
Lastly, looking for a home to buy should be a fun and exciting process. Come up with a game plan, find a great team to work with, and adjust to any changes that arise along the way. Before you know it, you'll be kicking back on that new backyard patio with a cold glass a wine surrounded by great friends. Happy house hunting!