Have you tried to colour your own hair ? I admit that I'm hesitant (okay, chicken) to do it on my own. I've asked several friends and their reactions have ranged from "don't do it" to "no big deal." I've had several companies send over product samples to test out and I've never tried it. Yes, I'm a box colour virgin. However, I do go to a salon for professional service. But something happened recently. Coordinating my schedule with my go-to guy has been challenging this summer. With the kid's camp and playdate schedule and our travels, it's been hard to set aside 5 hours to do my hair (factor in commute time of 1 hour each way).
I've had a box of Clairol Natural Instincts Crema Keratina for a month. I heard that DIY hair colour systems are getting better and easier to use. But I had questions. For someone like me who's never ever ever coloured my own hair I had to ask an expert. Luckily I had a chance to ask Toronto-based celebrity hair colourist Luis Pacheco a few questions before jumping in.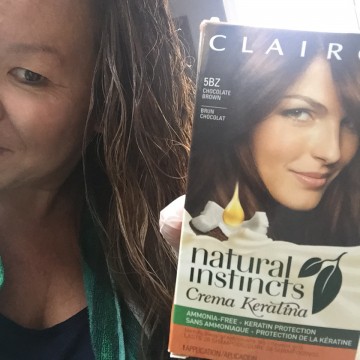 What do I need to know first?
"Know what you want. Crema Keratina is a great introductory colour. It's non-committal since it's demi-permanent, and it boosts shine, tone and colour. From there you can get more adventurous if you want with a permanent colour such as Nice 'n Easy, Canada's #1 at-home hair colour. Demi-permanent is really just blending the grey away. If hair is pre-coloured, choose a shade in the same tone. Read the box and look for clues to whether the shade selected is warm (look for 'gold') or cool (look for 'ash').
And are there any key tips & tricks to doing hair colouring at home?
"Use the conditioner that comes with Crema Keratina as a barrier around your hair line for colour that might stain your skin. Buy two boxes to ensure you don't run out part way through application (worse case scenario: you have a box for next time).
What about chemicals? What should we know?
Make sure you do the allergy test as directed on the box. As long as you follow the instructions and use the colour as directed, hair colour is safe."
Any current colour trends that we may want to experiment with?
"We're seeing lots of warm, soft, subtle colour -think of golden browns, honey golden blonds and copper reds.
So, after receiving his guidance and feeling a little desperate to cover up my greys, I finally worked up the courage and did it!  The process was much easier than I had worked up in my mind. It took a whole 30 minutes from start to finish. It was a two-step process of applying the solution and after twenty minutes I used the conditioner. Since it's ammonia free there's no overpowering chemical scent instead it was pleasant. You should note that this is a demi-permanent colour so, as Luis said, it's non-committal and will wash out slowly. Perfect for me for a first timer!
The results… it covered up the greys and gave an overall richness to my hair thanks to the Keratin. What did it do to my existing hair colour (highlights and low-lites) was what impressed me. It added a boost of colour that actually softened the brassiness I was starting to see on my highlights and the colour blended in naturally. I LOVE the darker chocolate brown shade that was selected for me by the Clairol experts as I had mentioned I wouldn't mind going darker and I'm going to ask my guy to match this colour next time I'm in.  It's an ideal solution I desperately needed to bridge my visits to the salon and I'm now no longer hesitant to use it again.
I was out with one of my besties that same day and she did a "WOW! Your hair looks amazing!" She was completely shocked that I did it myself for the very first time. I'm not kidding! And I just saved myself $200.
Here's the BEFORE… (brutal for me lapsing the colour for this long, I know!)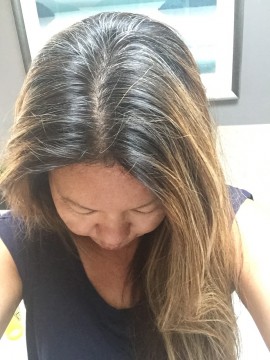 …and the AFTER!