It's been fun this week at the World MasterCard Fashion Week's Tent in Toronto. It 's been great to see familiar faces in the crowd and checking out the upcoming fall and winter collections from our Canadian talent. More on that all later. I've been bringing a few friends along with me to the shows and often the question comes up of "what do I wear?"  — it's coming from both men and women.
Really, this time around (and maybe because of the cold weather) it seems like anything goes. The younger  set have been donning their slouchy hats and I spotted pretty printed flowy pants and mid-drift crop tops. Fur (or faux fur) in colours have been popping up especially in fuschia that has really caught my eye. The corporate set are all in their business attire and then there's everything in between. The front-row socialites and celebrities are often wearing something spectacular. Model Coco Rocha had everyone drooling at the Line Knitwear show the other night. SO beautiful!!!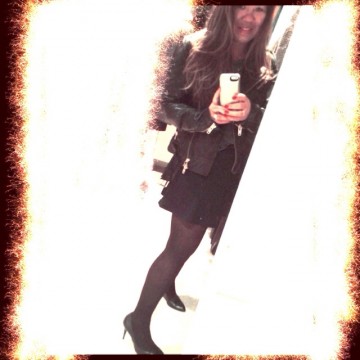 Thought I'd quickly post up an outfit I'll probably wear out today or tomorrow. I'll see.
Black Moto Leather Jacket: House of Mackage (Canadian design label! yay!) AND by the way, if you're going to get that one anchor piece for your fun night time adventures…this style is everywhere at different price points. I try to support Canadian Designers when I can. Spotted this jacket at Holt Renfrew at the end of last winter season and couldn't resist. I have absolutely no regrets but as Jen Trend on our site would say, the cost per wear is something you should factor in. I certainly am getting mileage out of this baby! Oh! And  you don't have to stick with black as different colours are showing up in this style.
Flirty skirt and grey long sleeve jersey tee: Zara
Heels: Nine West
Subtle printed tights: Uniqlo