I had this conversation recently with my mother-in-law about bugs. We both hate them despite my boys fascination with crawly things particularly when they were really young. We laughed about when they brought home beetles and cicadas and directly encouraged them to leave them outside. We would make little plastic viewing homes with air holes so the kids can see them up close and tell them they would need to stay outside of the house.
We all know that bugs live within our homes as well. So, this is where I get all itchy. MIL and I had the conversation about dust mites and those lurking in the crevices in our mattresses and bedding and well, everywhere. We need to keep on top of cleaning—such a chore, I know! But then we asked ourselves, "When was the last time we vacuumed the mattress?"
If you're eating… come back later.
Just this past weekend I picked up a copy of February issue of National Geographic. There's an article in there that will make your skin crawl!  The article titled The Mighty Mites got my attention and I lost my appetite fast.
Author Rob Dunn starts off his article about mites and how they live on hair follicles…"They are so small that a dozen of them could dance on the head of a pin. They are more likely, though, to dance on your face, which they do at night when they mate…"
O.M.G.
He had also mentioned how the mites die.  Get this…"death comes at the precise moment when the mites, lacking an anus, fill up with feces, die and decompose on your head."
Not only do they procreate in alarming rates, but dust mites and house dust is the number 1 cause of allergies in the home. This has now put me on warp speed to vacuum and clean the hell out of every room in the house.
Here are some eye-opening stats ..
Beds can contain between 10,000 and more than 1 million dust mites.
Up to 28 g of dead skin shed by humans in a month.
According to the Asthma Society of Canada, over 50% of all people with allergic asthma are sensitive to dust mites.
40% of Canadian allergy sufferers report waking up congested.
61% of Canadians rarely or never vacuum their mattresses.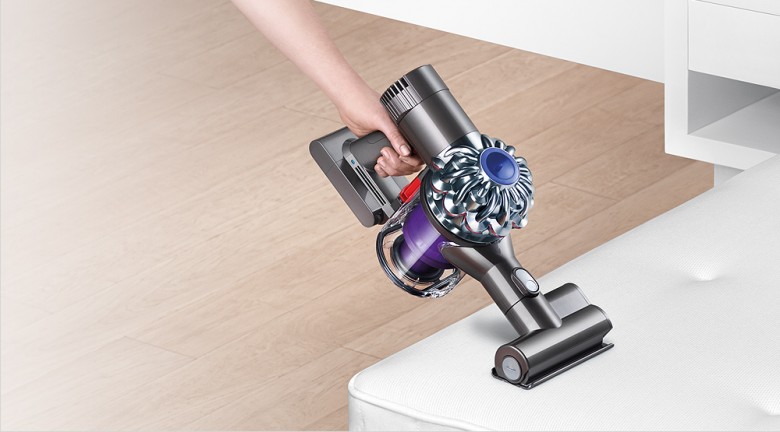 So, what can we do?
Karen Hall, a microbiologist at Dyson tells us that vacuuming your mattress can help remove microscopic dust and allergens but not every machine is powerful enough.  "At Dyson, we have an in-house microbiology lab with a colony of over 10 million dust mites to help us understand these allergens and discover how best to take them," said Hall. "The microbiology team works closely with the enginnering team to ensure that we better engineer our machines to remove irritants in the home to make it a healthier living environment for families in Canada and around the world." The Dyson DC61 with a V6 motor has been created for powerful suction as well as the motorized stiff bristle head that agitates the mattress fabric to loosen up and stuck particles to get them out as well.
Yeah. Ew. I know!  Now that've I've tested out this hand-held machine you can be sure that I'm sucking the heck out of the mattresses and headboards every time the sheets go in the wash. And it's compact enough that  older kids can help do their beds too.
Who's itchy?