Something truly magical happens when you sit amongst 20,000 kids in a stadium. The cheers are loud and each face is beaming with excitement. Welcome to WE Day – the celebration event that recognizes kids who do good in their communities and globally. WE Day, founded by the brothers who started the organization Free The Children 20 years ago, is an event that draws students, educators and corporate citizens to come together for a day of inspiration and motivation. Included in the city to city (and country to country) tour are notable speakers and celebrities. This year's WE Day event in Toronto included familiar faces including Nina Dobrev, Demi Lovato, Tavi Gevinson, Silken Laumann, Marlee Martin, Magic Johnson, Henry Winkler as well as musical performances by Francesco Yates, Hedley, Hozier, Shawn Mendes, Nick Jonas, Carly Rae Jepsen, and Kiesza.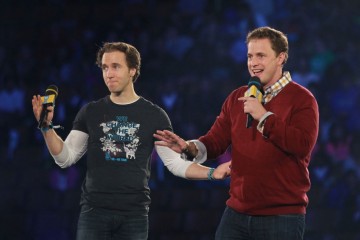 It's the hottest ticket that you cannot buy. That's right. Each year, kids earn their way into this all-day event through the actions they take for local and global causes of their choice.
"We believe that, if given the right tools, today's youth can conquer anything they put their minds to. Annually, 200,000 students coast to coast, from over 10,000 schools, earn their tickets to WE Day by creating tangible benefits for their communities," said WE Day co-founder Craig Kielburger. "By bringing together 20,000 young change-makers today, these students will know that they are not alone and that collectively, they are making their voices heard."
You'd think the star-studded line-up would be the biggest reason these kids are out there trying to make a difference, but when you take a moment and ask the kids who made the biggest impression on them, the answer is often surprising. Yes, it's cool to see the celebrities but who really hits it out of the ballpark for them are the speakers like Spencer West, Joseph Boyden and Toni Morgan.
Spencer West has faced challenges all this life. I've met him countless times and his story is not about looking at his physical challenges but how he moved passed them (when he was a child he lost both legs as a result of a genetic disorder). He didn't succumb to thoughts of "I can't" and, instead, turned the thoughts into "I will." He continues to inspire kids (adults too) everywhere and has never shy'd away from any question. One year he joked about how kids always wanting to know how he goes to the bathroom.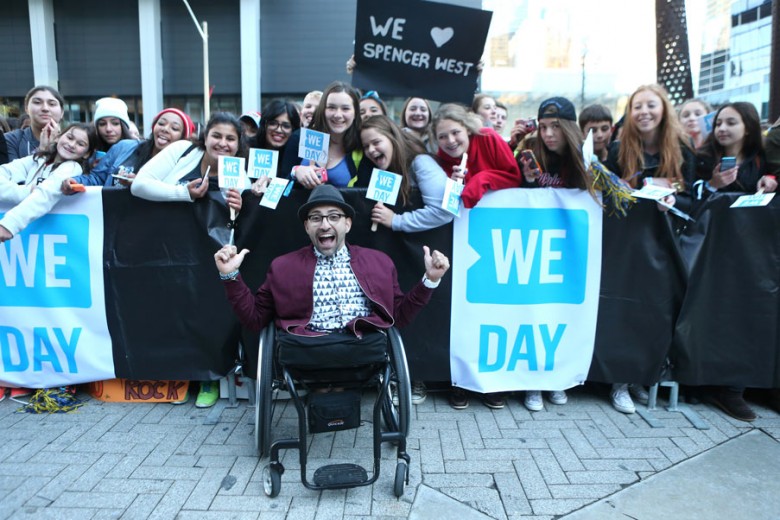 This year we were introduced to Toni Morgan. Her name will stick with me for a long time. Toni shared her personal story of when she was a young teen and how she bounced around for three years with no place to live with no money in her pocket. She was told she had no potential. As a teen, she was kicked out of two schools. She was told by the vice-principal at her third school that she would never get a university degree. Toni told the audience that at that moment, what she heard was that she wasn't smart enough and that she didn't deserve success. Toni said she almost believed the vice-principal but then she heard this voice inside her head…
"Hello? Can you hear me?"
Toni began to change things around. "I began to help people like me. Ignored. Forgotten. Then I found the world of activism and do you know what my community told me? You got this." So, she continued to help her community by day and went to school at night. Then last year, after 10 years of night school, she graduated.
While we all got on our feet and cheered, Toni said "Wait. I'm not done. I applied to Harvard University and got in on my first try!" and we went wild. "Yes, it turns out that I'm the kind of student that Harvard is looking for."
Toni's message hit home, "Don't ever let hurtful words drown out the voice inside of you."
I also had a chance to meet the remarkably talented musician Francesco Yates. You may be familiar with his song  Better To Be Loved and Call. If not, take note! He may only be 19 years old but this Toronto native is already catching the attention from some of the most reputable music industry peeps including Pharrell Williams. His soulful music is a blend of R&B and pop.
When chatting with Francesco backstage he mentioned that this was his first WE Day, thanks to a collaboration between MTV and TELUS. They approached him to remix his hit song Call, to create a new social anthem to inspire young people to accept the all to change the world and to make a difference even within their local communities.  I asked him what he thought about WE Day "It's pretty unbelievable to be in the stadium and with all these people in this positive vibe," said Francesco. And did the day inspire him? "Yes, but it's more than that! It's one thing to be inspired…it's another to be determined."
AH-MAZING!
His Call remix video was unveiled at WE Day in Toronto and he will also be performing the song at other We Day city events throughout the year. Watch the music video and share it on your social media networks. For every video shared with the hashtag #CallForChange,  TELUS will donate $10 to Free The Children  
Here's the video… please take a look and share!
WE Day continues to Vancouver, Calgary, Minnesota, Ottawa, Winnipeg, Halifax, Montreal, Saskatoon, London, Los Angeles, Seattle and Chicago. More info at www.weday.com
MTV will broadcast a one-hour WE Day special on November 25, 2015 at 10 pm ET.