Our family is getting ready to celebrate the Year of the Monkey. The Lunar New Year (aka Chinese New Year) starts on February 8th this year. While we still hold true to our traditions of eating noodles and dumplings, I thought it would be fun to add a North American twist that everyone could easily make. It seems like it's the Year of the Monkey… Bread and it's a great opportunity to have the kids help out in the kitchen to make this. With a bit of guidance my little one made this last night.
Here's an easy recipe to celebrate (and psst… it's great for a Superbowl dessert idea too—the perfect hands-on sweets).
YEAR OF THE MONKEY BREAD (Bananas and Caramel dream version)
Ingredients:
3/4 cup white sugar
1 tbsp ground cinnamon
2 tubes of ready made buttermilk biscuit dough (or you can Google how to make Monkey bread from scratch as there are many variations), cut into quarters
2 ripe bananas, chopped
1/2 cup butter
1/2 cup brown sugar
1 tsp vanilla
Method:
Preheat oven to 400 F
In a large plastic zip-lock bag add sugar and cinnamon. Close and shake until well mixed.
Add buttermilk dough quarters into sugar mixture. Close and mix until coated.
Add chopped bananas and mix gently.
In a regular round baking pan, turn out the dough mixture and spread evenly. Set aside.
Melt butter in a saucepan on medium heat. Then add brown sugar stirring until dissolved. Add vanilla and stir. Pour mixture over dough evenly.
Place on a cookie sheet (as mixture may bubble over) and bake in the preheated oven for about 35 minutes or until top turns golden. Remove from oven and set aside to cool.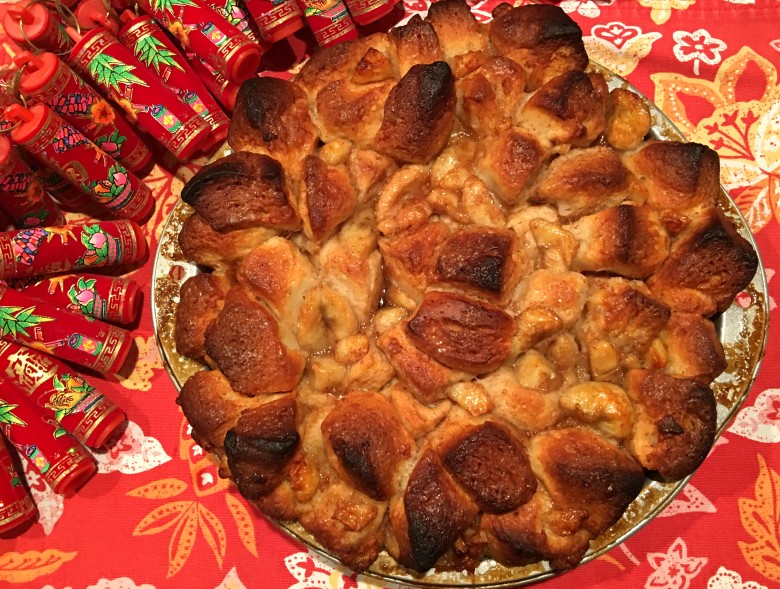 Caramel Sauce:
1/2 cup unsalted butter
1 cup brown sugar
3 tbsps heavy cream
Melt butter in a small saucepan. Add brown sugar and heavy cream. Stir consistently over medium heat until sugar is dissolved. Keep stirring for about 3 minutes. Mixture will boil a bit and that's okay. Remove from heat and set aside for a minute. Then drizzle over Monkey Bread when needed. Sauce can be cooled to room temperature then stored in an air tight container for 5 days.