March 2nd is National Banana Cream Pie day. So, we're definitely in a celebrating mood! This refreshing recipe is the perfect way to break up this crazy winter by giving us a taste of the tropics! It blends a bit of nostalgia with a modern twist! I'm sooooo in!
The Ultimate Chocolate Coconut Banana Cream Pie
Preparation Time: 60 minutes
Ingredients
Crust
1 1/2 cups all-purpose flour 375 mL
1/3 cup  each cocoa powder and granulated sugar 75 mL
1/4 cup sweetened flaked coconut 50 mL
1/2 tsp salt  2 mL
3/4 cup cold, cubed Gay Lea Salted Butter 175 mL
1 egg yolk
Filling:
2 1/2 cups milk 625 mL
2/3 cup granulated sugar 150 mL
1/3 cup cornstarch 75 mL
2 egg yolks, beaten
2 tbsp Gay Lea Salted Butter 30 mL
1 tbsp vanilla extract 15 mL
3 bananas, thinly sliced
1 canister Gay Lea Real Coconut Whipped Cream 225 g
Toasted coconut
Instructions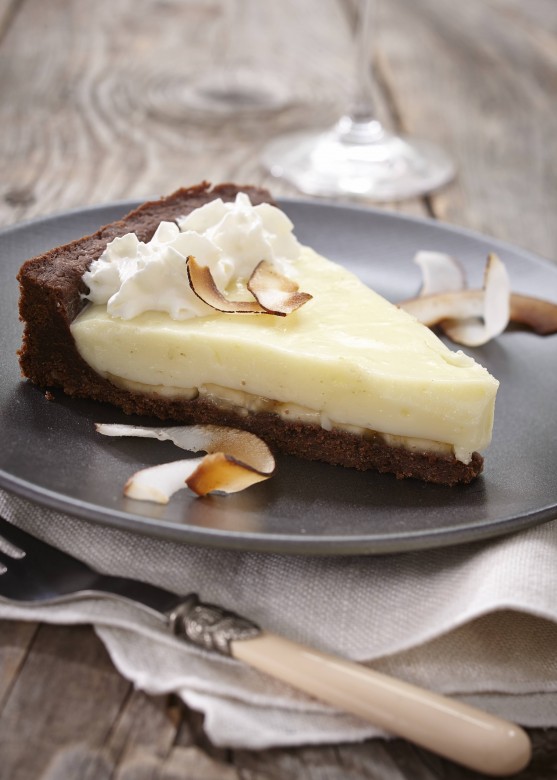 Crust:
Pulse flour with cocoa, sugar, coconut and salt in a food  processor. Pulse in butter until finely crumbed. Whisk egg yolk with 2  tbsp (30 mL) ice water; pulse into flour mixture until it clumps together.
Press dough evenly into the bottom and 1 1/2 inches (4 cm) up the  sides of a 10-inch (25 cm) springform pan. Prick with a fork. Freeze for  15 minutes.
Preheat oven to 375°F (190°C). Bake, on a lower rack, for  15 minutes or until set.
Cool to room temperature.
Filling:
Whisk milk with sugar and cornstarch in a heavy saucepan set  over medium heat. Bring to a boil, stirring often, until thickened.
Whisk  some of the hot milk mixture into egg yolks. Whisk back into remaining milk. Cook, whisking, for 1 minute.
Remove from heat; stir in butter  and vanilla.
Line cooled shell with bananas. Pour hot filling over top to cover  bananas completely.
Cool to room temperature; chill for at least 2  hours or up to 2 days.
Just before serving, remove ring and arrange on  serving platter. Pipe coconut whipped cream to  cover custard  completely and garnish with toasted coconut.
Makes 8 to 12 servings.
Tips
To make individual pies: Divide dough between eight, 5-inch (12- cm) mini pie plates or foil pot-pie pans; pressing evenly into  bottom and up sides. Arrange on a baking sheet; bake for 15  minutes. Cool to room temperature. Divide bananas and custard  between the cooled shells. Chill until set. Garnish with whipped  cream and toasted coconut.
By the way, the new Gay Lea Real Coconut Whipped Cream is non-dairy, lactose free and cholesterol-free.