Today, February 6, is National Sweater Day and World Wildlife Fund is challenging Canadians to lower the thermostat and don a sweater in a symbolic gesture to show support of taking action on climate change.
This year, a virtual sweater, knit in realtime, will be unveiled as Canadians engage in the climate change conversation through their social media channels. Each time one of you takes a selfie and uploads it with #SweaterDay, another piece f the virtual sweater is pulled together on www.sweaterday.ca
Here's my contribution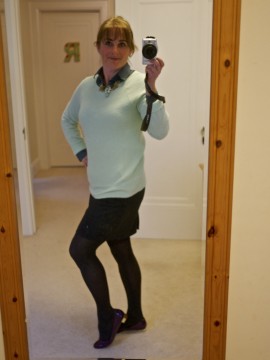 Sweater and necklace, J.Crew, Skirt and Blouse, Banana Republic, Shoes, J. Crew Factory
Don a sweater (baby, it's cold outside!), take a selfie, and hashtag it #sweaterday…the polar bears will thank you!