There are very few cars in history that have made their tracks into pop culture like the Ford Mustang. It's been referenced in movies, television and music. Remember Mustang Sally by Wilson Pickett? Or the white Mustang that had everyone drooling in the James Bond movie, Goldfinger? Of course, Steve McQueen drove the 1968 Mustang GT390 in the 1968 smash hit Bullitt. Flash forward and you may recall seeing the Shelby GT500 Mustang in the film I Am Legend.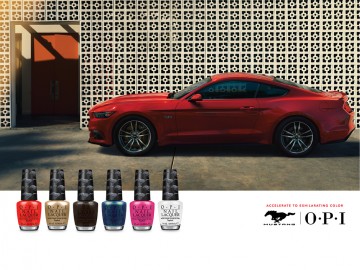 The Mustang definitely remains one of the "cool kids" on the road with it's power and style. It's surprising to learn that this iconic car celebrates its 50th anniversary this year! 50! Wow! And celebrations are popping up in all sorts of creative ways… even in the latest sophisticated OPI nail collection!  After all, the innovative design and style of the Mustang brand have always been a big draw for car lovers and admirers!
Ford revealed the latest collaboration with five of the world's most visionary designers including Anna Sui, Rogan Gregory and Scott Mackinlay-Hahn of Rogan, Paula Cademartori, Tomaso Anfossi and Francesco Ferrari of CO|TE, and Pamela Love.
The designers have each created three Mustang inspired T-shirts that uniquely embodies the spirit of the iconic Pony and the notion of "unleashing your true self." The fifteen limited-edition pieces will be available in September exclusively at Gilt.com/unleashed  (pre-orders have officially begun).
About the designers and their inspiration:
Anna Sui: Detroit native Sui and Mustang have quite a bit in common. Sui's designs illustrate a rock 'n' roll fantasy – reflecting the freedom, authenticity and inspiration embodied in Mustang.
Rogan Gregory and Scott Mackinlay-Hahn of Rogan: With a respect for soulful minimalism and traditional quality, Rogan's designs were inspired by the raw American heritage expressed in the modern, high-tech Mustang. The designer incorporated this into the graphics of the shirt, using the simplicity of natural, hand-drawn lines.
Paula Cademartori: Cademartori's passion for femininity and fine details are distinct in her designs and collection of bags. For her, "unleashed" represents power, freedom and creating new experiences. Cademartori's Mustang-inspired designs highlight geometric shapes, the fantasy of color and glamour.
Tomaso Anfossi and Francesco Ferrari of CO|TE: With a philosophy of freely interpreting established design themes from a contemporary point of view, CO|TE – like Mustang – moves forward and pushes boundaries. The inspiration comes from thinking without preconceptions, while paying attention to quality and tradition. CO|TE designs showcase Mustang's attention to detail and geometric elements.
Pamela Love: Love, with a passion for unique jewelry pieces, and Mustang come together as artifacts of a narrative. The inspiration comes from Mustang's enduring role in American pop culture, and the idea of moving forward while leaving the past behind. Love's designs highlight the horse as a symbol of power, strength and freedom.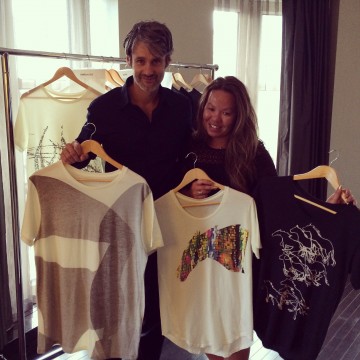 At a sneak preview recently, I met with designer Scott Mackinlay-Hahn of Rogan to find out the inspiration behind their designs.
What's the background about this collection?
A lot of aesthetic is inspired by mid-century, soulful, minimalist design, and architecture. One one particular design we love the reductive feel of graphic blocky and almost abstract shapes that may, or may not evoke something specific. That's the direction we went on one design. It's actually two important lines on the car overlapping. The lines are from actual Mustang photographs. We were also inspired by graphic designer Saul Bass who's famous for designing movie posters in the sixties.
I love the Wild Horse design, tell me about that?
This design is more obvious with the wild horses and ponies running. This has a mellie of influences on this design. We were inspired by the cave paintings from 17,000 years ago of animals in motion overlapping, we were super inspired by that. Also the first photographer who started photographing motion, Eduardo Guybridge, who was originally from England, travelled to the US and took photos of the caves absolutely inspired us. Notice the unicorn? That's the playfulness that is very much part of our narrative of never wanting to be too serious.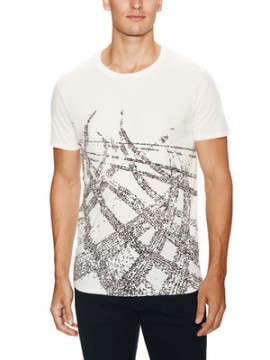 And the design with the tracks is super cool, I could totally see my hubby in this one!
Thanks! Yes, this one really feels "unleashed" and makes you wonder "where do they go?" It feels very free and liberating. Burning rubber out of the parking lot after a hard day at work. Who doesn't love tire tracks and the thought of just venting somewhere? It screams Mustang and freedom. It really hits the notes that we're feeling about this project.
So, overall inspiration when you started?
We had so much content to draw from including five decades of car designs. Our immersion for a couple of hours in the anniversary car was inspiring and there were hundreds of photographs of the cars and many details that gave us perspectives from the inside and out. We just dissected through all of that and found parts that resonated with us. We came up with fifteen designs ourselves for this project and then it was narrowed down to the final three.
The shirts are also printed by Loomstate, a company also founded by ROGAN that believes not just in style and quality but taking it a few steps further and considers the production from the health of the farmer growing the cotton to the health of the communities and systems that create more sustainable production.
The limited edition designer collection is available exclusively at Gilt.com/Unleashed
The OPI Mustang collection is available at salons and Trade Secrets.