A quiet community swimming pool in Montreal is now the centre of a police investigation after two lifeguards and a mom got into a physical dispute because her toddler wasn't wearing a swim top.
According to CBC news, the bizarre altercation occurred Wednesday when Véronique Shapiro and her daughter went to John F. Kennedy pool in Outremont, Montreal. There, one of the lifeguards told Shapiro that her toddler had to put on a bathing suit top if they wanted to go into the pool. Shapiro refused, pointing out that there were no signs enforcing the rule and that's when an argument ensued.
Shapiro says the dispute with the two lifeguards turned physical when they allegedly tripped her sending her and her toddler, who was in her arms at the time, falling to the ground. Shapiro says her daughter scraped her forehead during the fall. Paramedics were called in and took the young girl to the hospital.
Following the incident, Shapiro went to Facebook to express her anger, writing in French, "I naively believed that lifeguards were there to save lives, not to send kids to the hospital."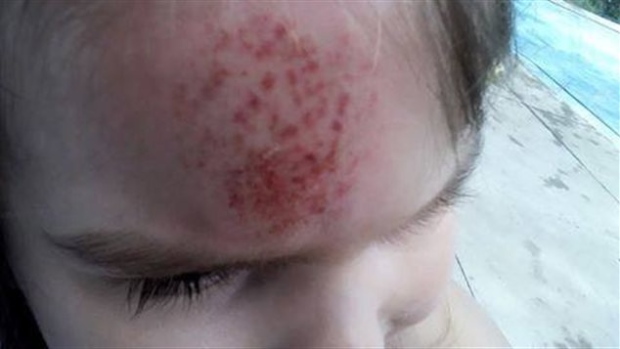 The altercation forced the pool to close for the rest of the day. No charges have been laid but Shapiro has filed a complaint with Montreal police who are currently investigating the incident.
According to Global News, Marie Cinq-Mars, mayor of the Outremont borough said there is no rule prohibiting youngsters from going topless. If there was one, Cinq-Mars said that would be the pool's internal policy.
"It should be the parent's choice, whether the parent was to have his kid with a top or without a top," she said.
And Shapiro agrees. "It's a rule that shouldn't exist," she told CBC News. "It's totally absurd, discriminatory and sexist. They're sexualizing a three-year-old girl by telling her she needs to hide her private parts."