Last week Apple officially unveiled the newest edition to the iPhone family. The highly anticipated release came after months of speculation of what the upgrades and features would offer existing Apple users and what could possible make others switch. Everyone had anticipated a change in size but what else? After digesting the live-stream press conference from Cupertino, California here's what you need to know about the new device. Actually devices. Apple released two version: iPhone 6 and iPhone 6 Plus. They will be available in-stores starting this Friday, September 19th.
So, let's break things down all the techy jargon to the practical side of things, shall we? A few REAL reasons as to why I want the iPhone 6
Battery Life: One of the biggest complaints from smartphone users is always battery life. No secret that the more you want to do with your device, the faster you drain your batteries. In my case, my heart starts beating fast and at times I really feel like I'm pushing my luck when the little battery bar goes red. I admit that I'm a heavy user and my current device has back up mophie battery to get me more juice. The new iPhone 6 is claiming to hold  more battery life than the iPhone 5S. For an average user that's better than before for sure. So, I'm thinking since the device is bigger then the battery is too?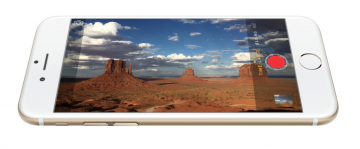 Photo Quality: I've stopped carrying around a camera when I'm out at various events — or taking foodporn and proud mommy moments on the soccer field — since the camera quality on my iPhone 5S did a great job. In fact, most images I use in my stories and what I share on social media are taken with my device. My only gripe was zooming in on action shots haven't been as clear as I wanted them to be – like at concerts or fashion shows. The iPhone 6 and iPhone 6 Plus offer a better lens and FaceTime HD cameras. The iSight camera has even better new sensor featuring Focus Pixels for faster autofocus, making it easier to quickly capture any moment. On the iPhone 6 Plus, users will also benefit from new image stabilization technology that takes care of shaky hands in low light.
Apple Pay: If you're like me and don't carry much cash (but always, ALWAYS have your phone) then the ability to pay on your device is a welcoming one. Companies like Starbucks, Hailo and Uber have already warmed us up to convenience pay by using apps right on our device. But here's how Apple Pay will work: a dedicated chip called the Secure Element, and Touch ID will offer easy and safe storage of your credit or debit card that's already existing on your iTunes Store account.  Cashiers will not be able to see your name, credit card number or security code. Instead, a unique Device Account Number will be assigned, encrypted an securely stored on your phone.  Each transaction will be authorized with a one-time unique number using your Device Account Number, and instead of using the security code from the back of your credit card, Apple Pay will create a security code to securely validate each transaction. Apple won't collect your purchase history, where you're shopping or how much you've paid. If your iPhone is lost or stolen, you can use Find My iPhone to quickly suspend payments .
Size: Yes, the new versions are bigger (but they are also thinner). The iPhone 6 (4.7-inch) appears to be slightly lengthier compared to the iPhone 5S and offers 38 per cent more viewing area. The iPhone 6 Plus (5.5 -inch)  is definitely larger offering 88 per cent more viewing area.  I may worry about it fumbling out of my hands and would need to get use to the bigger size of the iPhone6 Plus if I go that route, however, I've been more worried about eye strain so a bigger device is worth considering especially if I'm going to have it for the next few years.
Operating System: both devices will come with the new iOS 8 operating system. What does that mean? Faster. Better. More user friendly  and more efficient use. What else do you need to know? Okay, with iOS will offer new Messages and Photo features, predictive typing for Apple's QuickType keyboard and Family Sharing. It will also include the new Health app, giving you a clear overview of your health and fitness activity and iCloud Drive, so you can store files and access them from anywhere. iOS 8 will also be available starting September 17 to iPhone, iPad and iPod touch users as a free software update.
In addition, the company also unveiled the Apple Watch. No surprises here as there are many other wearable tech smart watches are out in the market already. But the difference here is that it looks more like a "watch" or "timepiece" rather than a tracking device. I've been interested in these sort of smart watches but many of them are big and bulky. The Apple Watch comes in two sizes and many wristband options and many ways to customize the watch face to suit your style whether you want dressy or casual. While some may argue that who wears a watch anymore? There is a time and a place (no pun intended, sort of) and there are many I know who collect timepieces so this, I imagine, would be appealing to this consumer. The Digital Crown is Apple's most revolutionary navigation tool since the iPod Click Wheel and iPHone Multi-Touch. Now, die-hard Apple users who are familiar to the brand's user-friendly ways can join in seamlessly. You will be able to keep up with your emails, apps, texts, answer calls to your iPhone, and with Digital Touch, and send something as personal as your own heartbeat at a glance but you can do it subtly, like in a meeting or waiting in line at the coffee shop. It's definitely more discreet than pulling out your device. The Apple Watch is expected in the market place in the new year with three collections.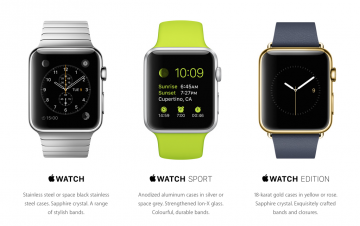 A surprise "gift" of U2's newest album "Songs of Innocence" was also released to over half a billion copies distributed to existing iTunes Store customers last week for free in 119 countries. Somehow, the album with 11 new songs, magically loaded on our iTunes accounts and many people I know were thrilled to get this bonus. Chatting with my friend Elaine, we had relished over how clever this move was by Apple with incorporating the world's most popular rock band and how this album brings back the real feel of U2. After a week of this gift sinking in, apparently some people out there were not so thrilled (like, maybe my mother-in-law) and wanted the album removed from their library. Within the past couple of days Apple issued steps on how to remove the album if so desired. Not me. It's a keeper!
Apple announced that 4 million iPhone6 and iPhone6 Plus devices were pre-ordered within the first 24 hours – a record breaking number of wants there!
iPhone 6 comes in gold, silver or space grey, and will be available in Canada for a suggested retail price of $749 (CAD) for the 16GB model, $859 (CAD) for the 64GB model and, for the first time, a new 128GB model for $969 (CAD). iPhone 6 Plus comes in gold, silver or space grey, and will be available in the Canada for a suggested retail price of $859 (CAD) for the 16GB model, $969 (CAD) for the 64GB model and $1079 (CAD) for the new 128GB model. Both models will be available from the Apple Online Store, Apple's retail stores, and through Rogers, Bell, Telus, MTS and Sasktel, additional carriers and select Apple Authorized Resellers.
While most of us are not the types to change our smartphone every time a new device comes out, this is definitely on my radar for an upgrade for the long-term as I can see it taking care of my everyday needs and weekend antics. There's so much more about the new iPhone 6 and iPhone 6 Plus that's worth taking a closer look at as mentioned, my current iPhone 5S will keep me happy…maybe until my birthday *winks*
So, how about you, are you considering a switch?