We've got a family tradition every Family Day Weekend. We enjoy visiting the Canadian International Auto Show (CIAS) — even when we're not in the market to purchase a car. My hubby and  older son are car fanatics. The older kid, now 14, can tell you almost anything you want to know about almost every car out there. Ask him about performance and luxury cars like BMW, Mercedes-Benz, Ferrari, McLaren and you will get an ear full. There's definitely a passion in that kid that is non-surpressable.
My 9 year old likes to just explore much like I do. We seek out the special events and fun stuff at  this massive show. It's actually quite fun to wander the show and listen to my kids get all excited about what they see…or want to see.
I don't need to tell you that every big name car brand has a serious presence at this annual show that spans the entire Convention Centre in Toronto. Both North and South are teeming with shiny cars, SUVs and pick up trucks. Concept cars brings the future closer to reality and well, the luxury sports cars are incredible sexy.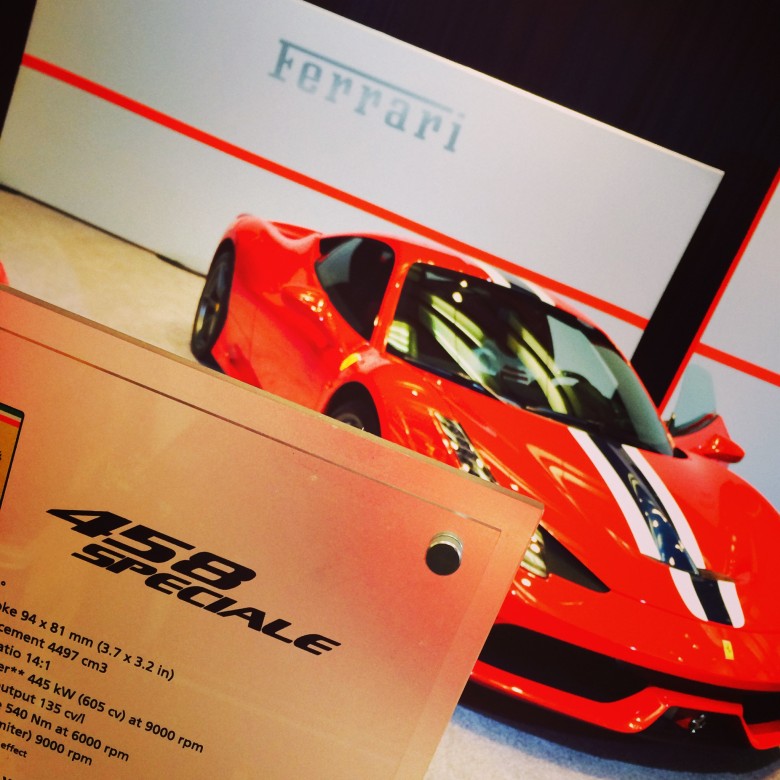 Here are my top 5 favourite things about this year's show…
1. AUTO EXOTICA – this is an absolute favourite for car lovers and each year there's a few special cars on display that many of us may not have any other opportunity to see. This year features the McLaren P1 (shown for the first time in Canada), Ferrari 458 Speciale, Maserati Ghibli, Aston Martin Vanquish, and a Lamborghini that has collided with the artworld.
2. BMW – a few real stand outs with BMW this year including the new BMW i8 the newest entry to the plug-in hybrid market. The company calls it "the most progressive sports car" and it defintely looks gorgeous! The BMW M6 Gran Coupe was also amongst the featured vehicles and one I couldn't get my eyes off. Within the BMW exhibit space you'll also find an Olympic display as they are the official sponsors of the Canadian Olympic Bobsleigh and Skeleton teams. Kids can jump in and take photos. Signed helmet is also on display.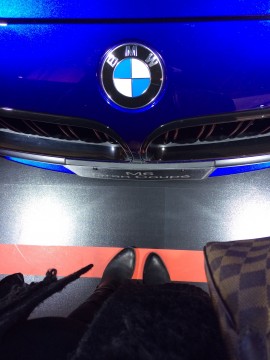 3. MAZDA – venture to the Mazda area and check out the cool 3D Printer that is pumping out models of the cars. It's neat to see how this technology is progressing and something fun for the kids when mom & dad are busy kicking tires.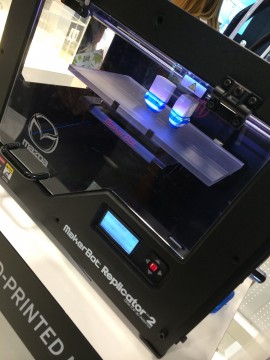 4. Tribute to Ron Fellows presented by Canadian Tire – Ron is recognized as one of North America's most successful race car drivers. Recently inducted into the Canadian Motorsport Hall of Fame, he is not only one of Canada's top auto racers, but also considered one of the country's racing ambassadors. This dedicated room is filled with his history, awards, history highlights, racing gear and a collection of his cars are on display. Ron Fellows will also be making personal appearances including Wednesday, February 19 (5-7pm) and Saturday, February 22 (12-2pm)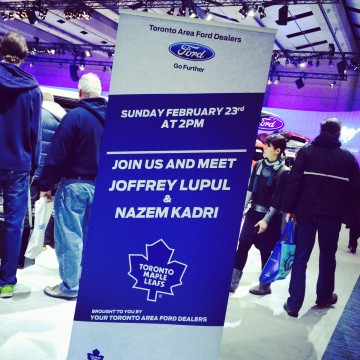 5. FORD Canada – there are tons to see of course, the FORD Canada space is pretty impressive but this coming Sunday, February 23rd at 2 pm they are bringing in Toronto Maple Leafs players Joffrey Lupul and Nazen Kadri for a meet and greet.
There's definitely more I could list out and I was definitely exhausted after 3 hours of walking around. I don't think we saw everything in that time frame so we may need to head back.
In addition, this is worth noting…
Volkswagen Playcare Centre – the show is massive so if you've got little ones you may want to "park" them here. The Centre is staffed by professional caregivers and it looks like fun. There are toys, arts & crafts, television and ride toys that will keep them busy. Kids must be 3+
Rogers Charging Station -You know you'll be Facebooking or Instagramming the heck out of this show. Luckily Rogers has installed a charging station for you to juice up your mobile devices so you won't have to worry about draining your batteries!
Visit the Canadian International Auto Show for all the details and to purchase advanced tickets. The Show runs until February 23, 2014 at the Metro Toronto Convention Centre.