Imagine a stadium filled with 20,000 kids cheering and screaming in one of the most incredible events of the year. No, I'm not talking about a One Direction concert. I'm talking about We Day — an all day event that inspires kids to do good locally and globally. This annual event is one of the most sought after tickets that money cannot buy. Kids earn their way in through volunteering for causes of their own choice.
We Day gives these kids the opportunity to hear amazing high-profile speakers like Chris Hadfield, Katie Couric, Queen Noor of Jordan, Joe Jonas and Big Sean. Kids also get to hear about other kids who are doing good in their communities and around the world. To top off the day, live performances get the kids all excited by some of the most popular artists including Hedley, Lights, R5, and this year's  surprise performance by Kendrick Lamar!
The event visits several cities on the North America tour with even more celebrities participating. We Day Vancouver will see Selena Gomez this year! But it's not just about seeing the stars. While that's all very cool and such, the biggest impact – as seen first hand with my own kids – is when they are exposed to people like Spencer West or the students from the Kisaruni school in Kenya. The world all of the sudden gives them a reality check and recharges them to want to do something good in this world.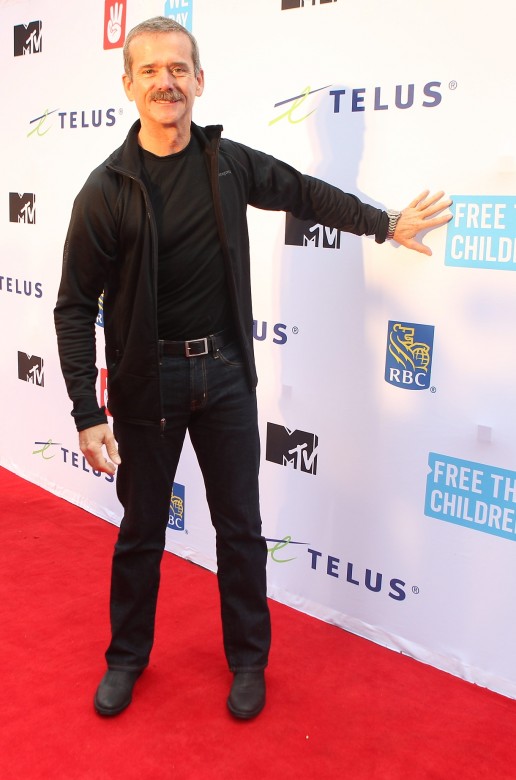 How do we empower kids to take action and to be passionate about issues that are important to them and the world? Just take a look at Craig and Marc Kielburger, founders of Free the Children and you would totally understand where their compassion and enthusiasm stem from. There are a lot of people that tell kids that they can't, but the Kielburgers have encouraged kids to say "why can't I?" Now as adults (and Marc being a dad of two) they encourage us all to do whatever we can with the tools given to us. "Even with technology we can use it to do something good," said Craig Kielburger. I like that.
But this is not just a one-day event. Keeping the momentum is key for the kids and they are already doing it themselves taking on to social media and sharing what they are doing. During the event, they relaunched the We365 App that kids can download for FREE and take on daily challenges, track volunteer hours, and use their mobile devices for good.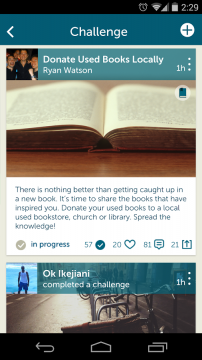 The point is to do something to change the world we live in, every day. Education, clean water, bullying, health, freedom of speech, environmental, animals, oceans, space…whatever your "issue" is, We Day wants kids to make a difference. And here's a bonus! Until November 30,  TELUS will give $5 to Free The Children for every We365 download available through iTunes App Store and Google Play.
In addition, until November 30, TELUS will also give $25 in support of We Day with the purchase of any tablet from $0 on a two-year Easy Tablet plan. TELUS has a five year multi-million dollar partnership as National Co-Title Sponsor of We Day in Canada. Since 2007, the company, its staff and retirees have given more than $12 million dollars in support to Free The Children.
We Day events are held in Canada, US, and the UK with over 200,000 youth in attendance in this educational initiative to provide a platform for kids to learn about some of today's pressing social issues, helping to inspire them to become leaders and global citizens. You can find out more about the We Day Tour and see if it's coming to your city! Details can be found at www.weday.com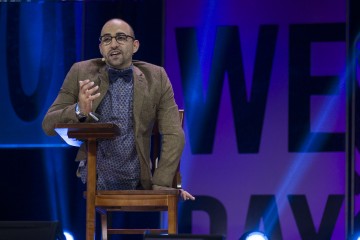 This year, my 10 year had the opportunity to experience We Day for the first time and it was just as exciting for me as it was for him. He was definitely in awe at the massive number of kids at the Air Canada Centre and took it all in. "I got to see a Queen!" and "Wow! That's Hedley and Chris Hadfield?!" His head was spinning. He had heard of We Day through his older brother and understood that it was an important day. He wished that more kids could go. We volunteer all year round at various events and he's now fuelled to do even more. This week we'll be preparing Thanksgiving dinner at an inner city shelter. No doubt this will be another eye-opening experience. But the greatest thing is hearing him talk to his friends and encouraging them to do something for the community, chatting about We Day, and yes…about Spencer West.
Together, we took note of some quotes that stood out for us and here are just a few… there were many!
Top 10ish We Day (Toronto) Quotes to inspired kids:
"Don't wait for the perfect moment. Make the moment perfect."
"The most important equation to learn is give + issue = change."
"We can all overcome our challenges. Rock your differences!"
"You are more powerful than you know!"
"The decisions that you make every day will change the world around you. This world needs you."
"Remember the most important thing you can change is yourself."
"What is your someday? Don't be afraid to dream big."
"There are things you can't control but you CAN control your reputation."
"It's nice to be important but it's important to be nice."
"Lift while you climb. We need to support and encourage each other."
"You never know why some people are the way they are. If you look deeper into their past and into their homes and what life is like for them maybe we'll be understand."
I could go on and on about why this movement deserves our attention but this video will explain everything…