Over the past few months I've been taking note of some interesting gift items in anticipation of Mother's Day.  So, I've compiled a list of what to get moms who love meaningful gifts. You know what I mean? Whether you make something by hand or buy a gift, it's nice to know that you've taking the time.
Here are my top 10 gift ideas and why they made it onto my list…
I had missed creating a photobook for my in-laws for the holidays this year and they had mentioned several times how much they have cherished them. I've used several different companies to create the photobooks but now that it's "crunch time", I've actually made one the other night through Apple's iPhoto book program. The whole process took me 2 hours to create 20 pages – most of the time I was deciding which pictures to drag from my MAC iPhoto file into the Keepsake working file. Then it was a smooth process. It mentioned that it will ship within 1 to 5 business days so I think I'm safe. My MAC computer has saved a copy and I can share the viewing file (complete with sentimental music of choice) with the family on Mother's Day.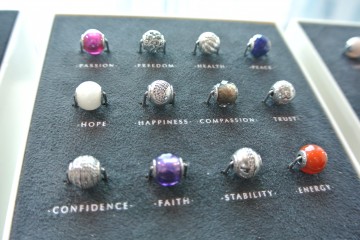 I know that Pandora continues to be a strong go-to for many gifting occasions but I was recently introduced to their NEW Essence Collection that launched in the fall. Each charm in the collection is symbolic of a wonderful quality: inner beauty, value, hope, strength. They are empowering and very personal. The charms themselves are also made of meaningful materials with energetic and enlightening properties. The Rose Pink Moonstone is known to bring success in relationships and are perfect for making peace with oneself. www.pandora.net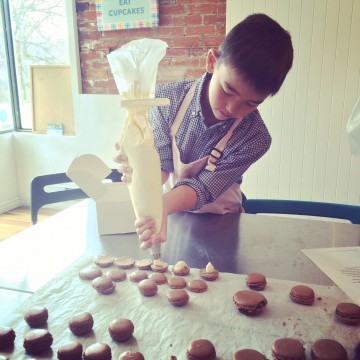 Take mom and learn how to make macarons and other heavenly pastry delights at Le Dolci in downtown Toronto! I had a great experience with my son last weekend at the 2 hour class. We're both macaron addicts and it was a great way to spend time making something together. The bonus is we could show-off what we made to the rest of the family as we got to take them home!  Now he wants to go back and make gourmet doughnuts!  You'll also want to check out their pop-up Spring Markets that have just begun. www.ledolci.com
If mom's into yoga, it may be time to upgrade her mat!  I've recently returned to my yoga classes with hubby and  I've started using the B MAT by By Yoga – a Canadian company that has created a new lightweight yet durable mat. The B Mat has incredible gripping power that keeps you in place. When I went to my yoga class, even my instructor was intrigued. She tried it out and loved it. I should also tell you that I'm very sensitive to smell (yes, the yoga class I go to has lots of space if you know what I mean) so the B Mat is great as isn't as rubbery smelling as the ones I've used in the past. The company offers a travel yoga mat that is thinner than the regular one. Both are great. www.byoganow.com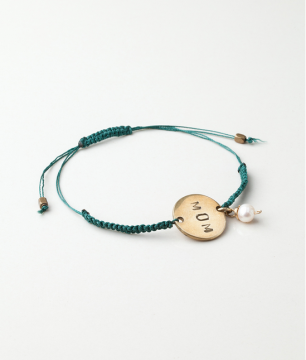 For Mother's Day Me to We and DHL Express Canada have partnered up in a special campaign "Mamas to Mamas". Items in the shop are made by mothers in Kenya. The hand made jewellery is not only made by artisans but proceeds from the sales go back to supporting their communities in health and education. For every purchase of the exclusive Mom Neno Bracelet shown here, DHL Express Canada will provide one health clinic visit to a mother and child. www.metowe.com
If mom has been hinting that she needs a break, take her for a quick and affordable weekend getaway with substance! I'm eyeing the Girlfriends' Getaway Weekend (May 30-June 1) at Deerhurst Resorts. I LOVE  Jully Black and Jarvis Church, the entertainers for this weekend! The getaway includes  great well-being workshops too!  The weekend package starts at $299 (spa add ons are available). Located in Muskoka.  www.deerhurstresort.com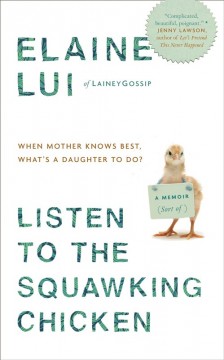 You've probably heard of gossip reporter Elaine Lui (aka Lainey Gossip) and follow her online? She's also one of the hosts on  "The Social" – a fun daytime talk show. She's recently published "Listen to the Squawking Chicken" and it's a great Mother's Day gift… or to put on your own reading list! In this book, Lui talks candidly and openly about her relationship with her mother and how her upbringing has shaped her into who she is today.  The Chinese culture is full of complexities and funny superstitions that I can totally relate to.  It's an interesting and fun read about their mother/daughter relationship. Published by Random House.
I was rushing through the underground PATH at Metro Hall Centre in Toronto last week and spotted a few neat items in Papryus  that were really awesome. I just love the wall art inspired by popular song lyrics like "Ain't No Mountain High Enough" and "How Sweet It Is". I'm also a fan of writing note cards so I stocked up on Crane's  simple and elegant collection. Then there was this cute little dish that says "I love you" that would be perfect for keeping rings and things. www.papyrusonline.com
In lieu of gifts, consider this unique opportunity to help provide piece of mind to low-income families with a donation to the Hope For Children  "Sleep Tight" campaign. The project is aimed at raising funds to purchase safe and new cribs for those who cannot afford one. "No parent should have to put their child to sleep in a stroller or car seat because they can't afford a crib," says Kara Spedding, Manager, Fund Development. The Hope for Children Fund has been actively working to educate Toronto families about safe sleep and the need for cribs in Canada is growing. www.hopeforchildren.ca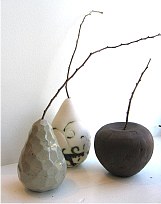 I love wandering through the Art Gallery of Ontario's gift shop for interesting items with design in mind. There are contemporary home decor items, hard-to-find prints and one of a kind jewellery made by artisans. Atelier Trema by clay artist Marie-Joel Trema designs unique decor pieces and is amongst my favourites for her architecture inspired collection. But if mom is a art lover, she may be thrilled with a membership to the AGO! www.ago.net 
Happy Mother's Day!