Heading back to work after maternity leave comes with lots of change for us moms. When I went back to work, I felt like I was pretty organized with daycare, schedules but when I had to face my wardrobe, I froze. All of the sudden things kinda-sorta didn't fit the same and I found myself looking around at the styles in the office the first few weeks back and realizing that I needed a few updates.  It wasn't necessarily about being trendy or fashionable but more about feeling confident heading back into the workforce. Luckily there are experts out there that can help women, like you and I, to help us sift through what to wear, or not.
I was recently introduced to Lazina Mckenzie, a stylist and brand consultant who has created the first online course to give women the ABC's of how to inject style for women who wished they could have someone help them! She teaches women the tools and offers the resources needed to create a polished and professional image. She understands the challenges that we face and knows how busy life can be. Through her Style Foundation through her company Style Ivy, a 5 week online program, she helps us present ourselves with confidence while heading back to work. I had a chance to ask her for some tips!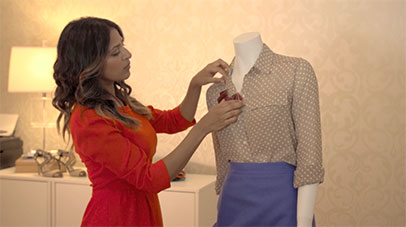 Where do you start?
For a lot of women, this can be a nerve-wracking time in life. You're leaving your new baby to head back to a job that you may feel a bit stale going back to. Never mind that your body has changed! It's a great idea to take ownership of that one thing you have total control over — your personal style.
The advice I give each of my clients is to start in your closet. It's important to know and take stock of what you have, what you don't have and what gaps exist in your closet as you head back to work after mat leave.
Once you know where you stand when it comes to your work wardrobe, it'll be that much easier to start filling in those gaps and building work outfits that fit your career goals, your budget and your new post baby body.
Any rules on what to ditch first?
I'd never say ditch garments. Rather, create piles of items to keep, donate and tailor.
The first item that you'll want to pair down is pieces that simply don't fit you anymore. Yes, you may be hanging onto those items with the hope of losing those last 10 baby weight pounds. You know what? You'll feel so much better just donating those items and starting fresh at the point you are at in life right now. It's not a wasted investment, I assure you.
What should you always have?
There are a number of basic items that every professional woman should have in her closet. The number one item that I suggest every mom should have as she goes back to work is a blazer that she feels fierce in. Why? Whether your work environment is formal or more casual, a blazer adds a level of formality to any look. Also, it helps to give you some coverage if you are still feeling a bit uneasy about your lovely post-natal curves.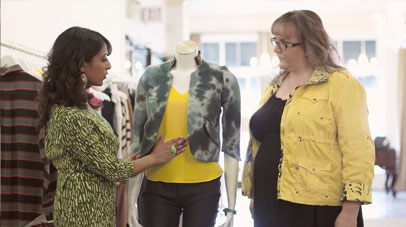 What are some easy updates?
The easiest item to update your look is accessories. This is when you can incorporate of-the-moment trends into any classic outfit. Every season or two, I suggest updating belts, earrings, a scarf or pashmina, necklace, sunnies and a day clutch. These are the items I'd skimp on so you can upgrade your look each season.
What are some current trends? And what about investment pieces?
This is something I tell my clients about. Investment pieces are important when building your wardrobe and your personal style. Investment pieces will always be a thing. Why? Because higher quality garments will last longer. With better material, stitching and lining comes longevity of your garments.
If I had to narrow it down, I'd say that the three key investment pieces that will never go out of style are black cigarette pants, a trench coat and a fitted white dress shirt.
What about handbags?
For your day to day handbag, invest. This is the handbag that will take you to work, the grocery store, the park, lunch with friends and everywhere else in life. It'll dress up a basic jeans and t-shirt look. For evenings out this is where of-the-moment yet less expensive cross body bags or evening clutches can really up the style factor of your look. These are the items that can play up your personality and your tastes.