Ever get that feeling when you look at your closet and feel like you've got nothing to wear? Full of pieces you love but you have no idea how to pull it all together? I'm not always going to go out to shop every time I have a special night out  but I'm willing to add a few pieces each season. However, if I've built my wardrobe up right, I should be able to refresh my looks pretty quickly with what I have.
Friends have reached out for advice on what to wear for everything from business dinners to out of town weddings to a quick trip to Vegas. I don't mind playing stylist (dream job) to my friends and introducing them to  some new Canadian designers or labels they may not have heard of. But wouldn't it be nice if we all had access to professional stylists at any given time of day or night?
Recently I came across a site called My Fit My Kit (MFMK) that offers styling service for free. Created by designer Elise Lachance, who has a decade of experience in fashion design, this site is really handy when you're stuck on what to wear. The site launched last year and has over 20,000 visitors each month and 10,000 custom looks created for both men and women.
To start, you input information including weight and height—the info stylists need to know to provide recommendations and suggestions for your body shape. The site prompts you to answer specific style related questions. What do you like? What retailers best suit your style.? Are you mostly sporty casual or traditional classic? And what parts of your body do you like to highlight or conceal? You can also add information like "I don't like wearing wool" or "I'm a fan of patterns" or "I don't wear white" for example. It also asks about if you have a budget in mind.  The more information, the better, so Elise and her team of stylists can best pull together outfits for your needs. By the way, it does prompt you to choose a type of event you're needing the outfit for (office party? date night?) and if you were to spend money, what's your budget?
Once you've inputted your information, the site's team of stylists get working to pull together an inspiration board based on your answers. Within 24 hours, I received an email link to the styles and recommendations. Everything from shoes, jewellery, and handbags were suggested to complete the overall look.
I was interested to see what the site would pull together for a Friday night out with friends. This is what the inspiration board showed.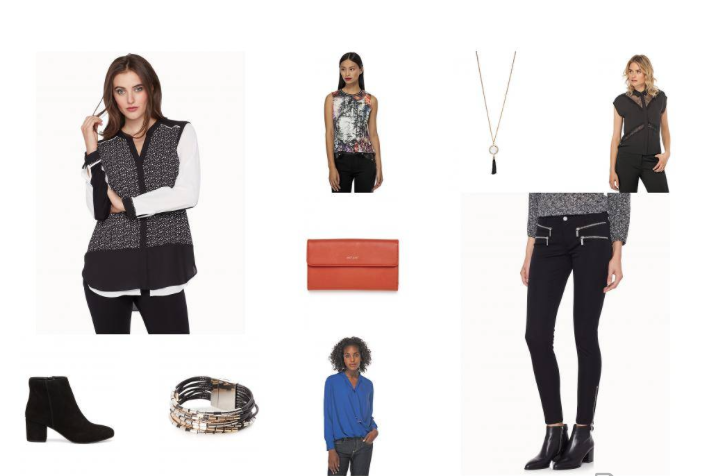 While I can easily pull out similar pieces from my existing wardrobe it was refreshing to be able to get suggestions to tweak my look. I also appreciated that the pieces shown could also be purchased with links directly to the various retailers. That sleeveless graphic top is one I really like and may just go for.
I gave it another try but this time I submitted an image of a jacket that I bought and have been stuck on what to wear it with.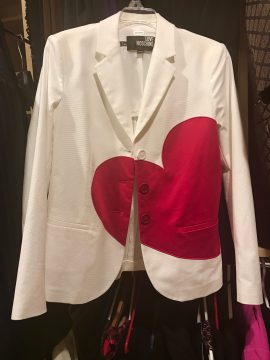 This cute jacket still has the price tag attached since I've been unable to pair it with an outfit yet. In my head I've been thinking casual. So this is what came back…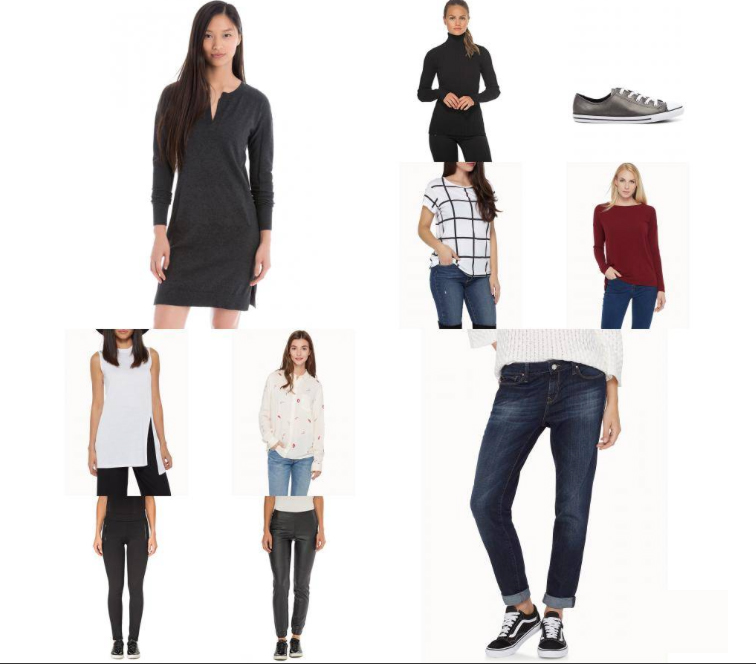 MFMK partners with well-loved retailers like Lole, Simons, Tristan, Penningtons and many others to source out looks for Canadians. There's no obligation to purchase anything. I like that. But I do like the option as well since it saves me time from wandering aimlessly at the mall and getting distracted.
The site keeps track of all your inspiration boards so you can refer back whenever you want. And you can request up to five different inspiration boards each day.
It also has a great blog within the site to help you navigate the latest trends and how to incorporate them into your looks. A perfect example is how to wear the current fall styles with those adorable ankle boots.