Written by Kait Fowlie 
You've shopped until you dropped for back-to-school clothes, shoes, and school supplies. Now that the first day is here, what exactly does your kid need to bring? Here's your first day packing checklist to help you make sure your kid starts their year off right!
Paperwork: If your kid is starting a new year at a new school, make sure they have all the paperwork they need, filled out completely. Don't forget to send them off with any assigned reading lists, a school schedule and map. If they're heading to a new school, a map will put their mind at ease, and their schedule will help guide if they'll be heading to multiple classrooms throughout the day.
Medication: Epipens for those with allergies, puffers for the asthmatic, etc. Help your kid be prepared for anything. Make sure teachers are aware of any special needs they may have.
Supplies: If your kid gets to choose theirs school supplies themselves, their school work/homework will be that much more inspired. Don't forget to label everything with a name – pencil case with crayons, pencils & pens, and erasers, and notebooks and an agenda if necessary. If your kid will be getting a locker, a lock / magnetic mirror.
Your contact info: Write down the number you/your spouse can be reached at work or home, and if you're not there, a secondary emergency contact.
Super snacks: Stock that new lunch box with power snacks (fun fact: the high potassium content in bananas calms stomach butterflies, making them a perfect first day snack), a lunch they'll actually eat, and will keep them going through the day. Hint: it doesn't have to be stressful. Find out your kids' school's policies about allergies. Don't forget to stick a note in there for your kid to find.
Nice to haves: The first day inevitably brings some jitters. Depending on whether your child will have a cubby or a locker, or just a desk, send them with some décor to make them feel more comfortable. Pack their favourite toy to ease the transition.
The right gear: Packing the perfect backpack starts with the right backpack itself. Look for a bag that's the right size for your child, and fits their activity style. For budding artists, many pockets make for simple storage, for adventurers, a durable pack is ideal.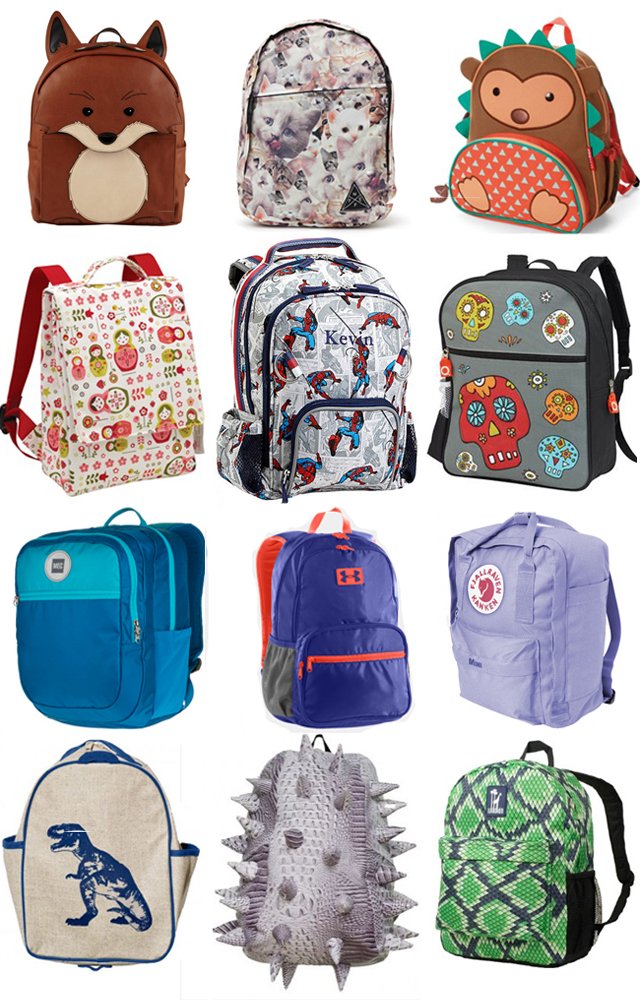 The same goes for lunch bags, pencil cases, and other storage your kid might need for cubbies or lockers.
Mazzo Backpack, $55 | Neff Daily Meow Backpack, $40 | Skip Hop Zoo Pack, Hedgehog, $25
ORE Originals Kiddie Play Pack, Matryoshka Doll, $35 | Allover Spider-Man™ Backpack, $41 | Sugarbooger Dia de los Muertos Zippee!® Back Pack, $28 US
MEC Elementary Book Bag, $43 | Under Armour Girls Great Escape Backpack, $50 | Fjällräven Kånken Mini, $65
SoYoung Blue Dinosaur Toddler Backpack, $45 | MadPax Lator Gator Full Pack, Great White, $65 | Wildkin Crackerjack Backpack, Snakeskin, $43
Their favourite outfit: Your kid needs to make an entrance on the first day looking and feeling their best – especially if first-day pictures are happening (check out these 10 Back-to-school fashion trends we're loving).
Heading out to do some last minute shopping? Don't leave without consulting our definitive guide to the essential back to school must-haves that every parent needs, because let's face it, back to school is the unofficial new year for moms and dads everywhere!