We've been hiding our feet in cozy warm socks over the winter months and unless you had an island vacation, you've probably paid little attention to what grounds us. I certainly don't go to the nail salon for pedicures in the winter unless there's a trip to look forward to. Not because I don't want to, but realistically I don't have the patience to wait until my nails are completely dry before putting my boots back on. I also feel silly walking on icy sidewalks through slush in flip flops to preserve my perfectly painted toes.
A couple of years ago a friend gave me an Amopé Pedi Perfect Electronic Foot File as a gift and it's been one of the most practical beauty devices I own. At first, I thought the hand-held electronic foot file would be great for bridging those winter months or when I've found myself with zero time to go out for some pampering. Let's face it, we don't have much time to ourselves as moms and getting to a nail salon isn't easy.
The Amopé became my go-to all year round tool to help keep my heels smooth. If I can't dedicate two hours to spend at the nail salon, the next best thing is to give myself a little "me time" at home.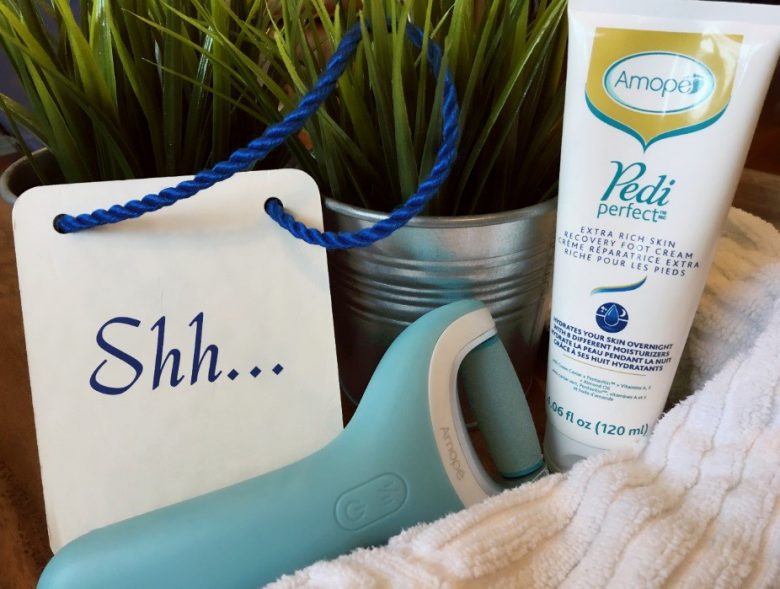 Recently, I discovered the Amopé Pedi Perfect Wet & Dry, a newer version of my much loved device and now I can easily use it when I'm in the shower because it's waterproof! An added bonus is that it's cordless and rechargeable. The new device has a two-speed option—one for hard skin and the other for touch ups. You can also conveniently store it in its own docking station to recharge.
The device has a specially designed roller head that can be used wet or dry to help buff away hard skin effortlessly. When your heels feel dry and flaky, the Amopé Pedi Perfect is a handy device to quickly rid your feet of the dead skin and leave them looking as though you've just stepped out of the spa.
It's a great gift for idea year-round, but with Mother's Day coming up, the Amopé Pedi Perfect really is the perfect present for all the moms in your life (including yourself!).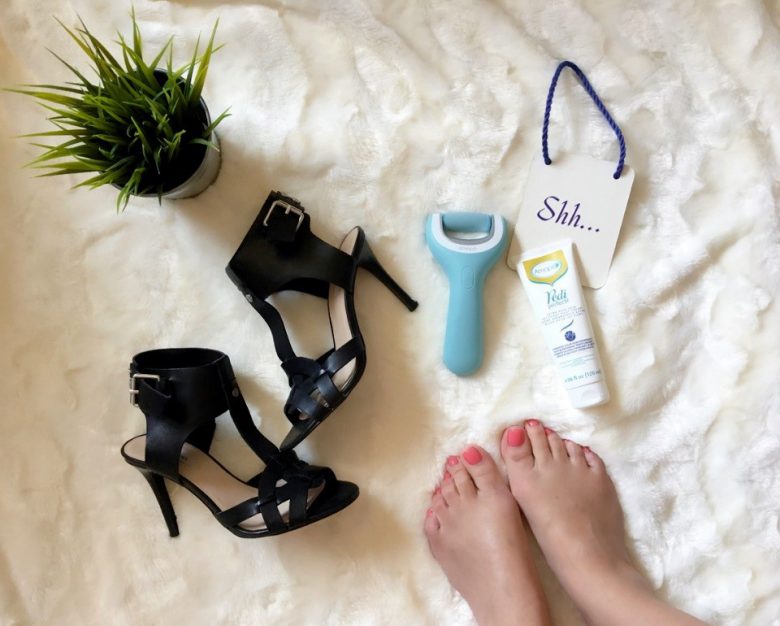 Here are some tips for perfecting the DIY at-home pedicure:
If you've got harder skin to deal with, try soaking your feet in a warm bath to help soften up for easier sloughing. The Amopé Pedi Perfect Wet & Dry is perfect for taking in the bath to save time.
Keep skin well hydrated by using foot cream the Amopé Daily Moisture Foot Cream. It's light-weight, but has rich ingredients to help replenish the skin's moisture for up to 24 hours.
Apply foot creams daily – ideally at night to allow for skin to breathe, recover and nourish.
Keep an eye on deep cracks in the skin of your heels. This is when I'm really happy to have my personal Amope device, as I believe it's more hygienic than a salon pedicure.
Keep nails buffed and trim. Cut your toe nails straight across with clippers and then use an emery board or nail file to gently round off the edges so they won't get caught on socks or other hosiery. And don't be afraid to try fun colours to show off your beautiful feet!
The NEW Amopé Pedi Perfect Wet & Dry Rechargeable Electronic foot file retails from $64.97 to $79.99. Since the average price for one pedicure at most reputable salons is almost that, this is sure to be an ideal gift for anyone who loves to have soft, pretty feet.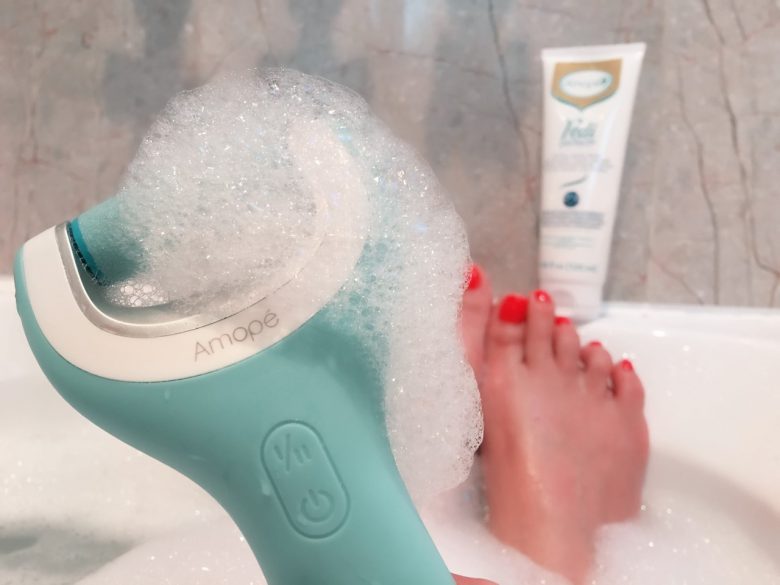 The complete Amopé line of nail and foot care products are available at major Canadian retailers including Shoppers Drug Mart, Rexall, Loblaws, Jean Coutu, Uniprix, Familiprix and Walmart Quebec.
This post was brought to you by Amopé but the images and opinions are our own.