It's no secret that I'd been ready for October end, but I do enjoy the Halloweening… might as well go out with a loud noise, right? BAM.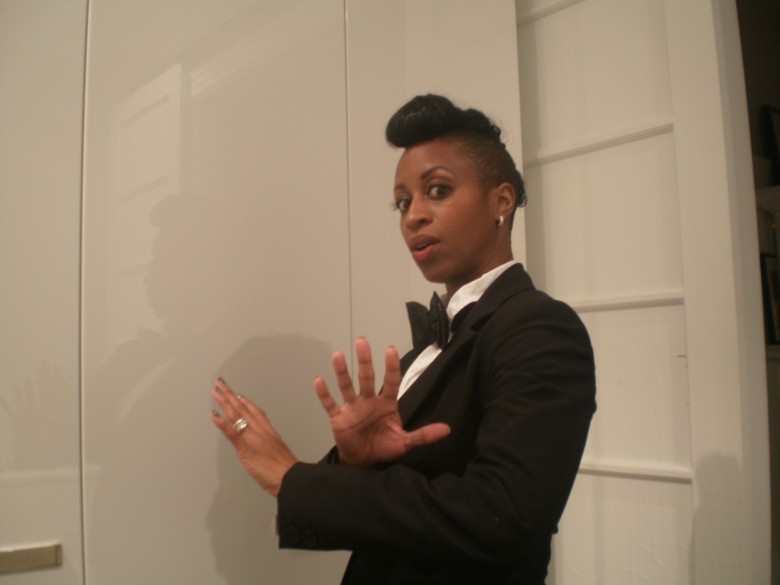 The other day I talked about getting my costume together, which was fairly easy since I owned nearly all the components already, but the hard part was making the hairpiece which started out as a curly black beard. A beard, I tell you. It came with a pirate-costume kit from the dollar store – I picked it up as an option for Oliver as a last-minute birthday-party-costume idea, which he flatly refused, and he opted to go as a gangster instead.
I can't really sing like her. But dance? You bet your sweet bippy.
I bought one of those hair-donut-bun-making thingies (ladies with hair probably in the know about this stuff) and got crafty with some bobby pins and some toupee tape that my sister brought with her when she came to visit. (Well? What's in your purse?) I nicknamed the thing Faye, after Faye Dunaway, (who I've heard is notoriously difficult to work with on set) but in the end, I made Faye my bitch, and she held up rather well. A good friend of mine (who NEVER gives compliments to anyone hardly EVER) told me I should really consider a life-change around this hairpiece. I have to admit, it was pretty fierce. And I *might* be wearing it right now.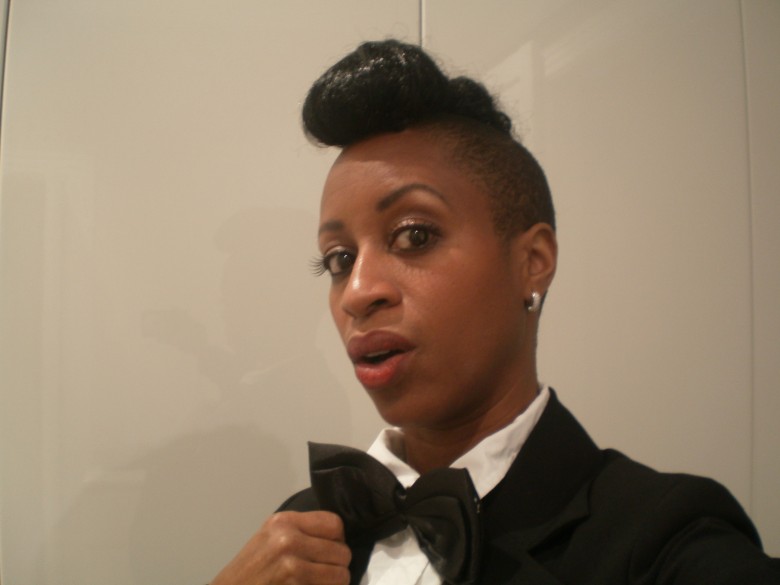 And, it's just as well that Oliver opted to go as a tag-artist instead of a gangster – it liberated my black blazer he otherwise would have worn Halloween night, so I had a perfectly apt "tuxedo" to wear, with the help of a dollar store satin bow-tie. (Just when I thought the tie was too big, I checked out her video again…) Add eyelashes = Janelle Monáe.
I can carry a tune because I can often imitate people well, but I can't *really* sing like her. But dance? You bet your sweet bippy. It's how we do around these parts. After all, half my lame-ass-non-workout is comprised of doing a lot of this kind of stuff… [Check it especially after about two minutes in.]
[youtube id="pwnefUaKCbc"]
Of course, Halloween ain't complete without a few jack-o-lanterns. I started with five pumpkins, but the first one I tried to carve was rotting from the inside out, which I discovered when I inadvertently poked my middle finger into it's cold, squishy wetness by accident. Eeeeeewwww. So not sexy. That left four, and I only managed to get three carved in time. *shrugs* I'm getting better at letting myself off the hook about such things. Because anyway, who really cares? Not this guy.
Ava Scarlett wanted Victor and his Corpse Bride, so I couldn't really refuse her. And since Oliver barely cares a wit about Halloween anyway, I decided on Dr. Frankenfurter the minute I saw a video clip come up in my sister's feed on Facebook. Man, I love me some Rocky Horror Picture Show. I used to do the theatre experience with my friend Monica back in the day. Nearly every weekend. For EVER, it seemed. Good times, yo.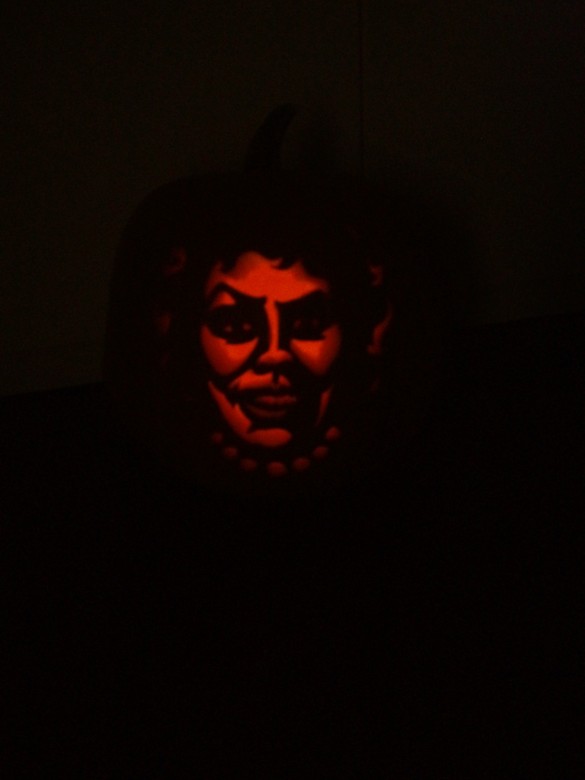 Just a Sweet Transvestite.
I was sorry about the rain that fell for most of the day, but in the end it wasn't nearly as cold as I feared it would be that night (there's nothing sadder than seeing costumes stuffed over top of snow suits) and as the kids all made their respective ways home to dry off and sort all their bounty into piles across the kitchen floor, the grown-folk in our awesome little 'hood sat under tarps to protect us from the rain, grilling chicken and sausages, and consuming delicious wines, all while still in costume, until the wee hours. I'm not allowed to tell you any more than that – what happens in Tent City stays in Tent City – but let's just say when I cleaned up the aftermath of the Halloween shenanigans, I found a shearling blanket, vampire teeth, and a wig in the house that don't even belong to us. Good times, I tell you.
I hope you all had a safe and happy Halloween!
And hey! Have you ever seen Rocky Horror in the theatre? Did you ever act it out on stage?! Confess…