My 10 year old son did not want to go to camp in Collingwood.
There we were in the driveway of my parents house, supposed to run out to grab a lifejacket for Hudson's upcoming two week overnight camping trip when he admitted that he was a bit nervous about being in Collingwood and attending camp at Blue Mountain.  While having skied Blue a number of times, he hadn't been there in the summer, so he was a bit tentative, so, as we were driving toward Canadian Tire, I asked:
"You want to go check it out?"
"Sure"  He replied.
And off we went.
A mere seven days ago, I spent two days and two nights at Blue Mountain (with 12 women, ahem) and I was able to see first hand what Hudson as a camper and what many families get to experience by spending time at Blue Mountain.
Needless to say, by the end of the fifteen minute tour,  Hud seemed pretty excited.
So Hud and I drove for about 7 minutes from downtown Collingwood where my folks live and found a parking spot right next to the village for our mini adventure.  I showed him the gondola, the cascade mini putt course , the mountain bike rental place (just seeing 100 Rocky Mountain bikes all lined up is pretty cool) and the Plunge Aquatic Centre, all activities that are included with his week long camp starting the next day.  Doesn't have to be week long either, for families on vacation, day spots for kids are available as well.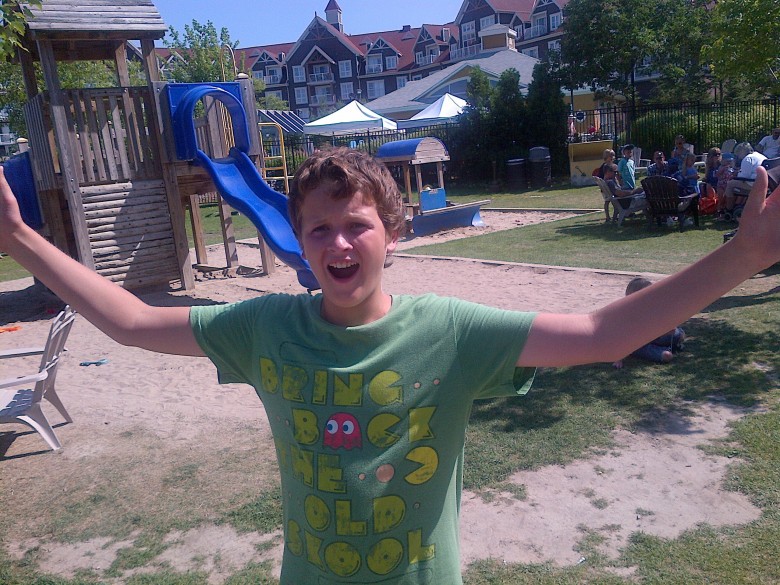 These are just a few of the activities that families of all ages can take part in at Blue, or, if you just want to hang out, the village has all the eats and drinks you want with the energy of families bouncing around, herding their excited kids, listening to the sounds emanating from the grandstand in the centre of it all.
Hud was totally into the groove of Blue Mountain village, hard not to enjoy the vibe, especially with beautiful sun and not a cloud in sight.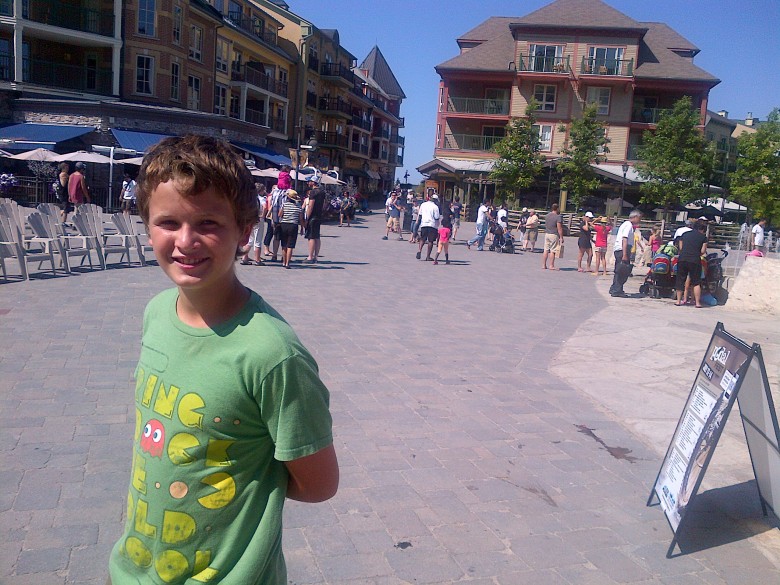 I had the luxury of showing what Blue Mountain has to offer because my parents live so close.  We signed up our boys to camp at Blue Mountain blindly, wanting to not place the burden of responsibility of a whole day's activity on my parents.  With Blue just around the corner, we all can rest easy knowing Hudson and Tasman will come home from camp getting a true flavour of what a full service, four season resort can offer.