I need your help!! About three weeks ago I accepted a challenge, on behalf of Urbanmoms, in support of Rethink Breast Cancer. I wasn't sure what I was getting into. The project, should I choose to accept it, was to create something using an official Rethink Breast Cancer designated product. I quickly scanned through the products, each one donates proceeds from sales to the cause. I totally could do some nail art with the nail polish or write something beautiful with the Swarovski Pink Hope Pen. But, the product shipped to me was…APOLLO TOOL KIT! But I was totally up for the challenge! They knew me well!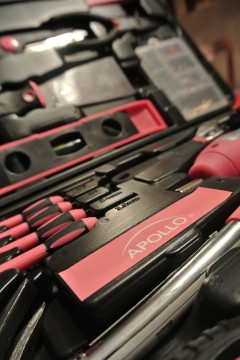 I accepted the challenge knowing that it would require more thinking and doing on my part. I had no idea who my competition is but when I post this write-up they will all be revealed, along with their creations. It's going to be a fun challenge for a great cause!
So, this is what came to me one night. But how I was going to make it happen was another story. I wanted to create something that was meaningful. I have friends and family who have experienced breast cancer. Some are survivors. Some were not. In their honour, I wanted to create something beautiful. Something that doesn't scream out loud but a subtle reminder that breast cancer affects all races, shapes, and sizes. It doesn't discriminate.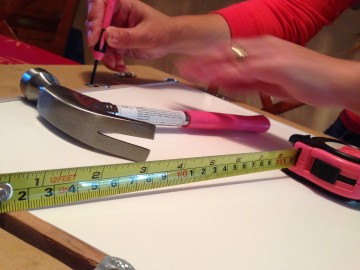 Some of you may know I'm an artist as well so it was clear that I wanted to do something that can be displayed. But I had two challenges to face. One was time. The other was money. With less than two weeks to the deadline my mind was reeling. I had this concept and I had started searching high and low for the elements needed to create this. There was no time to wait for suppliers for if I wanted to do this the way I wanted. I found a frame that needed a little fixing up but with the tools I knew I could fix it up. I found strands of beautiful pearls in the fashion district, orbs that are too obvious for the project, and my namesake on twitter/instagram. It was all too natural for me. Pearls are hidden gems of nature..they come from grains of sand and shaped as nature intended.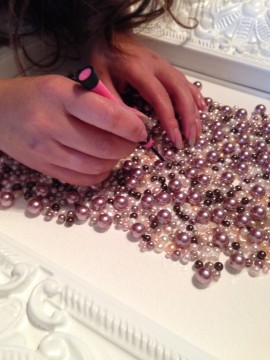 So, you know how I mentioned price was a factor? Freshwater pearls aren't cheap but neither are glass pearls. One day hubby and I were passing through casino town and hubby said, "why don't you just take $20 and go in?"
I'm not much of a gambler, but I had a good feeling. Long story short..I came out with winnings from the slot machines within less than five minutes. I knew why this all happened and I wasn't going to risk losing any of it. KARMA.
Sooooooo….here's the final result!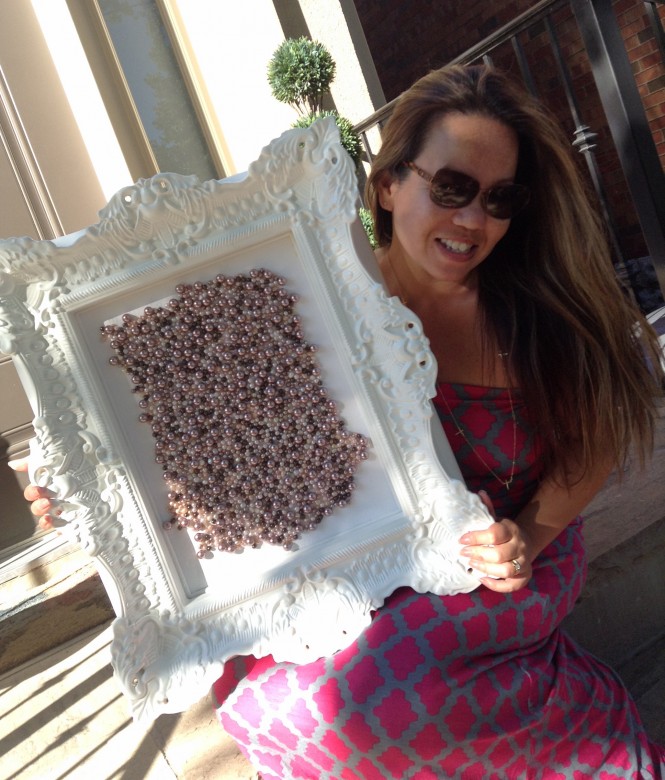 Now here I am —  faced against other challengers with their own creations using various products provided to each of them. This is where I need your help! The winner of this challenge will be determined by the number of votes!!!
From now until October 15th, go to this link Rethink Breast Cancer and VOTE ! AND YOU CAN VOTE MORE THAN ONCE! 
I'd love for you to vote for me because this project is so meaningful in so many ways. There's a lot of love  and late nights here! And please spread the word to your friends by email, Twitter, Facebook! Let's show them the power of our community!

P.S. I'm actually going to take this competition one step further and offer it up to anyone with the highest offer to purchase it. All proceeds will go to Rethink Breast Cancer. You know why? Because giving feels good. Really good. If you're interested you can contact me at sonya@urbanmoms.ca for the details.
In memory of my cousin Susan, who lived life to the fullest. Who left this world after winning a limbo contest while on vacation. I can recall one defining moment during her battle with cancer when she told me, "Sonya, I want you to always make me laugh, because I need to laugh."
I miss her dearly.