The biggest news in the lifestyle tech world lately was the much buzzed about Apple Watch. As a dedicated Apple user, I was pretty interested in the latest gadget. I wanted to see what it could do for me in my everyday life.
I'm not going to bore you with all the technical details of the product. What I'm going to do is tell you about my experience with the watch, the user side of things.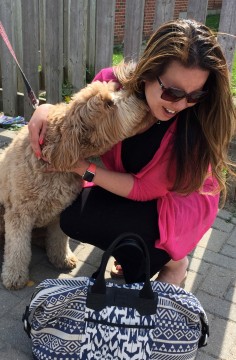 Within the first week of real-life testing, I had fun learning the most immediately important and useful features. It's been easy so far and I have to say, the watch has definitely been a conversation piece everywhere I go! Many people are curious!
First off, don't expect the purchasing experience to be the same as buying a normal watch. It's a more customized approached as there are several elements that you can select including the bands, type of metal and the size of the face. I chose the smaller 38 mm size. There's a sportier model and then the more refined look. I'm currently reviewing the Sport Watch model and you can find the difference models and my first look here.
Let's be clear, this is not a replacement for your iPhone. Rather, consider it a companion. My goal for the first couple of days was to un-do my habit of reaching for my iPhone every spare moment I have. After a few days I was able to settle into having the Apple Watch and being able to not check my phone as often. The real bonus here is the battery life on my iPhone is now extended even more simply because I'm not using it as much. You may be like me and say to yourself "I just need to check for any messages". But that inevitably turns into a half hour on my phone as I drift off checking Facebook, Twitter, Instagram. Now, I'm not missing the important texts and calls but I'm also not tempted to get distracted but the apps all the time.
I was at a lunch meeting and where I would typically place my phone on the table next to my side plate, but I didn't have to anymore. I've set my Watch to give me notifications of messages coming in from hubby, kids and grandparents. That way, I won't miss anything that may be important and not be rude.
It was also handy last night at the school concert where everyone was asked to put their phones away. I could see twitching in the audience and people simply couldn't not resist the urge to check their phones. I had set my Watch to give me a gentle nudge if a message came in so it gave me piece of mind as the older kid was elsewhere. I was also at the theatre where it definitely came in handy.
How it works? The Watch is connected via Bluetooth to your iPhone and will work within an approximately 30 metre radius. So, while my phone is in my purse I won't need to bring it out in public, or at home, if I choose not to. I won't have to worry about missing any important calls, messages and emails. Yes, calls can be answered via the Watch, too. You can also customize any other apps should you care to onto the phone. I've only kept the most important apps for me on there. I'll be talking about those another time .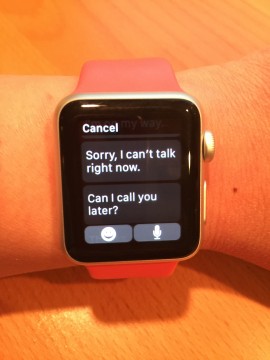 I know I won't miss any important incoming messages, but now I can respond to them even faster and more discreetly. My replies have been simple touch of screen and recording an audio message which then can be sent as is OR as a text. Way faster than typing and it's been accurate so far. But there are also common responses already pre-loaded for easy access like  "Sorry, I can't talk right now."  This has been great already for when I'm in transit walking or taking the bus and in meetings. I can also see it being a fast and easy way to receive and send message in other places. I have it set up to vibrate each time a message comes in. It's more like a gentle tap but you can customize the strength, if you want it to make a sound or nothing. What I REALLY like is that messages cannot be viewed by others and you can only see it if you move the face of the watch towards you (like you're checking the time), allowing for a bit more privacy.
While it pairs to your iPhone you can use them interchangeably and the Watch already defaults to mirroring your phone. But again, it all can be customized to your needs and wants. You don't need to do anything else.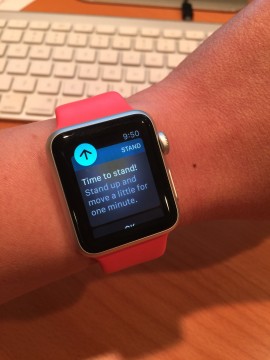 Speaking of nudges, the Watch is set up to give me a quick nudge if I've been sitting too long. It's called the Taptic Engine; it is inside the Watch and after an hour of being at the computer (or uh, maybe taking a much needed nap on the couch) it's been telling me to get up and move around. I will also explore what else it can do for everyday, like Apple Pay, photo taking, what's new and exciting.
BTW, Christie Turlington Burns has an ongoing blog on how she uses it for her marathon training that's worth checking out. As a mom herself, she runs a pretty busy life but finds time to get in her workout routine.
People have been asking about the battery life and how it charges. I start wearing it around 8:30 am and generally wear it for 12 hours. The battery life lasts all day and still has juice left. Each night I set it in the provided charger—a magnetic disc that is plugged into a regular electrical outlet. Easy.
I love exploring what it can do and no doubt I'll be discovering more as time goes on.  I know it's a busy gift giving season coming up with graduations, Father's Day and wedding anniversaries, so now is the time to do more research. Remember, it's only available at the Apple Store and online. No where else.
Feel free to follow me on Twitter and Instagram for my updates @theculturepearl