I don't know how she does it… many of us juggle family life and work. But I'm always interested in how working moms go through everyday life. Whether we run our own companies or work for someone else, it all comes down to this… our kids have similar needs — homework, after school programs, and doctor's appointments.
I met Deb McCain a few years ago. She's a well-known public relations specialist in the city. With a roster of high profile clients like Moet et Chandon, Pluck Tea, HeelBoy and Sarah Richardson Design, there is no doubt that her schedule is hectic and demanding.
Deb has a Masters Degree in communications from the London School of Economics. After starting a career in Ontario politics and working her way through several international communications firms in both Toronto and New York, Deb moved into publishing and media, joining Inside Entertainment and FQ Magazine. With a specialty in lifestyle and personality driven publicity, Deb started her company
Deb MCCain Communications. 
So, seriously, how does she do it?
In your experience, what are the benefits of owning your own business AND being a busy mom?
Deb: There is always more work to be done than there are hours in the day, but being the owner I can be flexible with my time in the office. A typical day could include client meetings at Soho House, dropping off lunches, a media preview, a conference call, a pick up at piano/karate/swimming/gymnastics and writing a strategy late at night — but at least I control the clock.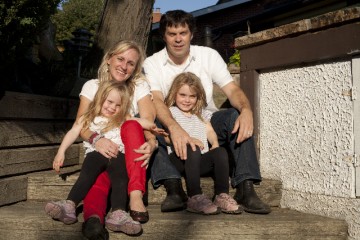 Your husband works with you… what's that dynamic like?
Deb: We've been business partners for over 10 years but he only recently assumed a more active role with DMC. He has a strong entrepreneurial background and is keeping us current with the rapid pace of technological change that is changing PR. Plus it's good to have an operator you can really trust! Outside the office we need maintain some balance and we're still figuring that out!
You often have events that you run during the evenings, how do you balance that and family life?
Deb: It takes a village! Grandparents, babysitters, neighbours, my husband. I'm out quite a bit but when I'm not I spend quality time my girls.
What motivates/inspires you?
Deb: Seeing my clients succeed, in the press and on the balance sheet.
If you have a weekend to yourself what would you do?
Deb: Spend it with girlfriends: at a cottage, in New York or in Montreal. Wine definitely included!
Your favourite "date night" outings?
Deb: From our early days of living in New York, we've always loved trying out new places to eat and drink in the city.  We also see a semi-annual movie in theatre, just to remember what that's like.
What's in your purse?
Deb: My smartphone, reading glasses, biz cards, mentos, Kiehl's lip balm #1, dry shampoo, many lip glosses, a few photos of my daughters, and pens, pens, pens.
What's on your playlist?
Deb: Turn Down the What (DJ Snake and Lil Jon), Talk Dirty to Me
(Haha! Mine too!) 
Is there a public figure that inspires you? Who and why?
Deb: Since writing my thesis at the London School of Economics, I have been fascinated with women leaders. Golda Mier, Margaret Thatcher… and I have a serious thing for Eva Peron (amplified by my love of EVITA the musical).
Describe your day in three words.
Deb: Different every time.
And what about Father's Day? Here are some of Deb's picks!