I always knew I'd love her from the start, but it was her leopard print shoes that clinched it.
I managed to steal away from home for an extra day, before heading off to Blue Mountain with the other Urban Moms for a learning retreat with some fun times thrown in for good measure, and as happy as I was to be meeting most of the other bloggers, there was one who I'd not met before who wasn't able to join us… Alice, our friendly neighbourhood librarian.
My sister and I had just left some friends we met for a late brunch, before we hopped on the streetcar and subway to meet Alice, in front of a gigantic Place that rhymes with Sinners in the Yorkville area. Alice had just got her hair did. She has a splendid red dye-job with short bangs in front. Tres groovy. And she had this book under her arm, which she told me all about while I dragged her by the wrist all over Sinners, looking at bits and bobs, trying to make decisions about whether to get this super-ugly toilettries kit or that one… (honestly, why ARE those things SO HORRENDOUS! Wow.)
She cleared the store out of salted caramel chocolate bars. That's a good girl, right there.
What's amazing is getting someone to do something, simply because you asked.
I asked her about her recent tattoo, thumbing the cool designs on her forearm. I asked if she had any others, and she showed me the one at her ankle, and said she had yet another she'd just had re-inked… "It got wrecked during pregnancy and stuff," she said, poking at her hip.
"Lemme see it."
Alice grimaced, dubiously.
"Come on, Alice… whip it out!" I implored her in a whisper-chant. "C'moooooon. Aaaa-liss! Aaaa-liss! Aaaa-liss!!"
And she did – right in the middle of Sinners. She pushed down the waistband of her skirt by an inch or so, and revealed a tiny dolphin on her left hip bone. Adorable and amazing. (You know what's truly amazing? It's getting someone to do something, simply because you asked.
Sidenote: When I was about eighteen years old, I once completely stripped out of my clothes in the basement of a restaurant I worked in (at closing time, during the wee hours) since this boy I didn't even like at the time asked if he could see me naked, and I said yes. See? Ask. You never know. But I digress…)
Anyway.
After Sinners, we wandered around with my sister, looking for a cafe to get a bite at, and settled at a fairly non-descript bistro called Remy's, and the three of us sat down to embark on some serious talking, which was as smart and as cheerful and as funny as I knew it would be.
But first, there were afternoon drinks. And Alice's concoction came with two Maraschino cherries in it. With stems.
Of course I asked, "Can you do that thing with the stem?" (Because you know me.)
"I used to be able to…" she said. "… I haven't done it in years."
"Do it now!" My eyes popped, and I clapped my hands as my sister and I leaned in to watch her.
Her eyes twinkled, and she threw a stem in her mouth. Holy crap.
And what do you know…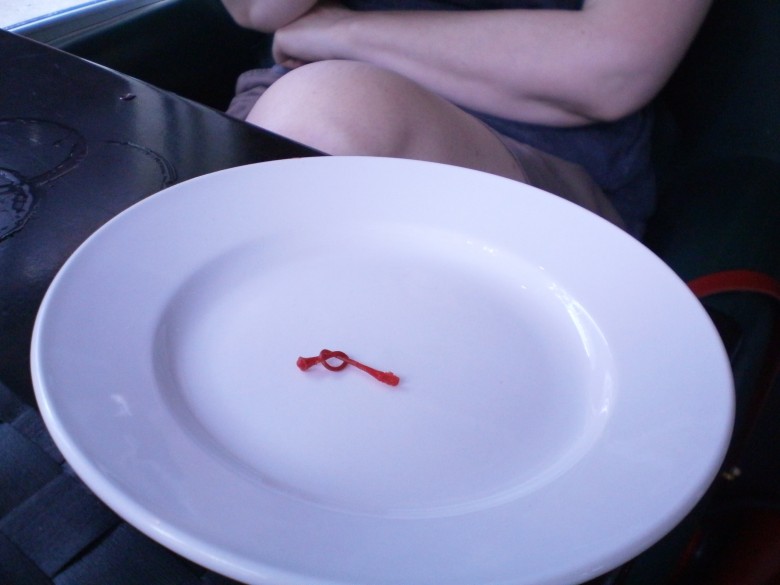 I'm telling you, the lady is amazeballs. She's wicked-smart, fun, charming, and easy-going. I'm so sorry she missed the retreat with the rest of us, but we had a blast hanging out for a couple of hours on a Saturday afternoon. Next time, we'll go out at night.
Alice knows all the good things about books – especially for children and teens – check out her blog, Shelf Candy on Urban Moms, if you haven't already.
Oh, and she can also do party tricks with cherry stems and stuff. If I lived in Toronto, I'd take her with me everywhere. She's like a Swiss Army knife, or something.
As Jen discussed in a recent post about friendship, these relationships we forge via social media and the like are really just extensions of ourselves – meeting in person is the icing on the cake. And pretty frosting it was!!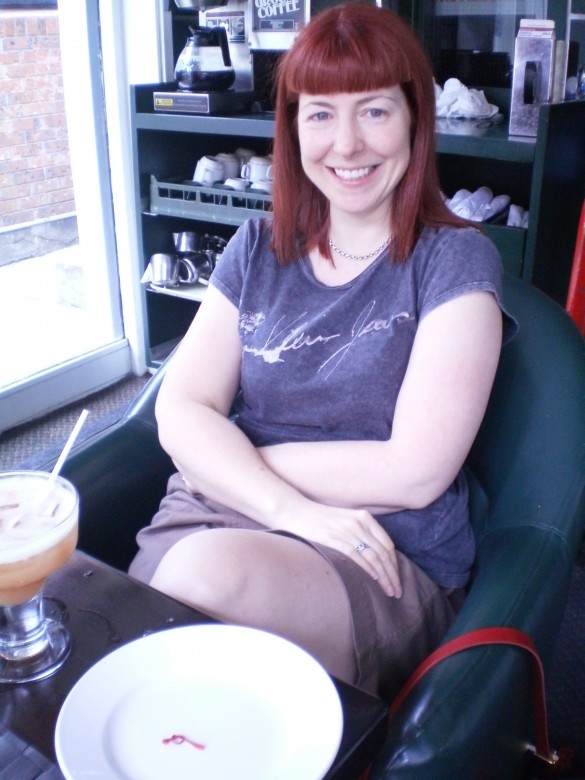 Thanks for an excellent afternoon, Alice!!