Well it had to end sometime. I know, I know, September can be one of the most beautiful months of the year, with warm days and sleep easy nights, but for all intents and purposes, for our family, the race to the cottage every weekend ends as school begins.
They're on a boat!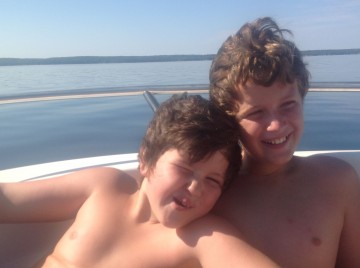 Looking back to April, when we solidified our summer plans, we felt we appropriately found the balance between downtime and programmed time for our two boys, while satisfying the care of our children while we worked. Now, two days before summer ends, there are a couple of things we would do differently. First, I want to take two weeks in a row vacation next year and take a road trip. The downtime we left for our boys was wasted on too many trips to the variety store and half assed bike rides because our caregiver simply did not have the energy to keep up with the wants and desires of an 11 and seven year old boy. Second, Hud is definitely going to camp for a month, which, as previously mentioned, will be a tough one to budget. He had the time of his life, and at his age, programmed camp time is way more valuable than the plod and hum of unbalanced couch and bike time at home. He came back a different boy, a responsible shine covering the dull of his almost teenage apathy.
Tasman will join him for two weeks. He was born for camp. He is a freaking animal.
We are super lucky to have a unbelievable place to escape to every weekend, or for a week like I am just finishing off right now. Georgian Bay is around the corner and we went for a spin the other day and swam in the crystal clear waters and leap from sheer cliff faces.
Papa and my nephew Rowan in front of the cliffs we jumped off.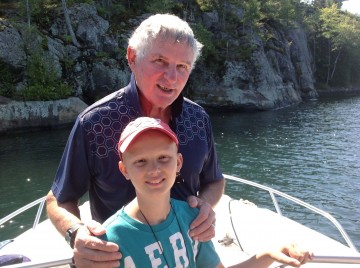 Never mind that 100 steps away is a beautiful lake that we boat and swim and drink beer starting at 10:30am (don't judge me) every day we are up here. After a sun soaked day on the dock we eat like royalty with each member of the family so eager to outdo the other with seriously tasty culinary treats.
Tuesday's meal, brought to you by Alice the photo bomber.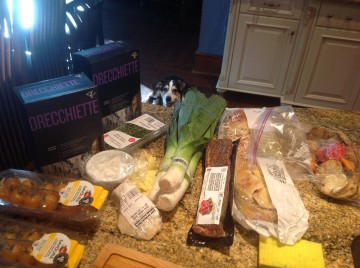 Being a creature of habit, I welcome the structure and habit of school life. The boys are secretly excited to reconnect with the friends they did not see even once this summer and to find out what teachers they have this year. It's a big year for Hud as grade six is important scholastically and socially, but he is on a better track now than he was at the end of the school year, so I am eager to see what is waiting around the corner for him. Even if it does include, eek!, girls!
So bring on September!
Wait, that means making lunches!  Aw crud!
Looking back, did you have a great summer, good one, or just ok?