If you're looking for something for that "hard to buy for" person on your list, you may want to check out the One of Kind Show that's happening right now in Toronto. Artisans from across the country (like 800 of them) offer great ideas for the holidays. I went through the aisles yesterday within a 3 hour time-span on a mission to seek out some cool stuff just for you. I must admit it was hard to not get distracted! But I had to stay focused. I will go back to do my shopping.
Here are my top 10 cool finds at this year's One of a Kind Show…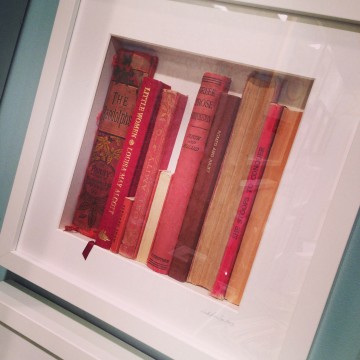 1. NOELLE HAMLYN  This artist creates unique book art and framed libraries. Her upcycled book spines and pages into works of art are amazing to see. Each framed piece has a theme like musicals, cooking, children's, and drama. Hamlyn started a few years back creating pocket book handbags made with original covers from magazines and books. She had the covers laminated to give them shape and added fabrics creating amazing handbags. With the rest of the books she's now created additional works of art. www.noellehamlyn.com 
2. NOSTALGIC LINKS  by Jennifer Chow. Fun and very affordable collectible cufflinks for stylish people. If you've got someone in your life who collects then you will LOVE checking this out. How cool are these Lego cufflinks? At $30 for these I couldn't resist! Guess who I got them for?  www.nostalgiclinks.wordpress.com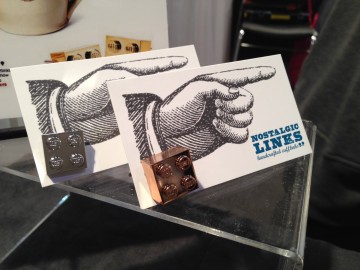 3. DAVE MURRAY illustrator – typography and mapping series. Since 2007, this illustrator has caught the eye of many in Toronto. His mapping out prints are a great addition to any home or office. Murray actually maps out the areas by personally checking them out. You'll notice some words are more prominent on the maps which indicates the level of business activities in the area. Many of the prints feature neighbourhoods of Toronto like The Annex, Kensington Market, Yonge and Eglinton, but he's also expanding to other cities in Canada. Prints are $40. www.davemurrayillustration.com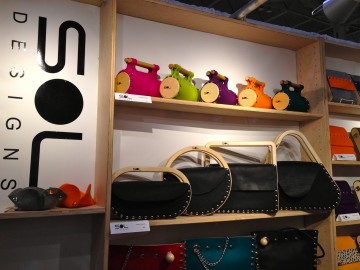 4. SOL DESIGNS bold statement handbags and foldable bowls caught my eye here. The artist Sol Desharnais uses improbable associations of mixing materials and unconventional stitching. The designer uses rich coloured wool felts with hand cut wood and supple leather to create the very urban chic pieces all held together with metal. I was completely lusting over the structured handbags (under $400 each). Desharnais mentioned that he's only made 22 of each design. (it's on my wishlist). Fold-a-bol ($20 each) are great for coins, candies, keys etc. Great little stocking stuffer or for that secret Santa! www.soldesigns.ca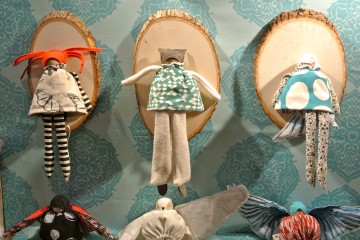 5.  FIDOODLE by Jen Bulthuis. This small design company builds their playful objects from recycled materials like maple wood, cardboard, paper and cotton. The artist is inspired by storytelling and creative play. The Butterfly doll caught my attention as it transforms from a playful little girl to a butterfly by inverting the doll inside out. There are several dolls including a snowy owl.  Each doll's dress gives a hint to reveal what the doll will transform into. They are beautiful and very clever! ($59) www.fidoodle.com
6. ATELIER MAKE contemporary porcelain. Designers Jamie Robson and Maya Ersan offer a simply stunning contemporary collection of handmade pastel coloured ceramics. For that someone on your list who has a love for beautiful objects… they will appreciate the fine detailing in the pieces. www.ateliermake.com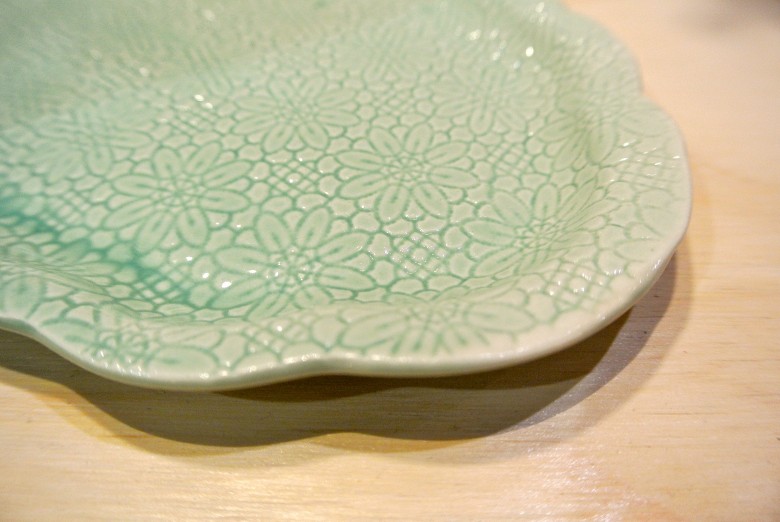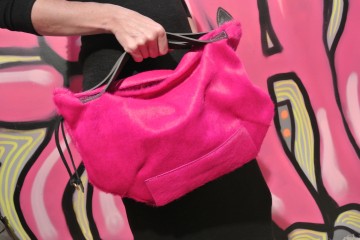 7. LOVER FIGHTER leather bags by Joanna Baxter. The handbag lover in me almost RAN into this booth at the show…okay, I did run. The leather fabrics are supple. Colours and textures are fab and the shapes of the bold pieces are enough to give me heart palpitations. Designer Baxter is also fun and edgy. She knows that any fashionista wants style and function just as much as a statement piece. I'm eyeing the Trio bag ($680) that is so very chic in the bold hot pink pony hair. Also eyeing the limited edition Painted Clutch ($185). www.ilovelf.com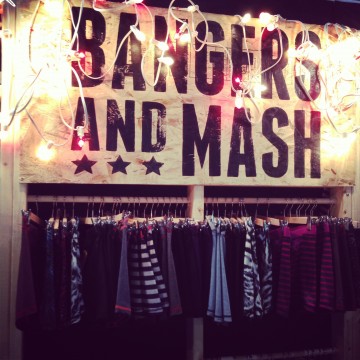 8. BANGERS AND MASH by Tiffany Ho. The best name for a men's underwear line, don't you think? I had to stop and check this one out. It turns out that there's an advantage to this designer's underwear! These are not your "tightie whities." Nope! Underwear here have the latest in fabric technology that wicks away moisture (EPA Certified)  and designed with flexibility and movement in mind. Guys need support too as well as comfort.  Plus a little style. ($32) www.bangersandmashgear.com
9. KINO GUERIN furniture designer. This Montreal artisan creates the most incredible accent pieces for the home. You may notice that I'm drawn to artists that defy the conventional. Guerin is one who takes my breathe away with what appears to be effortless, yet somewhat natural shaping of wooden pieces. The unusual bending and twisting of solids make way to beauty captured in a way that is beyond imagination. Definite conversation pieces. www.kinoguerin.com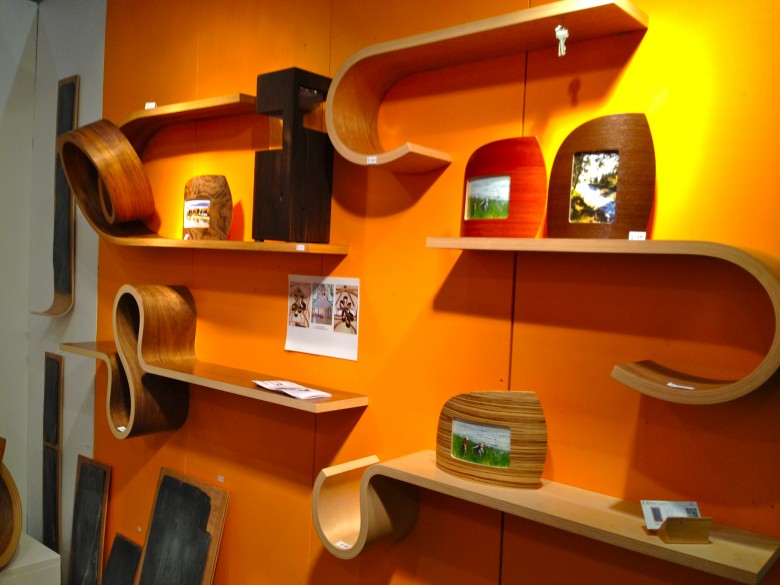 10. ERIN ROTHSTEIN artist. She's one of my favourite local artists and when I manage to catch a few minutes with her at the show. Most of her work can be found in art galleries if you can catch them. Her well sought after food paintings are focused and contemporary. She captures that emotional association we have with food — even though it's a painting, you could almost taste it. That's her goal. Her artwork sells for thousands but at this show, she's created a few smaller pieces  knowing that it's gift giving season. I'm in love with this Dragon Fruit slice  ($300) and she's also brought in her popular hand drawings of Hershey's Kisses ($80) but I know they won't last long. www.erinrothstein.com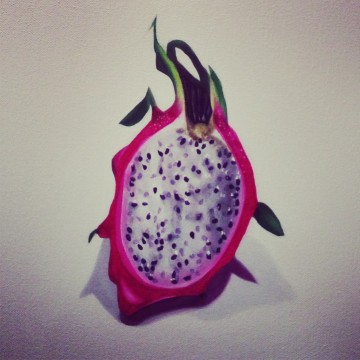 There are so many incredibly talented artisans at the One of a Kind Show. You'll want to see for yourself. Also, be sure to check out additional events during the show. Visit the official website at www.oneofakindshow.com
Show runs until December 8, Direct Energy Centre, Exhibition Place Toronto.
ADMISSION: I strongly suggest you purchase your admission ticket online before heading there.
Online Tickets: $12 adults | $7 seniors (65+) | $7 youth (13-17) | Free for children 12 and under
Onsite Tickets: $14 adults | $7 seniors (65+) | $7 youth (13-17) | Free for children 12 and under
LATE NIGHT SHOPPING: Thursday, December 5th until 11:00 pm.