The gifting lounges to the celebrities are all very different in what they have to offer. Readers who've been following us for a couple years now are always curious as to what goes on inside these lounges that are only open to the stars. Often they are tucked away in hotel suites or unassuming office spaces.
The NKPR IT Lounge is a must stop for many celebrities including the cast of Paul Haggis's festival film THIRD PERSON, which includes Olivia Wilde, Mila Kunis, James Franco, Maria Bello, and Adrien Brody.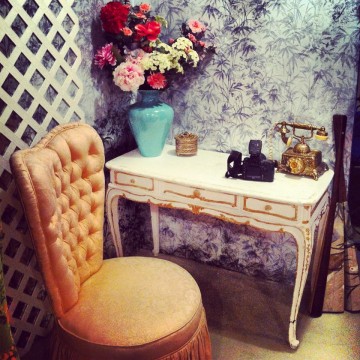 We like this particular TIFF Lounge for it's IT LOUNGE PORTRAIT STUDIO where celebrities are welcomed to a private photoshoot with the highly accomplished photographer Caitlin Cronenberg. W magazine has created a special online gallery that features Cronenberg's portraits withsome of the most recognizable faces at the film festival.
This year's Portrait Studio embodies the spirit of Modern Vintage. NKPR's President, Natasha Koifman, explains that Cronenberg came up with the concept which is based on Casa Susanna (first called the Chevalier d'Eon resort). Casa Susanna was a run down 1950s style bungalow camp in the Catskills where transvestites and cross-dressers would come to reside; it was a place where the guests could feel at home. It was eclectic and had an certain mysteriousness to it.
"Our goal is for the subjects to feel like they have walked into a home or comforting getaway," says Cronenberg.
"We hope to create an environment that is set apart from a typical photo studio where each person who visits will have a portrait taken that is very editorial driven."
The IT Lounge has had various themes over the years and now it is in it's eighth year.  "While the idea of Modern Vintage is one of our more abstract themes," says Koifman. "It does help demonstrate that brands have significant stories to tell. It's not by accident that brands which have been part of our day-to-day lives, continue to thrive. They have history, heritage; they are classics."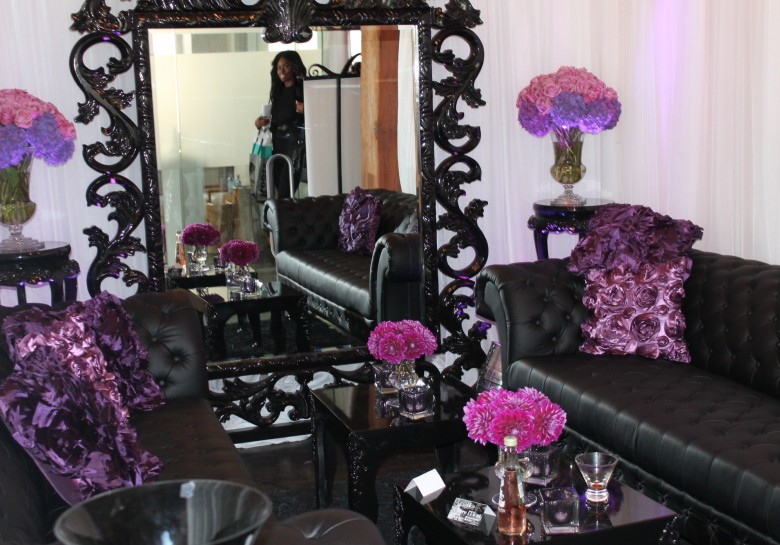 INSIDE THE IT LOUNGE
The lounge doesn't just attract film stars and directors, it's also a welcoming retreat for sports celebrities like Milos Raonic, and models like Yasmine Warsame and Agyness Deyn. It also provided journalists with a perfect media centre to relax, do a bit of work while enjoying snacks and bevvies from bottlegreen, AQUAhydrate, DAVIDsTEA or SKYY Vodka.
The Canadian retailer ROOTS features a display of historical iconic items that keeps within the theme of modern vintage. Celebrities who stop by could pick up a pair of comfy trackpants, hoodie , and leather handbag. By the way the incredible fundraising event ARTISTS FOR PEACE AND JUSTICE was held at the private residence of ROOTS co-founder Michael Budman.
Over 100 years old, the beauty brand AVON kick-started their Start Something Big campaign with USB bracelets, which will be sold to support the Canadian Women's Foundation and Big Brothers Big Sisters of Canada. AVON aims to spread the message in classrooms and campuses, where the abuse of bullying of young women has become increasingly prevalent. Celebrity make-up artist Misty Fox was on hand to showcase AVON's fall and holiday collections.
Guests at the lounge were also treated to freshly made pasta dishes with BARILLA and inspired by Italian cinema and created by some of Toronto's most notable chefs from restaurants like Noce, La Vecchia and Il Fornello. And no guest left without being offered an ice cream dessert from COLD STONE CREAMERY. YUM!
Celebrities left with full tummies, a place to relax, and freshened up!
Thank you to NKPR for inviting us to have a sneak peek into the IT Lounge 2013.