I was joking around a few weeks ago mentioning to my friends that I was in "training" for this year's coverage of the Toronto International Film Festival. Being my third year of reporting I knew what to expect. I was on a few marathon movie binges and trying to eat healthy because once TIFF came around, all bets were off with healthy eating. I'd love to take you with me inside the parties, interviews, and press conferences where you can find spectacular cocktails and little morsels of delightful paper thin slices of sashimi in taro chip shells are served but sadly I cannot. The gatekeepers are tight on their guest lists. Survival is the name of the game when it comes to reporting on this Festival.
A few weeks before TIFF officially opened up I  was sent the coveted invitation to EGPR's ESSENTIALS LOUNGE for TIFF media only. They were ready to arm us caffeine chugging, sleepless-in-heels types with a few items to help us survive the frenzy of TIFF.
"Hey, it's TIFF. I'll chill out next week," I responded cheerily.
I was already running a bit late on the day of my appointment with them as I ran into a few TIFF peeps on the street. Running in heels is NOT glam. I tried to do that carefree Carrie Bradshaw skippy hop walk thing across the busy streets and by the time I reached the Templar Hotel to meet the publicist, my feet were ALREADY KILLING ME. I was already out at three appointments before this one. I died.
"Looks like you made it to us at the right time?" said publicist as I hobbled in.
*smiles* "Hey, it's TIFF. I'll chill out next week," I responded cheerily.
I was escorted up to the two story suite in the hotel. It's normally quite zen, but on this day it was buzzing with activity. I was immediately greeted with a choice of GLACEAU VITAMIN WATER –– I gladly took my favourite XXX with antioxidants. Then was immediately taken to get a little pampering with MICROPedi. Cue the angel harps! A little foot massage was absolutely necessary at this point and a little smoothing out of some rough skin was totally essential here! And it prepped me for a quick visit to the ladies at SOREL Footwear who quickly had me removing my 4 inch heels and into soft, cushy, heather grey knit slippers. At the same time my eyes grew wide open at the sight of their new fall collection of outwear for women! SWOON!!! The rep mentioned that the new look was inspired by the women of New York who need function and better styles. (I'll be heading into the stores for these soon.) So, the slippers I couldn't just quite take off at that point and well, never mind, no judging.
In my comfortable slippers I turned the corner in the suite to find a few familiar faces with my friends at CALVIN KLEIN. The air kisses began as they quickly fitted me for a new bra. Yeah, actually that the padded bandeau I was wearing was starting to sag. I guess they noticed as they whipped out a new bra in my size 36 DD (no, I'm kidding) in their ICON line as they straight out said, "nothing worse than an ill-fitting bra" and not just for TIFF but for everyday. She was totally right! Comfort and support all the way! If you want to check them out head to The Hudson's Bay.
Just as we were chit chatting away the publicist reminded me that I had an appointment to get my eyelash extensions done by WINX Eyelash Boutique. Oh SNAP! I almost forgot. I've never been big on eyelash extensions they usually bug the heck out of me so I usually only get them put in if I'm in a photoshoot. But WINX is great. It's been over a week now and I still have them in. Each lash was applied carefully by hand and will last up to 3 weeks. Others lash extensions have never lasted me more than 24 hours because I tend to rip them out. But honestly, this time I haven't been bothered by them and I'm quite liking how they make my eyes look brighter — you know I held the door when the eyelash goddesses were giving them away.
Speaking of photoshoots, at the ESSENTIALS LOUNGE hosted the HP photo studio where I was invited mug for. FUN! But not before I had to get a bit more pampering with my make-up totally done  touched up by HARD CANDY COSMETICS and a calming down with the soothing scents of AVEDA. Ohhhh I love their scents and I'm looking forward to infusing my hair with the  new AVEDA Invati line of invigorating products. I swear that I could have just curled up on the couch with a blanky and stayed.
So, with the photoshoot done and goodies to take home I was ready for TIFF.
Of course just before I left I was provided with a NIKE FUELBAND to track the zillions of steps I'll be making during TIFF…actually it's kinda fun and I'm thinking that this is Film Festival is really exercise in disguise. And I've cracked open a brand new HP Slate 7 Tablet that's been handy in my purse for amazing photos and keeping me organized!
My goody bag was filled with other essentials like Elastoplast's SOS Blister plaster seals (you know those are already put to good use), new Centrum Flavour Burst Vitamins (seriously hard to just have one but you only need one), Ethical Bean (more on this amazing coffee company later), Elizabeth Grant Skin Care (I just ran out of my Socializer Z.I.T. Zapper! Perfect timing!), Dial Coconut Hydrating Body Wash, TUMS Freshers' for fresh breath and heartburn relief? Yes, please! (I always have these in my purse, so thank you again!), Viviscal daily supplement that provides nutrients to your scalp, Sensodyne Repair& Protect Toothpaste and Toothbrush have a permanent spot in my purse too when I need a mid-day refresh.  Oh, and they also popped in my purse the perfect Be.Better. Moisturizing Beeswax Lipbalm since they know that dry lips just don't look good in photos. One night I'll have to try out the restaurant delivery service OrderIT as, well, who the heck has time to cook during TIFF?
I also received Soap & Glory's 3-in-1 OFF Your Face Cleansing Wipes that have actually come in very handy when I've been stumbling home at 2:30 in the morning a few nights already. These are seriously great also in between my daytime activities as a freshen up before heading out the door again. I'm hooked!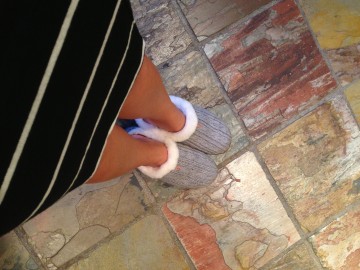 So, once TIFF wraps up and my chariot turns back into a pumpkin, you will find me relaxing with my slippers sipping on a cup of calming tea from teAlchemy, my dry cleaning will be sent to CREEDS and I may even take in a few classes at the MOKSHA YOGA STUDIO.
Whew! But not yet….There are a few more days left!
And then there's Fashion Week.
BRING IT ON! Who needs sleep anyway?
BIG thanks to my friends at EGPR for hosting this amazing lounge during TIFF 2013!  xxoo