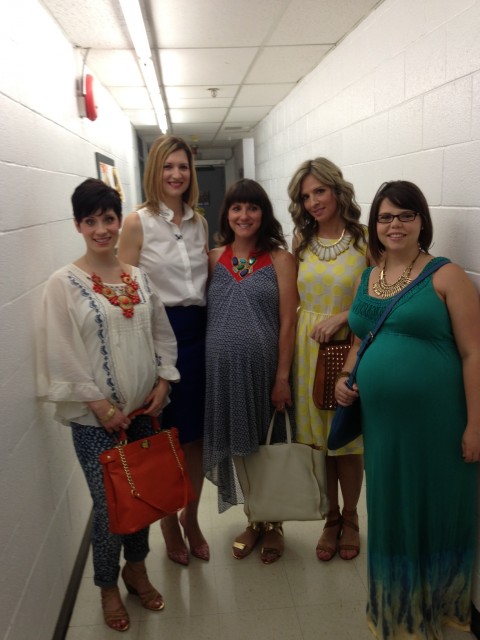 Last week I was invited by Yorkdale to flaunt my maxed out bump on Canada AM. The focus of the segment was maternity style at every stage and stylishly presented by fellow blogger and Yorkdale Style Council Member, Iva Grbesic.
I was outfitted in an awesome high-low dress from Thyme Maternity (that's me in the middle). I loved it and had I not been in my final weeks I would have wanted to take it home with me. The gold flats (Town Shoes) were super cute and the accessories (Hudson's Bay) were more dramatic than my usual taste but they totally worked with the dress. I also loved the bag (Browns)! It could totally double as a diaper bag post baby.
It was a really fun experience and Iva did a great job providing style tips for every stage. I've listed some of them below, but you can read her entire blog post on the Yorkdale Blog.
1. First Trimester – Hide the Bump
At the beginning you're not ready for maternity wear but you want to avoid revealing the bulge. Iva suggests sticking to silhouettes that flow over your belly. Think knits, A-Line skirts and empire waist tops.
2. Second Trimester – Work the Bump
At this point you're definitely looking preggers so Iva recommends investing in a few items that will grow with you. Iva suggests looking for pieces that have details like ruching, tie-backs and gathering at the sides. It's also super important to invest in a few new bras that actually fit. The girls take on a life of their own and a properly fitted bra can make a great difference.
3. Third Trimester – Flaunt the Bump
By the end it's ll about comfort. The maxi dress is the ultimate summer maternity piece. Iva suggests focusing on accessories and great flats at this point to kick outfits up a notch.
What are your maternity style tips? I'm ready to burn all of my maternity clothes.
Thanks Yorkdale 🙂