I've been noticing many friends who have been complaining about aches and pains in their feet. My first reaction is "wait, we're not that old are we?" But what is alarming is that back and foot pain are more common that we realize. Words have started coming up like planter fasciitis (heel pain) that, although I didn't fully understand, I've been hearing more and more friends in their early 30's complain about it.
I admit that I'm a bit of a shoe addict. I have all different heel heights, shapes and colours. I also walk  A LOT! So, shoes, regardless of how pretty they are, MUST be able to withstand my daily pounding of the pavement. But after several hours of wearing even 2  inch heels, my lower back starts to get sore. That's when my yoga stretches come in handy! While I'm not about to give up my shoe collection,  I know that I need to give my legs (and back) a break sometimes!
A friend of mine had recently asked me if I could think of any stylish shoes that would help without people looking at them and wondering if you're wearing orthotics – not that anything is wrong with that, of course, but you know what I mean. She was restricted to wearing orthotic inserts in less than flattering shoes and she was very self conscious. She didn't even want to go out at night anymore. I remember thinking that there must be something out there that offers support without compromising style.
"Our feet are the connection to the earth and our body rests on them. Everything from the ground up really depends on our feet." – Andrew Weil, M.D.
I had heard of this company Vionic created by Australian podiatrist Philip Vasyli. In 1991, he introduced an innovative  and technology driven line of footwear that addresses these issues. His patented Orthaheel Technology addresses over-pronation (huh? see the quick video explanation below) and offers relief for pain associated with plantar fasciitis, knee issues and back pain. The support is cleverly hidden in the design making the silhouette more attractive.
Again, I had thought, "I'm not ready for this stuff just yet." But then the company suggested I try them out. I had selected the Cancun wedge for the height that I'm accustomed to. I knew I could wear them with shorts or longer skirts and still look "put together". Plus the patterned wedge heel caught my eye!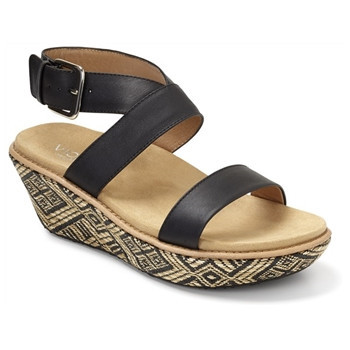 The Verdict:
For the first few minutes I was aware of the support in the shoe. I'm closer to being flat-footed and Birkenstocks give me that same feeling. But as I went on with my day I got use to it pretty quickly and didn't notice. I also noticed my lower back wasn't as tired either. I probably stood a little taller too as I'm almost certain that my posture was better because of the proper support. The shoe is a little wide so I would recommend ordering one size down.  The dressier Cancun style would be great for summer strolls and dinner parties. The patterned wedge heel is right on trend with the Navajo style that is hot for the upcoming warmer seasons. Summer is coming, right?
There's also a lot of talk these days about preventive action or proactive thinking when it comes to your health and well-being. If there's something I'd tell my 20-something year old self, it would be to take care of your body now. It's nice to see companies addressing the awareness of a healthier you in more stylish ways! Being mindful of your future is pretty important stuff!
The Cancun Wedge is available in Black, Fuschia or Bronze. Retail $150 on the website.
Visit www.vionicshoes.ca
[youtube id="M07D8QOwbkA"]