Every so often I get to experience and learn about something truly unique and interesting. During Fashion Week in Toronto I was invited by a good friend of mine to accompany him to a few events. One was the official Canadian launch and reception celebrating the iconic luxury jewellery house, Verdura. The classy event was held at the Royal Conservatory of Music and you can imagine Toronto's most notables in attendance and the tight security!
I knew there was going to be extravagance and I knew I would be drooling over the jewellery. Every piece that was on display was stunning beyond imagination. My eyes were darting everywhere in the room and the opportunity to try a few pieces on was already dreamy enough for me. But what everyone was highly anticipating was the unveiling of the  original and iconic Maltese Cross cuffs worn by Coco Chanel herself.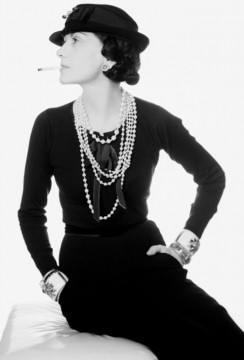 The cuffs were designed for Chanel by Duke Fulco di Verdura in the 1930s. Myles Mindham, Canadian Jewellery Designer and Founder of Mindham Fine Jewellery in Yorkville, mentioned that  Coco Chanel, as we know, wasn't the most conventional woman of that era. She was fashion forward and her style was against the grain. Although she received many articles of jewellery from her lovers, Chanel never felt that they were her "style". Duke Fulco di Verdura designed these cuffs for Chanel and she loved them so much that she wore them for 50 years.
Verdura was founded in 1939 by Fulco di Verdura, a Sicilian Duke who began his career by designing the iconic cuffs for Coco Chanel. Today, Verdura is an American fine jeweler internationally recognized for its timeless and original designs.
He also had Hollywood ties through long time friend Cole Porter so Verdura ventured to America and began designing jewellery for stars including Greta Garbo and Marlene Dietrich. In 1939, Verdura opened his doors on Fifth Avenue in New York with financial backing of Cole Porter and Vincent Astor, and immediately attracted New York's high society and fashion's best-dressed list including style icon Babe Paley.
Fulco created timeless designs from nearly 10,000 sketches in his lifetime and in 1985 Ward Landrigan purchased Verdura and has continued the legacy to this day in New York, London and now Toronto.
The Canadian launch of Verdura marks the company's first international expansion in 25 years since it's collaboration with Obsidian in London. "Verdura is an internationally renowned brand that has long attracted collectors from around the globe, many of whom are enduring style makers in their own right." says Ward Landrigan, Verdura's CEO and Chairman.
"Verdura's enduring style, inspired by Duke Fulco di Verdura's creative legacy, is rarely found in jewellery brands today, and we're thrilled to be the Canadian ambassador for this incredible brand," says Myles Mindham. "adding the Verdura Collection to the boutique's offerings will give Canadians unprecedented access to on of the last relatively undiscovered fine jewellery design archives, known for its bold, yet understated and distinctly timeless designs."
Verdura is exclusively sold through Mindham Fine Jewellery Yorkville boutique at 37 Hazelton Avenue in Toronto. Much of the fine jewellery of the national and international award-winning Canadian designer, Myles Mindham, is made for a private clientele by appointment only at Mindham Fine Jewellery.