The countdown has officially started (last week). Katya and I have been in touch with our contacts for the Toronto International Film Festival (TIFF) and mapping out our schedules to get to as many TIFF related coverage as humanly possible. We've even ask Jen (aka JenTrend) to help out. Yes, it's THAT big of a deal here in Toronto as all eyes in the entertainment industry beams into the city for this annual Film Fest.
We've been in training the last few weeks – okay, it's fun, I have to admit. Anyone who covers TIFF can tell you it's a heart-pumping-adrenaline-rush-caffeine-guzzling-stilettos-in-bag-double-phone-battery-backup kind of time.  And the beauty side of TIFF is just as jammed-packed as the film screenings.
I've already gone to Damian Golley at the April Maloney Salon for the  SteamPod hair straightening treatment that will last for a few weeks. If you know Toronto, this time of year can be unpredictable when it comes to weather. It can rain (hard) and then be hot and sunny within mere minutes. The humidity SUCKS in the city and during TIFF, you just can't chance it. The SteamPod treatment keeps hair silky looking and straight. No FRIZZ wanted!!! Especially when I have ZERO time to deal with my hair shuffling from dropping the kids off to school and then off to do press stuff. I'll tell you more about this straightening system later. I'm thinking this would be a great treatment for vacations and other special events too. But if you can't wait, you can visit aprilmaloneysalon.com
Nails are getting done next week with CNDWorld using their latest VINYLUX nail polish. Jen H and I have both been testing them out at home but the professionals at CNDWorld have always done some fancy works with nail art. I can't wait! Jen and I will be showing them off on Instagram if you want to follow us there @urbanmomsca
I was up north at the Deerhurst Resort about a week and a half ago for a quick summer getaway. It was the perfect spot to get my face (ahem "canvas") ready with a good cleaning. The Shizen Spa was a nice escape to get a little "me time". By the way, there are also  Shizen Spas located in the Pantages Hotel and the Cosmopolitan Hotel right in the heart of Toronto. The minimalist Japanese inspired spas are quietly tucked away and perfect to get away from it all. Visit www.shizen.ca for details.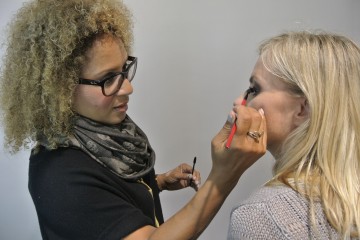 We'll be spending a morning next week with Smashbox founder Davis Factor, great grandson of Max Factor and Lori Taylor Davis, Global Pro Lead Artist for Smashbox, to get the latest beauty tips direct from the studios to handle the red carpet. Smashbox Cosmetics is known for their "camera-ready" products that are often used by the professionals in studios and photoshoots. I'm already in love with their BB Cream – after trying several brands, this one has been my personal favourite so far!  More on that later!
And how about those eyes! Lately I've been keeping the new SMOKY EXTRAVAGANT mascara by MAKE UP FOR EVER in my handbag. It's a "must have" that delivers ultra-black pigments that accentuates lashes from any distance whether you're out on the party circuit or out to dinner with your honey. It also nourishes your lashes while providing volume, length and curl. By the way SMOKY EXTRAVAGANT is safe for  contact lens wearers too.
And finally, I'll be heading out to the Allure Body Bar for a Quickzillion! Jeepers! Well, only because I'm curious not because I'm promiscuous! (Have you seen my honey? Total hotness!). The full Brazillian wax for women is done in 8 minutes and they promised me it would be almost painless. Anyway, TIFF can be quite sexy with all the foreign journalists, Hollywood stars, industry power players and parties. Just sayin. But I'll be reporting on this beauty primping experience soon. But if you can't wait here's their website www.allurebodybar.com 
Eating is always crazy during TIFF. As we motor through events and gifting lounges we're often offered wine, champagne, munchies like sliders, cupcakes and donuts, and candy. I always start the day with a shot of espresso in my hot beverage of choice but I've been a little obsessed lately with JambaJuice and will try and go for that over the crazy amounts of coffee I drink during coverage season. It's a healthier snack and I know I can include a shot of 3G caffeine into my fruit smoothie for that extra energy needed to keep up. I'm kinda addicted to the Pomegranate Paradise Smoothie that's full of antioxidants. And what? It pretty much costs the same as my tall-lactose-free-caramel-macchiato.
We're TIFF ready! Now if someone will just make my kids lunches?
And hey, you gotta be ready in this city 'cause you never know who you'll run into…oh, hello Alex Skarsgård !!!