It's difficult to look at all the fashion magazines sometimes. I get some serious cases of the "wants" when I see some of my favourite designers. But like many of you, I have to live within a budget.  I've also been converting my thinking about how I shop the past few years. Buy less and buy quality. While I can absolutely appreciate the quality and craftsmanship of designer goods, somehow paying full price is hard to swallow especially when baby needs new shoes too. What's a girl to do?
I was just introduced recently to LAB, a luxury designer consignment store and I've just whittled away a coffee break admiring the collection of goods available here.  This Toronto-based outpost specializes in the resale of gently used and never been worn clothing, shoes and handbags for women who love designer labels. A quick glance and I'm in love with this Helmut Lang  ——>
It's the real deal here. I know that socialites can off-load their fabulous wardrobes here. If you're a socialite, you know…it's hard to wear the same thing too often, right? Some items here may have only been worn once. Or how about when someone has that awesome piece but er…forgot all about it and that tag is still on it?  Ahem. But this shop is even better for those who are looking for something special and can't stomach to pay full price. I get you.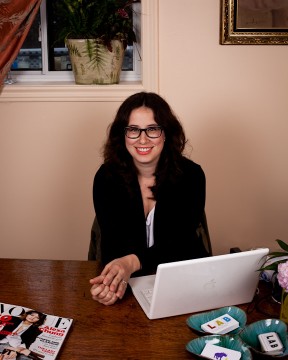 Owner Lauren Baker started this business in 2009 as a pop up shop and garnered lots of attention from the Toronto fashion media. In 2011 Lucky Magazine included LAB in their famous shopping guides. Celebrities like Rachel McAdams, Leslie Feist, Catherine Keener, and Serena Ryder have all supported her shop. Recently Baker expanded her shop to include a web-based shop to serve fashionistas nationally. I'm sure you have so many questions about how this all works and the most common questions are answered on her site. But I had the opportunity to quickly ask Lauren a few questions additional questions about her business.
Who is giving up this stuff? There are A LOT of beautiful things here!
Fashion industry people, musicians, actors, Fashion media, uptown ladies, downtown ladies, and international ladies you name it!
Authenticity is always the first question that comes to mind. How do you verify if, for example, a designer handbag is legit? There are some pretty good copies out there?
There are guidelines we follow for the top tier designers, but in general I can spot a fake a mile away. It's my party trick!
Why the boom in consignment shops?
I was one of the first during this 'boom', and opened partly due to the recession. In '09 we were just coming to know what the recession meant for us (although in my opinion I think it's only really hit most of us in the last year ), and with luxury, labels, and logos being so so hot in the 00s, I knew there would be lots up for sale. People are now being very tight with their spending due to the lack of credit being doled out like it used to be, so stretching the dollar to the max is a big incentive for consumers.
Your focus is luxury, what are some popular labels you're looking out for? What's are the most requested?
I'm always looking for Hermes, Chanel, Christian Louboutin and LouisVuitton. I will rarely turn an item from those labels away. Those brands names will never tarnish or go out of style. That said, I'm a lover of labels like Jil Sander, Celine, Dries Van Noten, Helmut Lang, Margiela and Moschino. They make interesting, and stunning pieces that I'm always really excited to see coming in. The most requested items are Chanel, Hermes,Louboutin, LV, Tiffany & Co., Tory Burch, and Celine.
Anything you're coveting for this spring/summer?
I don't generally covet fashion items. I don't like to drool/dream about items out of my budget, I don't think it's responsible. I'm frugal and savvy, and proud of it!
What trends are you watching for this spring/summer?
I don't follow trends, I kind of hate them. I really dislike fast/disposable fashion. I think it's greedy, and irresponsible to our environment. If I do find myself at a high street store (like Zara or Joe) I make sure to only buy fabrics that I feel will survive several washes and wears, and I will wear in seasons to come. I like classic items that are timeless, that mix well with vintage, high street, and a touch of luxury (bought at resale of course).
Visit LAB luxury designer consignment at www.lab-consignment.myshopify.com