I consider myself a loyal person. I've been with my husband for almost 30 years. I've worked with the same organization for over 20 years.
But when it comes to fashion, I allow myself a little trendiness and quick indulgence. I've worn zebra print skirts, day glow shoes and red snakeskin pleather pants (maternity no less). Sometimes a quick blast of fun into a more classic wardrobe will get you through a season.
The same goes for my nails. I'm loyal to my CND Shellac, and I love Lobster Roll year round. But every now and then, I need a little shake up without a long term commitment. Enter CND Vinylux, a great, durable polish and top coat that dries as quickly as Shellac and lasts 7 full days.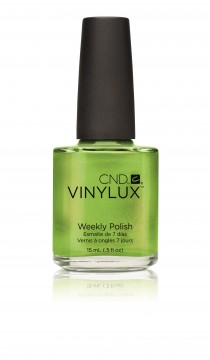 I would not have chosen Limeade if I knew I'd be looking at it for 3-4 weeks (as I do with CND Shellac), but for a week, this is a fun and funky flash of colour.
And what's not to love about CND Vinylux? Here are the pros…
There's no base coat needed; this polish has self-adhering properties that don't require a base coat. Just be sure your nails are nice and clean.
It dries in just over 8 minutes. I had a full hand massage after my manicure… and went right back to my regular lifestyle without waving my hands in the air all afternoon.
It will last (chip-proof and without wear) for a full week, but can be removed at any time at home with acetone based polish remover (no soaking or scraping).
The top coat has some proprietary technology that will actually improve durability with exposure to light over time (but no UV lamps)
There are over 60 shades, so you'll find a colour for every mood, every event and every moment of your life.
The only con was that the shine didn't maintain the way it did with a Shellac manicure. However, I just reapplied the topcoat midway through the week and brought it back.
I'm a fan of this brand and this new line lets me indulge in a little short-term fun without giving up quality.
CND Vinylux is available in salons across the country.
I was not compensated for this post, but was treated to a manicure for review purposes. All opinions are my own.