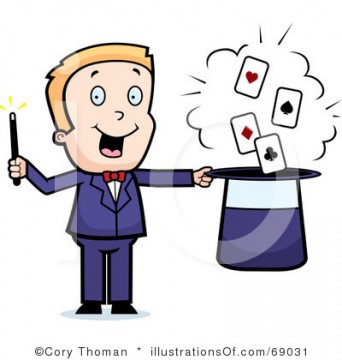 Last month, I attended holiday parties for both my husband's and my office. The parties themselves were very different; mine was held during work hours, at our place of business, as a quick meet and greet for all involved. My husband's office party was on a Saturday night at a country club with a full buffet, dj and dancing. What amused me was that the "surprise" entertainment for each party was the same…each party hosted an illusionist.
In each case I was able to suspend belief for an amazing performance and be dazzled and befuddled by the performers' sleight of hands and conjuring tricks. I think the fact that the party planners for these two very different events had brought a little magic into my life helped to show me how badly we all need that enchantment to make life more interesting.
I was left afterwards wondering about the ways I'd like to inject a little magic into my decidedly unmagical reality. How about a trick where I could pull a dinner that everyone will love from up my sleeve? A fantastical ability to be in the two places that I'm usually needed at the same time (without cutting myself in half!)? I'd settle for the more mundane challenges of finding some magical elixir that could keep my skin from feeling parched like the Sahara through these brutally cold and dry winter months.
And I think a little magic has come into my life in the form of AVEENO Daily Moisturizing Lotion.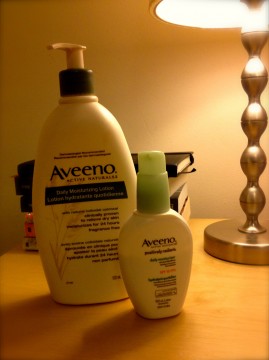 I've been slathering my AVEENO Positively Radiant Daily Moisturizer with SPF 15 on my face for close to a year and love the fact that it's fragrance free, hypoallergenic and very gentle for my face's sensitive skin.
This Daily Moisturizing Lotion is amazing for the rest of my body. It's a unique and naturally nourishing formulation with natural colloidal oatmeal blended with rich emollients,  that helps prevent and protect dry skin. After using it for just over a month, my skin is softer, smoother and healthier looking.
So it's a great product, that works well without irritating, stinking or leaving me feeling greasy. Maybe that's not enough magic for you? How about the fact that you can buy a huge 532 mL bottle at just about any national food, drug and mass merchandiser across Canada for just over $10? Is that magical enough?
And now for my next trick, I'd like to make Winter disappear….
This post was not sponsored. I was provided with product for review purposes only, but all opinions are my own.