These past few weeks have been quite a trip! I'm having a little fun these days covering the Toronto International Film Festival. Sure, the focus is on the up and coming films but another aspect of TIFF is all the glam and beauty. Leading up to TIFF I had some primping to do as mentioned. You know, to get ready for the parties and red carpets.
My friend Amira sheepishly asked me if I had ever had a Brazilian. WHAT?! ME? No, I'm chicken shit. I had mentioned in the past how I had challenged our daddy blogger Jason to go get a MANZILLIAN. He effing killed it! Okay, but I totally chickened out on him and didn't go. The thought of hair ripping from the "netherlands" is terrifying but it's kinda been on the back of my mind. You know me…I will try anything once (almost).
Amira had mentioned that there was this place called the ALLURE BODY BAR in Toronto that specializes in QUICKZILLIANS. Huh?
"It's 8 minutes. It doesn't hurt. Much. And hey Sonya….YOLO" she says.
I'm cracking up…cause she's totally put it out there on Twitter for the world to see. And I'm just hoping that my mother doesn't see it. Hey, you never know.
So, I agreed.
I went to meet with Alaa, co-owner and esthetician (um waxologist, whatever you want to call a her) of the Allure Body Bar.
I wasn't sure what to expect. I guess I was assuming that it would be a tranquil day spa environment with soothing zen music and waterfalls. Instead, I walked into an urban oasis with graffiti murals and lounge music. There are "inspirational" words chalked around the place. Okay, this actually makes sense.
"This isn't a place where anyone comes to feel relaxed. You want to feel empowered and confident," says Alaa.
And she's hilarious.
"Is this your first time?"
"Um, yes."
"I can tell…I love virgins."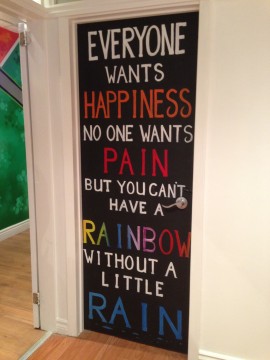 Within minutes she's got me on the table and starts chatting away about how she loves what she does (I guess you have to, right?). She mentions how many women feel liberated and thrilled with the quick wax service she has perfected. Alaa also mentions the hygiene benefits of removing hair THERE. Cleanliness is on top of everyone's mind aside from the aesthetics.
But Alaa also recognizes that a full Brazilian isn't necessarily for everyone. She throws down names like Party martini,  landing strip, and specialized designs that are popular services as well. "Hey, whatever helps women feel sexier and more in control is what it's about." She mentions that many moms go in and get their grooming done. "It's not always about pleasing their partners," she says. "And they mention how it's renewed their personal interest in sex after having kids."
So, seriously, 8 minutes and she was done. I actually timed her. And you know what? It didn't hurt as much as I thought it would.
"Okay, take care of your bits and no sex for 24 to 48 hours," she says as she finished off.
I'm thinking AS IF, anyway. Ha! As I walk gingerly for the next 24 hours.
Now the real test was when I got home. I only told hubby the day before that I was going to do this. He practically choked on his morning espresso.
You don't need to know any more. Kids get to bed. *winks*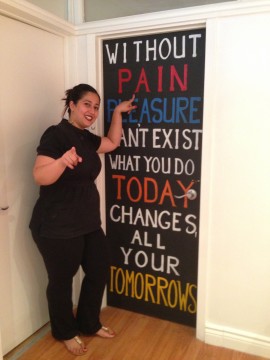 So, have you ever done a Brazilian? Would you?
Gosh, I hope my mother (or mother-in-law) doesn't read this.
The Allure Body Bar is a full service was bar for men and women. It's located at 735 Danforth Avenue (Toronto) for more information call 416-461-2400.
The Quickzillian costs $35 and removes all the hair in the bikini area (tush included) — their words, not mine.
I'm also really curious to know what women AND men think about having all hair removed down there… yay or nay? What's the preference? All off or leave a little?
This post was not sponsored. Trust me.