Street style, I'm sure you've heard of it before. There are thousands of fashion blogs dedicated to just that, they capture real style that is found in everyday life and off the runways. We love it!
We love the idea, and want to share all the amazing kids fashion we see on the streets.
Our first street spot was recently on the very sweet Sky Hunter. This black and red checkered bomber is too adorable! So, I had to ask her mom where this jacket was from. I was happy to hear it was a gift and sourced locally in Toronto.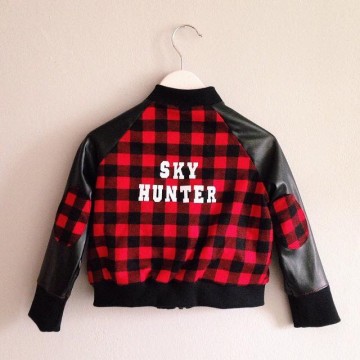 The jacket's brand is by Boxing Bird Apparel—actually a new label by designer Tiffany Smith. The shop is so fresh, literally opened two weeks ago, we had to find out more (you know, just in time for the holidays!)
The name of the shop was inspired by her mother-in-law who gave her a poem that Tiffany's fiance made her when he was just eight years old. "It was called Hush Little Mommy, his version of Hush Little Baby. He called the mockingbird a boxing bird and on it was the cutest little drawing of a bird wearing boxing gloves! So I thought, 'That's it!'" said Tiffany.
Her designs are her own. Tiffany takes the process from designing, cutting, sewing, screen-printing and packaging.
"I simply LOVE making and designing children's clothes. My daughter has been my total inspiration for this venture. I started making clothing for her as a passion project by people kept telling me 'You should sell these.' So I took their advice!" said Tiffany.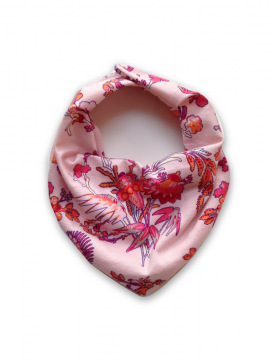 Over the past year, she started creating items she could sell and started an online store. As a mom, she figured it would be the best place to start since it gave her the flexibility and control of time while still being a mom.
The shop currently offers apparel and accessories made to order. From unique dresses, comfortable stylish leggings, hipster plaid bomber jackets and drool proof bandana bibs, there's something for every stylish kid. Some items are limited, but the smaller quantities make the items more special.
Tiffany's studio is located in Toronto. For more information visit boxingbird.com
The Plaid Leather Bomber shown here is $80. Want it by December 25th? Orders will need to be placed by December 5th. Please inquire directly with Tiffany about this limited edition jacket.