Last week I posted about not really being a fan of autumn and that there's not much about it that I like.
I overlooked one thing – fall t.v.
I love that all my favourite shows are back. Fresh new episodes. No repeats.
Survivor is back. Amazing Race is back, although Amazing Race Canada was… well… amazing!
Last night I had the opportunity to go watch a live taping of one of my favourites – Battle of the Blades.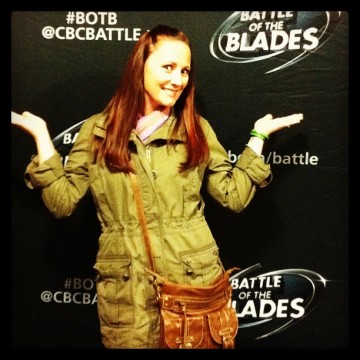 For those unfamiliar with the show, ex-professional hockey players are paired up with Olympic/world champion figure skaters and must perform choreographed routines each week. There is a panel of three judges and they are also voted on by the home audience.
There are 8 pairs and each pair is vying to win $100,000 for the charity of their choice.
It's a pretty genius concept. Especially if you are a fan of hockey and/or figure skating and I am a fan of both!
This year's teams are:
Amanda Evora & Scott Thornton
Jessica Dubè & Brian Savage
Marcy Hinzmann & Mike Krushelnyski
Marie-France Dubreuil & Mathieu Dandenault
Oksana Kazakova & Vladimir Malakhov
Shae-Lyn Bourne & Anson Carter
Sinead Kerr & Grant Marshall
Violetta Afanasieva & Jason Strudwick
For skater profiles, head over to the Battle of the Blades site at CBC.
I have been a big fan since season one – when Jamie Salè and Craig Simpson won (she just gave birth to their baby girl, Samantha, this summer). She is a judge this season.
Season two the Russians took over when Ekaterina Gordeeva and Valeri Bure won – I loved them! They were so humbled that Canadians voted them to win.
Season three winners were Tessa Bonhomme and David Pelletier – Tessa being the first and only female hockey player (so far) to compete.
After seeing the first performances by each team – it's going to be tough to pick a winner this year.
Shae-Lyn and Anson were fast and powerful. I've been a big fan of Shae-Lyn for years.
Violetta has been a favourite of mine since she joined the cast – she is a World Extreme Ice Skating Champion, with her Canadian husband! She is fearless and insanely flexible. And cute as a button!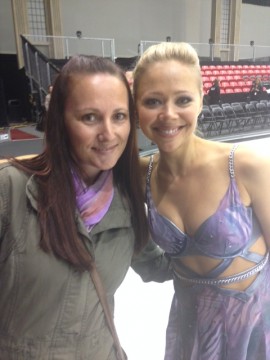 Marie-France and Mathieu were fun to watch and they were super friendly. And she is ittybitty.


Marcy & Mike. Ok…Mike Krushelnyski is 53. Fifty three years old and you wouldn't have known it by their performance. Age ain't got nothing on him. And Marcy – well she is just stunning. I thought I looked alright last night. Then I stood beside her. A true beauty and so personable.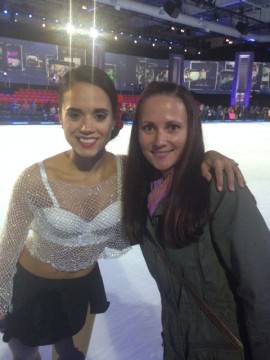 The profile on Jessica and Brian had the house in tears. Brian spoke of the brother he lost and Jessica had to overcome a serious facial injury back in '07 after her partner's skate sliced her face during a spin. She was back on the ice within 1 month, doing that same spin. Resilience.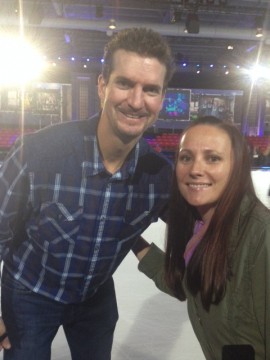 I'm going to have to give my vote to Sinead and Grant. For so many reasons. I could listen to her and her Scottish accent all day. They performed a stellar routine – she even lifted him. She. Lifted HIM. Redonkulous.
They are hilarious. Honestly, they didn't feel like strangers. I mean, look how happy Sinead was to meet me: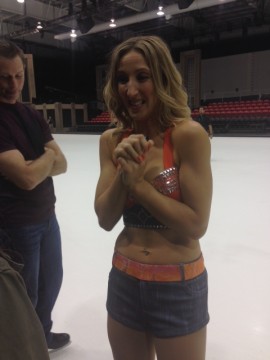 Don't let Grant's face fool you. He was happy to meet me too.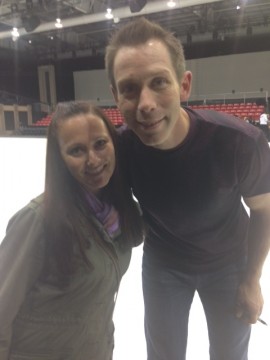 Beyond how incredibly gracious and fun they were, Sinead is skating for Autism Speaks. Her brother David has autism.
When they profiled her and her family, my eyes couldn't help but sting. The love she has for her brother is incredible and made me think of my family.
The experience was so much fun and Eva was full of questions about the behind the scenes stuff – like what I did do when she was watching commercials at home? When I showed her all of the photos she was enthralled and could't stop looking at them.
[All photo creds go to my cousin Corrine, who attended the show with me.]
Battle of the Blades fans, tell me who your favourite team is this season!