It's another Father's Day and like I planned from the start, here is my yearly update to you. One day, if Will wants to meet you, he can share these with you so you can get an idea of how he's evolved over the years from the seahorse in my uterus to this amazing little human.
Will is closing in on six at a speed that it is shocking to me. He is riding the wave between little boy and kid. He can go from talking baby talk to sounding like an 18 year-old sales clerk at The Lego Store. He hasn't become too big for cuddles thank god. He will happily curl up in the closest available lap and he smothers me with kisses on a daily basis.
He has firmly moved on from Scooby Doo into Lego. I'm okay with it. At first I missed Shaggy and the gang but it is fascinating to watch what he can come up with given a pile of bricks. I think this was the year he really discovered his creative side.
It's shown itself in so many different ways. One big one? The recycling bin. The kid turned our home into an episode of Hoarders this year. He couldn't pass a recycling bin without grabbing something for an art project. He loves drawing with his very talented friend Jasper. I over heard him tell Jasper's brother, 'You know Lyle, I'm an artist.' His grandmother recently brought him back a drawing set from England and he carries it with him, because without it he 'doesn't feel like an artist.' I will thank you for this side of his personality and from saving me from 7a trips to the arena.
He still loves books and is fully ready for the first grade. He is a Cliff Clavin of random stats. Did you know that sharks don't sleep because they need to keep moving to breathe? Honestly some of the stuff he comes up with is way over my head!
We haven't had a smooth year. I had a very difficult start to 2014. Maybe it was the weather or just a phase but I was miserable. The boy and I are emotionally tethered to each other so in turn, he struggled too. I got a preview of the moody teen years and it was tough. But I'm learning to try and tread water through these phases and remember that in that scrawny, red faced, little body is my beautiful boy.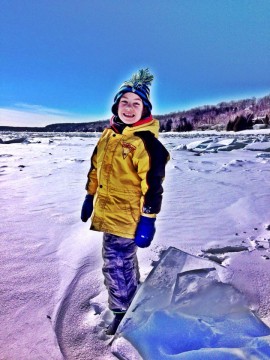 And oh is he beautiful. And smart. And funny. And empathetic. And so honest. He can't do anything wrong without telling me. God I hope that little trait continues on.  
But you know what I think the most awesome thing is about him? He brings so much joy to people. He makes people smile and laugh and that is such a gift. As cheesy as it may sound, I sometimes feel like he was put here for that and I'm just the ridiculously lucky woman that gets to be his mom.
So like we do every year, we'll float a blue balloon up for you on Sunday. I'll take a deep breath while it floats away and thank you for making this trip all possible.