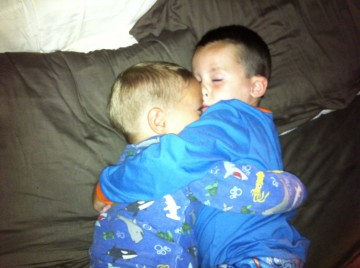 By far the number one question I get asked is, "What time do you wake up in the morning?" For those of you who don't know, I work on 'Derringer in the Morning on Q107.' The show starts at 6am but I like to be at work for 4:30, plus I live two area codes outside of the 416 so I have to wake up shortly after 3. Sleeping, or trying to find the time to sleep is like a part time job for me. I'm sure like you, life is busy with work, kids, school, and activities; there are simply not enough hours in the day.
I read somewhere that we should get at least 8 hours of sleep a night. For me, that's just not possible, could you imagine? "Hey Ryan what did you think of the Leaf game last night?" "Oh… ahh I crashed at about 7… so who won anyways?" Not exactly good for the career. So I thought, if I'm not going to get 8 hours, but closer to 6, I may as well squeeze every last ounce out of that 6 and make it feel like 8. Know what I mean?
I'm no sleep expert but here are a few things I've learned over the last little while.
Sleep: 8 tips on how to get quality over quantity
1)Turn off the smartphone. I can't tell you how many times I went to bed watching "epic fail" videos for absolutely no reason. Sure, it's a lot of fun at the time but the next day I asked myself what was more important, getting an extra 30 minutes sleep or watching a guy get hit in the pills by a baseball thrown by his toddler?
2) Have the cat sleep anywhere other than on the bed. Most nights, I do not move my sleep position just so I don't wake the cat. How crazy is that? I've known that cat for 8 years and never once has he got up, made a pot of coffee, put on a hat, and caught the Go Train to Union station to make it to a meeting on Bay Street for 9am.
3) Work-out before bed. To be honest I only did this once and it seemed to work.
4) Keep a cool room. This is the best time of year, open the window a crack and start sawing logs.
5) Use the light from your phone or a flashlight when you get up to go to the bathroom. I used to turn on all the lights just to make sure I didn't bump into anything. Now I'd rather have a stubbed toe and sleep, then bright lights and… well… have a non-stubbed toe.
6) If the kids crawl into bed in the middle of the night, I let them. I just make my way to their beds (with my trusty flashlight as well). It's surprising how good the quality of sleep you can get under 'Transformer' covers.
7) A warm glass of milk. And for those who don't like milk, honey and lemon. (Good for the pipes too!)
8) Melatonin – from my understanding it's a hormone that helps you fall asleep. I don't use it all the time but I find it helps when you really need it.
I hope that helps, if all else fails, I understand something called "reading a book" helps.
Goodnight!