I am a collector of shoes… yes, that's what I'm calling myself. A collector. Addict is probably more like it but I prefer collector. I know many of you are as well. I mean, come on, shoes are a necessity. I need shoes to get me  from A to B but I also need them to be stylish and be very much a part of my wardrobe. Not an accessory, or an after thought, know what I mean?
Shoe designer Tanya Heath opens her first Canadian shop this month in Toronto in the Yorkville area and with a cult like following in France, Australia, Amsterdam and Spain, shoe addicts here should take note. If you haven't heard about her line of interchangeable shoes and heels already, you're about to fall in love!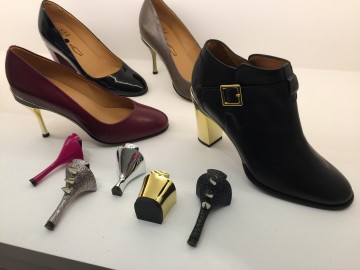 Let me briefly explain. Tanya had this idea of having the most luxurious leather shoe and every woman's dream of that comfort but offering it in different heels heights and styles. That is, not having to purchase new shoes for different looks — but simply changing the heel itself. Turn a classic style into an evening shoe just by switching the heel out. Brilliant!
The essence of her shoe line is based on the Parisian woman — she walks a lot and has that certain style that doesn't conform to any trends or fads regardless of age. She's well put together from head-to-toe with a keen eye on detailing and quality. When I previewed Tanya Heath's line I was amazed at the variety of shoes and heels. There are currently 28 styles of shoes and 90 styles of interchangeable heels making the combinations absolutely mind-boggling.
I had a chance to meet with Tanya prior to the store opening in Toronto. She's a fascinating person who I could have easily chatted with for hours. Tanya is a Canadian expat who lives in Paris with her husband and three kids. But she's nailed the Parisian accent and easily slips into french vocab when she's talking about her line and about life in France. We chatted about how the French aren't interested in trends not only in fashion but in the food they eat. Baguettes, oui. Gluten-free, non. Champagne, absolutement!
She had this concept of this ultimate shoe in the back of her mind for years and decided to pursue her dreams. "French women tend to walk a lot, that is part of the lifestyle so comfort and style is important." says Tanya. "But often people think of Parisian women in ballerina flats. Yes, they are comfortable but I never felt that particular look suited my body shape… heels are more flattering for me."
I know exactly what she means. Having visited France several times, people told me of the famous Repetto ballerina flats are the must have souvenir. But having tried them on several times, I had to take deep breathes and walk away. They just weren't me.
Having slipped on a couple of Tanya Heath's styles, feeling very Cinderella, and then switching the heels had me instantly thinking of the lifespan of these shoes in my personal wardrobe. You could go from day to night changing your elevation and entire look effortlessly. The variety of heels range in height from 4.5 cm to 8.5 cm and can take you from kitten heel to stiletto to low trotter and chunky Cuban styles.
The new Tanya Heath  boutique is located at 138 Cumberland Street on Old York Lane in Toronto's  Yorkville area. Shoes range in price from $600 to $1000 with heels priced between $50 and $200.