If there is one piece of housework that is literally never ending, it has to be laundry. Whether you're a family of two, four, six, eight or somewhere in between, there will always be a pile of dirty clothes waiting to be washed. And you better believe there will be a new pile ready to go by the time the first pile is washed, dried, folded and put away.
And sure, some of us aren't the biggest fans of the constantly full dirty clothes bin. But on April 15th, we've decided to celebrate—yes, we are celebrating laundry. National Laundry Day to be exact!
"How does one 'celebrate' National Laundry Day?" you might be asking. We're celebrating by making your lives a bit easier with our seven top secret laundry tips from the laundry experts at GE Appliances.
#1 Say goodbye to ink and oil stains
How many times have your kids come home from school with ink all over their hands (and their pants)? Get rid of the stains by applying hairspray or hand sanitizer before patting dry. For me, nothing is worse than getting an oil stain on a top while I'm cooking—it seems to happen a lot, too! Now all you need is a little baby powder on the area, let it stand overnight and poof, the stain is gone.
#2 Save on time
If you are like most moms and are running on a pretty tight schedule, sometimes waiting for clothes to dry can seem like a lifetime. Especially when you can't get out the door without your little one's favourite t-shirt. Speed up your dry cycle by adding an already dry towel to the mix and your clothes will be dry in no time.
#3 Never leave a man behind
Are you constantly losing socks in the laundry? Is it a small miracle if your kids are wearing matching socks? Never lose another sock again—simply throw all of your socks in a mesh bag before putting them in the wash.
#4 Yellow stains, be gone
There are few things worse than throwing out a perfectly good white shirt because the underarms have become discoloured. Instead, spray the affected clothing with pure lemon juice before you toss it into the washer.
#5 Time for an upgrade
What better time to update your laundry pair than on National Laundry Day? We've got an insider tip for you—top load washers and dryers are making a comeback. In 2015 alone, more than 1.3 million top load washers and dryers were sold in Canada, surpassing the amount of front load laundry pairs sold.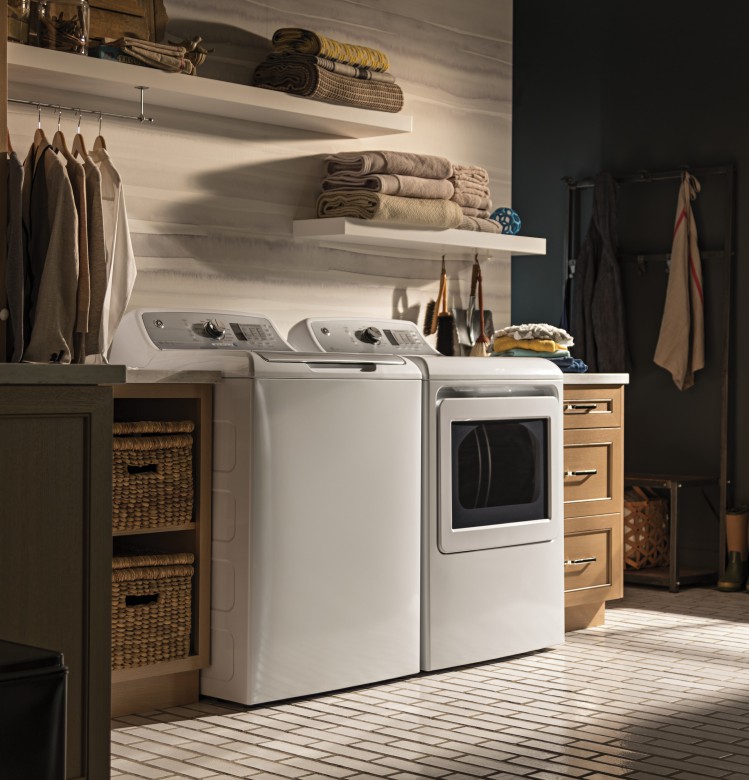 The GE Designer Line laundry pair is the best of both worlds as it offers the high performance and high efficiency you love about your front loader with the ease of a top load style. Without a central agitator it offers powerful clean and is a whopping 22% larger than competitive models—that means you can make a dent in that never ending pile much faster.
Thankfully bigger doesn't mean you'll be using a crazy amount of energy to power it, either. The GE Designer Line laundry pair is Energy Star rated—the energy efficiency is the same as you'd get in any front load pair. That means you'll be saving money on your electricity and water bills.
And of course, the GE Designer Line also looks gorgeous—I mean it's designer after all! You get a sleek and modern design with curved edges, LED lights and tinted glass doors.
#6 Unshrink your shrinkables
No matter how carefully you read the tags and run the delicate cycle, you're bound to shrink at least one sweater in your lifetime. Instead of donating it to your kid's doll collection, soak it in tepid water with a bit of hair conditioner and mold it back to its original shape. And remember to lay it flat to dry.
#7 Bring it back to basics with baskets
Are you spending most of your laundry time sorting out your darks from your lights from your whites? Why not use a basket system to help you stay on top of the chaos and cut back on your sorting time? It might seem like overkill, but getting three separate baskets (or bags) or each kids' room can help to keep you organized and on track.
So on April 15th, embrace your laundry duties and remember, taking care of your clothes is what keeps you (and them) looking your best! And while you're folding a load, why not check out the GE #NationalLaundryDay Twitter party happening between 1-2 pm. Just follow along with @GEappliancesCA. Happy National Laundry Day!
This post was sponsored by GE Appliances but the images and opinions are my own.