There are a few options out there for fitness wearables and this one is designed for fun as well as motivation. The Runtastic Orbit comes with several bells and whistles to keep you moving. For someone like me, who needs a serious push now and then, it's very appealing.  Plus, hey, even if you're running in heels it all counts! But seriously, what I like about the Runtastic Orbit…
Wearable Options: On my everyday running around, the wristband option is great. It's easy enough to put on and the design isn't bulky looking. Wearing the Orbit like a watch is handy but I also like the option of being able to clip it on to a belt (or a bra strap). The mechanism is removable from the wristband form and easily popped into the clip that is also provided so you can wear it more discreetly when desired. The device gives you ongoing updates — at just one touch you can see how many steps you've taken, how many calories you've burned, and distance you've gone. It also keeps track of your sleep cycles.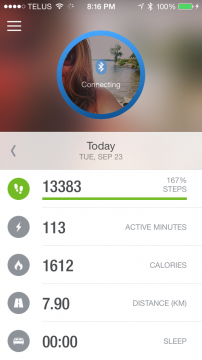 Apps: To get the full experience out of this device, connect your device via Bluetooth to your mobile device. You can download the ME app to initialize everything and once you're there, you'll want to check out the activity apps to download from iTunes and GooglePlay for specific exercise. If you're an avid runner or walker there are apps that cater specifically to your training needs. Great for beginners and serious runners. An example, if you choose the running activity, the app helps you track your time, distance and speed. It will also offer you interval training or you can also input your personal  goals. If you desire a training plan (say getting bikini ready) there is an attainable training plan to help you get there. Runtastic Coach Lunden Souza will guide you through a 8 week program. You set your date and stick to your goals. Training for a marathon? The app will guide you through that as well. A great feature that I LOVE is the story telling option to get you moving. Instead of music, download the adventures that uses stories to keep you moving… with heart pumping story lines and pulsating music you'll definitely kick your butt into high gear!
The apps syncs to your mobile device and keeps track of your progress on a daily basis. At the end of the week a report is sent via email to let you know how you're doing. There's also a great heart rate monitor app that gives you an on-the-spot reading and helps keep track as well. Other great apps discovered includes sit up, push up, and weight plans to keep you on top of your goals. I also love the Nutrition Quiz app that tests my knowledge and offers useful tidbits of information. An option to share your progress via social media to your friends is also available. Great for running groups to encourage each other.
YouTube: Runtastic Fitness is the designated space to access some great fitness tips and work out sessions. I've been loving the total body 7 minute workout — it includes 12 exercises that is intense but fun. I'm crunching! I'm crunching!
Playlists: If music is your motivation, there are specially curated playlists to keep you pumping and moving. I just downloaded the new album to my mobile device that includes songs by Jessie Ware, Chase & Status, Ellie Goulding, Kiesza and others. It's great even if you're not a runner but want something to move you away from your desk. I've been dancing up a storm!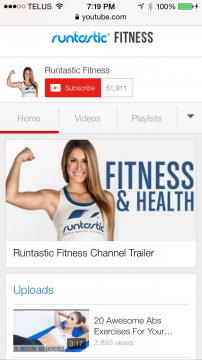 Awards & Nudges: When you reach certain goals the device sounds off and rewards you with a little trophy image and sends you virtual high five. I've been caught by surprise at how easy it's been to achieve my goals. But there are also times when I lose track of time and I've programmed my Orbit to give me a nudge so I can step away from my desk if I've been sitting for too long.
Fitness Reports: These are sent to you weekly and offers an overview of what you've been doing. Didn't do much? Oh, it will remind you of that too! It also has a sleep tracker so you can track your activity for a full 24 hours.
What else do you need to know? The Runtastic Orbit is also waterproof up to 300 feet. There's also an option to upgrade for a Gold membership that offers more customized training and encouragement — you've always wanted your own cheering squad, right?
Price: $119.99 (US) online at runtastic.com