Based on Amanda's recent post, I'd say we're all ready to start thinking about sunshine and maybe even getting a bit of tan.
Last week my family and I escaped the snow and freezing temperatures for a week in Montego Bay, Jamaica. This is the second year in a row that we've managed to get away during the magic week between my kids' hockey and baseball seasons. Seriously…one week?! Even professional athletes get more down time!)
We all love the thought of the sun, the beach and the pool, but a lot of us have pale Irish skin that, at this point in the season, hasn't been exposed to sun rays in months. So I ended up packing an entire bag with this.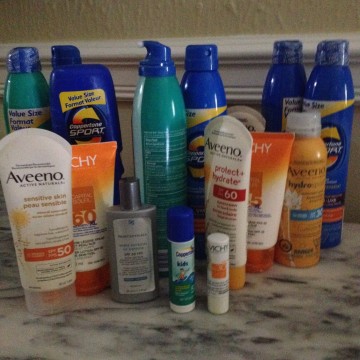 I still worry about my 8 year old daughter, who is the fairest of them all (but don't call her Snow White), and seems to be part fish based on the number of hours she spends in the pool. The best waterproof sunscreen in the world wouldn't last on her shoulders, and often they're pink and warm by the end of the day.
This year I bought her a swim shirt from Lands' End. I let her take a look at sun protection shirts on a number of online sites, and this is the one that she chose. The Skin Cancer Foundation recommends this product as an effective UV protector. The fabric provides UPF 50 sun protection. It arrived quickly and fit well. Added bonus… it's on sale right now!
The deal was that Rylan would wear the shirt anytime she was in the pool or ocean between 10am and 2pm. In the end, she loved the shirt so much, and it was comfortable enough that she forgot all about it, so she wore it all week long.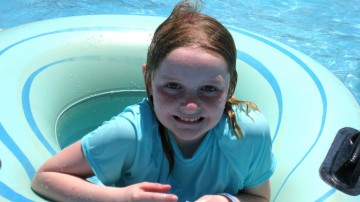 Happy faces and no burned shoulders.
Lands' End also send me a shirt to review. I loved the bright colours and peppy pattern, and wore it when I spent hours under water snorkelling. Setting a good sun smart example seems like one of the smartest ways I can protect my kids.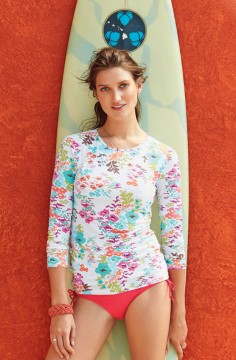 (this is not me, but this model is a lot more pleasant to look at than the be-snorkeled and be-masked me)
Lands' End has a great post about swim shirts and how customers are wearing them. I'd recommend grabbing one for everyone in the family and start packing it anytime you pack a swim suit.